Get our 43-Page Guide to Real Estate Investing Today!
Real estate has long been the go-to investment for those looking to build long-term wealth for generations. Let us help you navigate this asset class by signing up for our comprehensive real estate investing guide.
There are more than 20 publicly traded real estate investment trusts (REITs) focused on owning office properties. That gives real estate investors lots of options, so you should dig into each one to see what makes it stand out from the rest of the sector.
With that due diligence in mind, here's a closer look at Office Properties Income Trust (NASDAQ: OPI).
Office Properties Income Trust profile
As the name suggests, Office Properties Income Trust, or OPI, is an office REIT. As of mid-2021, the company had 181 properties with 24.1 million square feet of space across 34 states and Washington, D.C. It primarily owns office properties leased to single tenants and those with high-quality credit (63% of its revenue comes from investment-grade tenants).
OPI's office portfolio is diversified by geography, tenant, and industry. Its top 10 markets are:
Washington, D.C., metro: Twenty-seven buildings with 4.1 million square feet contribute 21.8% of its total annualized rental income.
Chicago: Five buildings with nearly 1.7 million square feet of space supply 9% of its rental income.
Atlanta: Eleven properties with 2 million square feet contribute 7.9% of its rental income.
Silicon Valley: Eleven properties with 827,000 square feet bring in 4.6% of its rental income.
Dallas/Fort Worth: Eight buildings with nearly 1.5 million square feet contribute 4.3% of its rental income.
Sacramento, California: Seven buildings with 881,000 square feet contribute 4.3% of its rental income.
Kansas City: Three properties with 770,000 square feet supply 3.9% of its rental income.
Boston: Eight buildings with 854,000 square feet are responsible for 3.8% of its rental income.
Denver: Six properties with 688,000 square feet supply 3% of its rental income.
Seattle: Five buildings with 412,000 square feet contribute 2.7% of its rental income.
Overall, these top 10 markets supply about two-thirds of the company's rental income. While it has a high concentration in the Washington, D.C., metro area, its properties are geographically varied, especially considering several office REITs only focus on a handful of markets.
OPI has a reasonably diversified rent roll. It has tenants in the following industries:
Government (federal, state, municipal, and government contractors): 39% of its annualized rental income.
Technology and communications: 18%.
Real estate and financial: 16%.
Legal and other professional services: 11%.
Manufacturing and transportation: 9%.
Food: 2%.
Hospitality: 2%.
Life sciences and medical: 2%.
Energy services: Less than 1%.
Other: 1%.
Its top tenants include the U.S. government at 22% of its annualized rent, followed by Alphabet (Google) at 3.6%, and the state of California at 3.3%. While it has significant exposure to government tenants, they tend to be stable renters.
It's also worth noting that OPI is an externally managed REIT. RMR Group (NYSE: RMR), a leading alternative asset manager with a national multi-sector platform, manages the company. As such, OPI pays management fees to RMR. While the relationship enables it to leverage RMR's scale and expertise, the fees eat into the REIT's income.
Office Properties Income Trust news
The pandemic affected OPI's operations in 2020. While the company primarily focuses on leasing to tenants with high credit quality, 19 tenants asked for rent deferrals totaling $2.5 million during the year. The company collected 79% of those deferrals by the fourth quarter. However, funds from operations (FFO) declined for the full year because of those deferrals, lower parking revenue, and falling occupancy as leases expired.
OPI launched a capital recycling program in 2020. It agreed to sell 11 properties with 1.2 million square feet for $241 million. Meanwhile, it purchased one building with 150,000 square feet for $35 million. It also had another deal fall through to acquire three properties for $15.3 million.
The REIT continued its asset recycling program in 2021. It purchased two Class A urban core office properties for $550 million in the second quarter, including Google's Midwest headquarters. It also sold three properties for $46 million, addressing two of its known major vacancies for the year. Those sales brought up its total capital recycling proceeds to $287 million since launching the program.
OPI also made progress on its leasing strategy. It completed 548,000 square feet of new and renewal leases in the second quarter at rents 17.1% above existing rates. Of note, it secured a long-term lease with Sonesta International Hotels for its 20 Massachusetts Avenue redevelopment in Washington, D.C., locking in 54% of the total space of that project, which it expects to complete in early 2023.
Office Properties Income Trust stock price
OPI's diversified strategy hasn't paid off in recent years: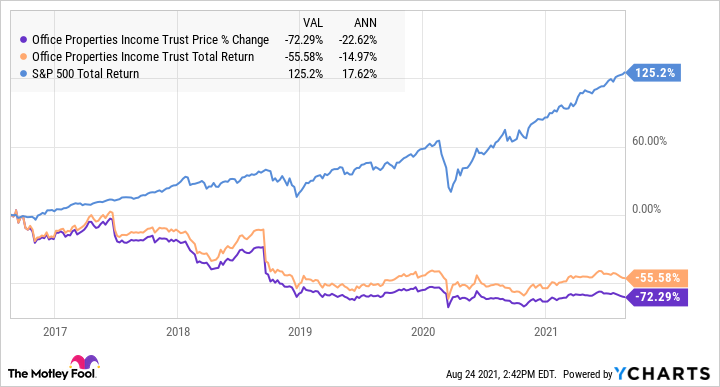 As that table shows, the office REIT has significantly underperformed the S&P 500 over the last five years.
While the pandemic's impact on OPI's income in 2020 has put some additional weight on the share price, that's not the only factor contributing to its poor performance. The biggest issue has been the company's merger-driven strategy shift in recent years.
In 2017, OPI, then Government Properties Income Trust, acquired fellow office REIT First Potomac Realty Trust for $1.4 billion. That deal expanded its business strategy to include owning assets leased to both government and private sector tenants in the Washington, D.C., metro area.
The company took its next step in 2018, agreeing to merge with Select Income REIT and changing its name to Office Properties Income Trust. The $2.4 billion deal increased its scale, improved its diversification, and broadened its investment strategy. It also addressed several challenges the company faced at the time, including a high dividend payout ratio, a concentration of near-term lease expirations, and a high tenant concentration.
However, these transactions left it with a high leverage ratio. That led OPI to sell off $1 billion of assets in 2019 to help reduce debt. These sales put it in a better position to acquire higher-quality properties, which it finally started doing in 2021 by purchasing two Class A urban office buildings.
All that wheeling and dealing had a significant impact on OPI's dividend. The company was paying $0.43 per share each quarter ($1.72 per share annualized) before its merger with Select Income REIT in 2018. However, it reduced its annual dividend rate to $0.55 per share ($0.1375 a quarter) following the deal. It also enacted a 1-for-4 reverse stock split, bringing the split-adjusted quarterly rate to $0.55 per share.
Even with that big reduction, OPI offers a compelling dividend yield of more than 8%. That's well above the REIT sector's sub-3% level. While that may seem high, OPI's dividend payout ratio has averaged 63% of its cash available for distribution, comfortably below its 75% target ratio. The primary reason for that high yield is the decline in its share price because of the market's uncertainty about OPI's ability to execute its leasing and capital recycling strategy to grow shareholder value.
The bottom line on Office Properties Income Trust
Office Properties Income Trust has been working hard to enhance its portfolio and balance sheet in recent years. While the shifting focus has weighed on its stock price, the REIT has steadily improved the long-term sustainability of its big-time dividend. It still has some work to do, but it seems headed in the right direction.
Got $1,000? The 10 Top Investments We'd Make Right Now
Our team of analysts agrees. These 10 real estate plays are the best ways to invest in real estate right now. By signing up to be a member of Real Estate Winners, you'll get access to our 10 best ideas and new investment ideas every month. Find out how you can get started with Real Estate Winners by clicking here.
Matthew DiLallo
has no position in any of the stocks mentioned. The Motley Fool has no position in any of the stocks mentioned. The Motley Fool has a
disclosure policy
.