Get our 43-Page Guide to Real Estate Investing Today!
Real estate has long been the go-to investment for those looking to build long-term wealth for generations. Let us help you navigate this asset class by signing up for our comprehensive real estate investing guide.
As the name implies, New York Mortgage Trust (NYSE: NYMT) is a mortgage real estate investment trust, or mortgage REIT, based in New York City. In this article, we'll take a look at what New York Mortgage Trust does, how its business was affected by the COVID-19 pandemic, and how its stock has performed for investors over the years.
New York Mortgage Trust company profile
As we said earlier, New York Mortgage Trust is a mortgage REIT, which means instead of owning physical properties like equity REITs, it invests in a portfolio of mortgage-backed securities and other mortgage-related investments.
As of the end of 2020, New York Mortgage Trust has a portfolio of $3.2 billion of mortgage assets. Most are single-family mortgages, but about one-fourth of the portfolio is in multifamily mortgage investments as well.
All mortgage REITs rely on borrowed money to boost their returns and achieve the high dividend yields investors want. And while New York Mortgage REIT is no exception, the company uses much less leverage than most of its peers. The COVID-19 pandemic forced the company to de-leverage its portfolio even more than normal, but going into 2020 the leverage ratio was about 1.5-to-1 (other mortgage REITs often carry leverage of 5-to-1 or higher).
The reason for this is that the types of loans New York Mortgage Trust holds pay higher yields than most. As of the end of 2020, the average interest-earning investment in the company's portfolio had a yield of more than 6% (meanwhile, the average 30-year mortgage rate is around 3% in the United States).
New York Mortgage Trust's portfolio is composed of some unusual types of loans. Just 5% of the single-family portfolio is made up of agency mortgages (those that meet Fannie Mae or Freddie Mac's standards), and these are the bread-and-butter of some other mortgage REIT peers. On the other hand, New York Mortgage Trust owns a large percentage of re-performing loans (where borrowers weren't making payments at one point) and nonperforming loans, business purpose mortgages (like for investment properties), and nonagency mortgages.
New York Mortgage Trust news
The biggest recent news item affecting New York Mortgage Trust (by far) is the COVID-19 pandemic, which was devastating for the mortgage REIT industry. Without getting too technical, the onset of the pandemic caused the value of New York Mortgage Trusts' assets to plunge. Nobody knew if people would be able to pay their mortgages at the onset of the pandemic, sending risk premiums soaring and the value of mortgage-backed securities plunging.
The asset value free-fall turned out to be short-lived, but it resulted in margin calls from the company's creditors (remember, mortgage REITs rely on borrowed money to a greater extent than most other businesses). So, companies were forced to sell assets at fire-sale prices to satisfy these margin calls.
When the pandemic hit, New York Mortgage Trust did a great job of keeping investors informed, even though the news was mostly bad. In a March 23, 2020, update, the company confirmed it had "received margin calls from repurchase agreement financing counterparties over the past week. Through Friday March 20, 2020, the Company timely met all margin calls received. However, due to the continued margin calls received for March 23, 2020, the Company has notified its financing counterparties that it does not expect to fund the existing and anticipated future margin calls under its financing arrangements in the near term."
Then, on March 27, the company confirmed a large amount of asset sales to meet its liquidity requirements, saying, "Since March 16, 2020, the Company has sold mortgage-backed securities receiving proceeds of approximately $1.7 billion and has reduced its outstanding repurchase agreement financing by $1.6 billion since December 31, 2019." It also said that it expected to report with its Q1 earnings that the book value of its stock declined by 33% in the first quarter.
On April 7, the company announced that it was current with all of its agreements, which caused investors to breathe a sigh of relief. But the damage had been done.
However, it appears the COVID-19 fallout is in the past. Earnings rebounded strongly in the second quarter of 2020, and while book value is still lower than where it started the year, it has rebounded significantly since March 2020.
New York Mortgage Trust stock price
Like most mortgage REITs, New York Mortgage Trust's stock has been more volatile than the typical real estate stock. So let's take a look at its performance over the past 10 years.
Over the past decade, New York Mortgage Trust's stock price has declined by about 42%. This may sound terrible at first thought, but keep in mind the company is built for income, not for stock-price appreciation. During most of the past decade, the company has paid double-digit dividend yields. Including dividends, the company's total return over the past decade has been 126%. The stock has certainly underperformed the S&P 500, which has returned 258% over the same period, but it's not quite as bad as the stock price makes it seem.
Yet another thing that is worth noting is that New York Mortgage Trust -- and pretty much every other mortgage REIT -- got absolutely crushed as the COVID-19 pandemic hit. I'll spare you the technical details, but the value of mortgage assets plunged in the early days of the pandemic, and many mortgage REITs were getting hit with margin calls, forcing them to liquidate some of their assets at fire-sale prices. Here's a glance at the full 10-year history through February 2021.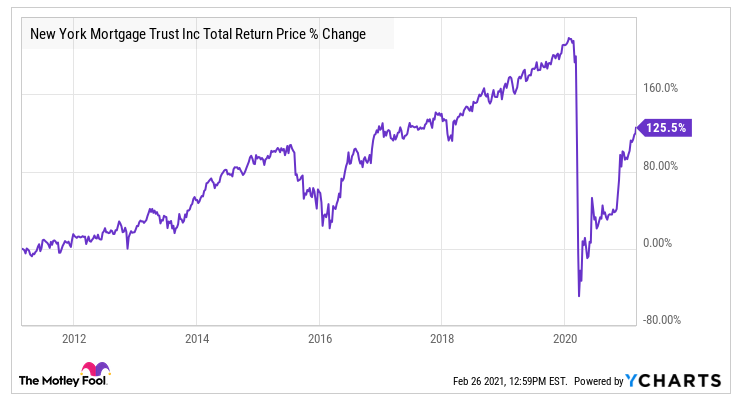 As far as the dividend goes, New York Mortgage Trust yields approximately 9.6% annually based on its fourth quarter 2020 payout of $0.10 per share. However, this is somewhat misleading. Like other mortgage REITs, New York Mortgage Trust's dividend fluctuates over time (and not always in the positive direction), depending on the company's income situation. In fact, when the COVID-19 pandemic hit, the company skipped its first 2020 payment altogether, before gradually re-instituting it. In 2017 through 2019, the dividend was $0.20 per share and was cut in both 2015 and at the start of 2017 as well. The point is that while New York Mortgage Trust can produce a high level of income, it isn't necessarily a great choice for investors who want steady income.
The bottom line on New York Mortgage Trust
Mortgage REIT investing isn't for the faint of heart, and New York Mortgage Trust certainly isn't an exception. However, the worst of the pandemic's effects seem to be over, and the company is back to paying a near double-digit yield, so risk-tolerant investors who want a lot of income might want to take a look.
Got $1,000? The 10 Top Investments We'd Make Right Now
Our team of analysts agrees. These 10 real estate plays are the best ways to invest in real estate right now. By signing up to be a member of Real Estate Winners, you'll get access to our 10 best ideas and new investment ideas every month. Find out how you can get started with Real Estate Winners by clicking here.