Get our 43-Page Guide to Real Estate Investing Today!
Real estate has long been the go-to investment for those looking to build long-term wealth for generations. Let us help you navigate this asset class by signing up for our comprehensive real estate investing guide.
Hospitals are essential to the healthcare system. About a third of all healthcare expenditures are related to hospitals, or more than $1 trillion annually. These facilities have proven their value during the COVID-19 pandemic as they've become the front line for fighting the virus.
While many hospital systems own these crucial facilities, an increasing number of operators have chosen to lease their real estate. That's opened the door for Medical Properties Trust (NYSE: MPW) to steadily expand its hospital-related real estate portfolio.
Here's a closer look at the real estate investment trust (REIT) focused on the heart of healthcare.
Medical Properties Trust profile
Medical Properties Trust is a healthcare REIT focused on owning hospitals. As of the end of 2020's third quarter, the REIT owned 385 properties with 42,000 licensed beds across the U.S., Germany, the U.K., Switzerland, Italy, Spain, Portugal, Australia, and Colombia. The company leased or mortgaged those properties to 46 hospital operating companies.
The REIT owned $17.6 billion of hospital real estate:
83% of its portfolio are general acute care hospitals focused on surgery, acute medical conditions, or injuries that usually require short-term stays. It had 257 of these properties (171 in the U.S. and 86 international) valued at $14.3 billion.
11.4% of its portfolio are inpatient rehabilitation hospitals used for recovery and intensive rehab after an injury or illness. It had 108 of these facilities (27 in the U.S. and 81 international) valued at $2 billion.
1.9% of its portfolio are long-term acute care hospitals that provide care to patients requiring an extended stay. It had 20 of these properties in the U.S. valued at roughly $300 million.
5.4% of its portfolio is in other facilities like emergency facilities, medical office buildings, or urgent care valued at about $1 billion.
Roughly two-thirds of its assets are in the U.S., where it's the second-largest hospital bed owner. Though, at 224 properties, it owns a small fraction of the nearly 5,200 community hospitals in the country. Meanwhile, the U.K. (15% of its portfolio), Germany (7%), and Australia (5%) are its three largest international markets.
Medical Properties Trust primarily acquires hospitals via sale-leaseback transactions with operating companies. It signs absolute net leases with them, meaning the tenant bears responsibility for all costs, including maintenance, repairs, utilities, and taxes. It typically signs long-term leases with 10- to 20-year initial terms with multiple five-year extensions in the U.S. and even longer terms internationally. Nearly all of its leases have inflation-based annual rent escalators. Meanwhile, about 90% of its properties are part of a master lease with an operator's parent company. When combined with high rent coverage that's usually more than two times a hospital's EBITDARM (earnings before interest, taxes, depreciation, amortization, rent, and management fees), these factors reduce the risk a tenant defaults on its lease.
The company's focus on hospitals sets it apart from other healthcare REITs. While some of its peers own hospitals, Medical Properties Trust is a pure play on hospital real estate. That has given it a competitive advantage because Medical Properties Trust can leverage its extensive experience and network to source deals.
Medical Properties Trust news
While hospitals were ground zero for the battle against the COVID-19 outbreak, that didn't affect their ability to pay rent. Medical Properties Trust expected to collect all the rent it billed in 2020, including the 2% it previously deferred with interest in the early days of the pandemic. Because of that, the REIT was on track to achieve its initial full-year forecast for normalized FFO.
Meanwhile, 2020 was an active investment year for Medical Properties Trust. The company spent more than $3 billion on hospital acquisitions, development projects, and related investments. The REIT started the year with a bang by closing a $2 billion acquisition of 30 U.K. hospitals in early January, its largest transaction in history. Other notable deals were purchasing two hospitals in Utah for $200 million in July and a $300 million investment in a California hospital that closed in the third quarter.
Another noteworthy transaction was forming a $205 million joint venture (JV) with the management team of its largest tenant (Steward) to invest in select international hospitals. Medical Properties Trust closed the initial investment in mid-May, with the JV simultaneously acquiring the "rights and existing assets related to all present and future international opportunities previously owned by" Steward. It subsequently invested $132 million on a three-hospital portfolio in Colombia.
Medical Properties Trust continued its shopping spree in early 2021. In January, the company unveiled plans to acquire a portfolio of behavioral health facilities in the U.K. for roughly $1 billion. The deal will solidify its leading position in the U.K. healthcare real estate market. It will also be immediately accretive to earnings and reduce its tenant concentration as Steward will fall to 21% of its total portfolio, while its largest single property will represent less than 3% of its overall portfolio. The deal will also extend its lease and loan maturity schedule to an average remaining term of 15.7 years while reducing mortgage loan investments to less than 2% of its portfolio.
Medical Properties Trust stock price
Medical Properties Trust has done an excellent job creating value for investors over the years: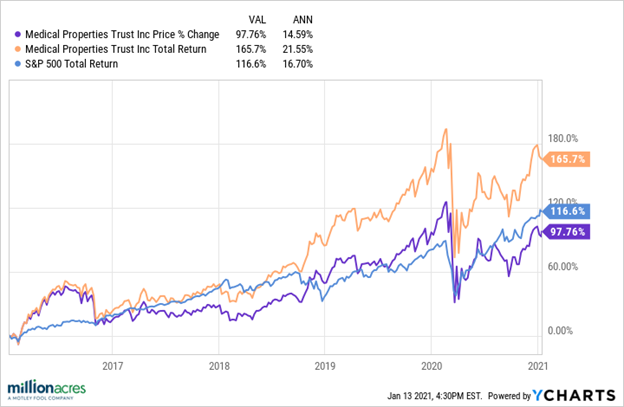 As that chart shows, the REIT has significantly outperformed the S&P 500 during a strong period for the broader market. That's par for the course for Medical Properties Trust throughout its history. It has also outperformed the S&P 500 and other REITs in the last three- and ten-year periods and since its initial public offering in 2005.
Powering that outperformance has been Medical Properties Trust's ability to steadily expand its portfolio. The REIT has grown its assets at a roughly 30% compound annual clip over the last decade, driven primarily by sale-leaseback transactions with hospital operating companies. That has enabled Medical Properties Trust to grow its normalized FFO per share at an 8% compound annual rate.
That steady cash flow growth has also allowed the REIT to consistently increase its dividend. After its last raise in early 2020, it has expanded its payout for seven consecutive years. The REIT routinely pays an attractive yielding dividend, with it averaging above 5% over the past year.
The bottom line on Medical Properties Trust
Medical Properties Trust has enriched its shareholders over the years. The REIT has steadily expanded its portfolio, FFO, and dividends, which has enabled it to outperform. While it has grown into one of the world's largest hospital owners, it still has lots of room to expand. Because of that, it should be able to continue growing shareholder value in the coming years, making it an ideal REIT for investors to consider.
Got $1,000? The 10 Top Investments We'd Make Right Now
Our team of analysts agrees. These 10 real estate plays are the best ways to invest in real estate right now. By signing up to be a member of Real Estate Winners, you'll get access to our 10 best ideas and new investment ideas every month. Find out how you can get started with Real Estate Winners by clicking here.
Matthew DiLallo owns shares of Medical Properties Trust. The Motley Fool has no position in any of the stocks mentioned. The Motley Fool has a disclosure policy.