Get our 43-Page Guide to Real Estate Investing Today!
Real estate has long been the go-to investment for those looking to build long-term wealth for generations. Let us help you navigate this asset class by signing up for our comprehensive real estate investing guide.
Most real estate investment trusts (REITs) focus on making equity or debt investments. Equity REITs primarily own a portfolio of income-generating commercial real estate. Meanwhile, REITs that concentrate on originating and investing in debt backed by real estate are known as mortgage REITs (mREITs).
However, some REITs make both types of investments: Ladder Capital (NYSE: LADR) falls into this category. Here's a closer look at the company.
Ladder Capital company profile
At its core, Ladder Capital is an mREIT focused on commercial real estate (CRE). The company originates and holds loans collateralized by a diversified portfolio of commercial real estate and real estate-related assets, focusing on senior secured assets. In addition, it invests in investment-grade securities backed by first mortgages on CRE. Ladder also makes equity investments in CRE properties, with that latter feature making it more of a hybrid REIT.
The REIT had $5.4 billion of total assets on its balance sheet at the end of 2021's first quarter. They included:
Loans: Roughly $2 billion of loans on its balance sheet (38% of its assets), primarily first mortgage loans.
Securities: $764 million of securities (14% of its assets).
Real estate equity investments: $977 million of equity investments in CRE (18% of its assets), including $634 million of net leased properties and $343 million of diversified commercial real estate.
Cash and cash equivalents: More than $1.3 billion of unrestricted cash (24% of its total assets).
All others: 5% of the REIT's asset base in other investments, restricted cash, and other assets.
Ladder Capital has a diversified loan portfolio, primarily of first mortgage loans. Property types securing those loans include: office (27%), mixed-use (18%), multifamily (16%), retail (11%), hotel (14%), other (5%), industrial (5%), and manufactured home parks (4%). Those properties are in the following geographies: Northeast (35%), South (18%), Midwest (16%), Southwest (15%), West (11%), and various (5%).
The REIT also had 111 securities investments with a weighted average duration of 1.9 years, more than 99% of which are investment-grade rated, including 85% AAA-rated or agency-backed securities. That gave it a highly rated, short-duration, highly liquid securities portfolio.
Finally, Ladder Capital has equity investments in a portfolio of CRE assets. These investments provide a source of stable, recurring net rental income with potential net asset value (NAV) upside.
The company owned 164 single-tenant net lease properties with more than 5.3 million square feet of space. The REIT also had investments in 12 diversified or other CRE properties with more than 2.4 million square feet. Its net lease investments are 65% of its CRE equity portfolio.
The company's equity CRE portfolio included the following assets: office (25%), multifamily (14%), dollar store (13%), warehouse club (11%), drug store (10%), grocery store (9%), other (8%), other retail (5%), and warehouse (5%). Meanwhile, these investments are in the following geographies: South (38%), Midwest (25%), West (15%), Northeast (14%), Southwest (7%), and various (1%).
Ladder Capital news
The pandemic caused a significant disruption in the commercial mortgage market. Asset values plummeted, causing liquidity to dry up, which had a notable impact on Ladder Capital. The company had to satisfy margin calls on its debt, leading it to hire advisors to evaluate financing alternatives.
The advisors helped it secure $516.6 million in capital from an affiliate of Koch Industries and Goldman Sachs to bolster its liquidity. The company also shrunk its loan portfolio by selling loans and securities, while other loans repaid their principal at maturity. Ladder also slashed its dividend by 41% to preserve cash.
Overall, the REIT shrunk its asset base from $6.7 billion at the beginning of 2020 to $5.9 billion by year-end. Driving the decline was $961 million of repayments of balance sheet loans, $505 million of loans sold, $932 million of security sales, and $99 million of commercial real estate equity investments sold. These divestitures helped boost the company's cash position to $1.3 billion while reducing its leverage ratio to 2.5 times, or 1.7 times net of cash.
Ladder Capital continued shrinking its asset base in early 2021, ending the first quarter with $5.4 billion of assets. It received $375 million of repayments of balance sheet loans, sold a loan for $47 million, and sold $329 million of securities. It then used those proceeds to help reduce debt by $442 million in the quarter.
On a more positive note, Ladder Capital started originating loans again for the first time since the pandemic started, originating $155 million of first mortgage loans in the first quarter. Overall, leverage continued its decline, ending the first quarter at 2.3 times, or 1.4 times net of cash.
Ladder Capital stock price
The pandemic had a significant impact on Ladder Capital's stock price: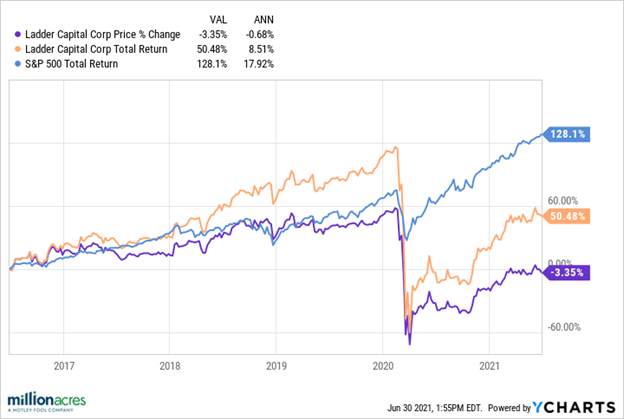 As that chart shows, the mortgage REIT has significantly underperformed the S&P 500 over the last five years, due entirely to a devastating crash in 2020.
Liquidity concerns caused by margin calls had investors bailing on the stock in the early part of 2020. Shares crashed roughly 75% over a six-week period as the company worked to shore up its liquidity while satisfying margin calls. This led the company to hire a restructuring firm to evaluate financing alternatives.
The move paid off, securing more than $500 million in capital to stay afloat. That gave it time to sell off loans, securities, and CRE investments to further shore up its balance sheet.
Though the REIT continued to shrink its portfolio in early 2021, it was finally back in a strong enough position to start originating new loans. Meanwhile, with a significant cash position, it has the balance sheet flexibility to begin growing its asset base again through additional loan origination, securities purchases, and CRE investments.
As mentioned, Ladder Capital had to reduce its dividend in 2020 to help shore up its financial profile. Before that, the company had increased its payout six times over four years. Even at the reduced rate, Ladder Capital pays a high dividend yield. At nearly 7%, it's more than double the REIT sector's average. Though high dividend yields are typical for mortgage REITs.
The bottom line on Ladder Capital
The pandemic forced Ladder Capital to recalibrate its business. It had to stop originating new loans and shore up its financial profile by shrinking its asset base. However, those moves put it in a stronger financial position by reducing leverage and giving it a cash-rich balance sheet.
As a result, the company now has the financial flexibility to start growing again, including expanding its loan portfolio and CRE investments. Add in a big-time dividend yield, and this mortgage-focused hybrid REIT looks like a potentially attractive option for investors seeking a high upside income stream.
Got $1,000? The 10 Top Investments We'd Make Right Now
Our team of analysts agrees. These 10 real estate plays are the best ways to invest in real estate right now. By signing up to be a member of Real Estate Winners, you'll get access to our 10 best ideas and new investment ideas every month. Find out how you can get started with Real Estate Winners by clicking here.
Matthew DiLallo
has no position in any of the stocks mentioned. The Motley Fool has no position in any of the stocks mentioned. The Motley Fool has a
disclosure policy
.