Get our 43-Page Guide to Real Estate Investing Today!
Real estate has long been the go-to investment for those looking to build long-term wealth for generations. Let us help you navigate this asset class by signing up for our comprehensive real estate investing guide.
Technology companies have been gobbling up office space in recent years to house their rapidly expanding workforces as the sector continues growing. That's been a boon for office property developers, especially along the West Coast, as they've been able to secure leases to support new office projects.
One of the many beneficiaries of this trend is real estate investment trust (REIT) Kilroy Realty (NYSE: KRC). Here's a closer look at the company.
Kilroy Realty profile
Kilroy Realty is an office REIT focused on developing, acquiring, and managing office, life science, and mixed-use real estate assets on the West Coast. At the end of 2021's first quarter, Kilroy's stabilized portfolio included 14 million square feet of office and life science space and 808 residential units.
The company owns properties in the following West Coast cities:
Given its focus on the West Coast, Kilroy's tenant base skews heavily toward technology and media companies.
| Tenant | % of total annualized base rental (ABR) revenue | % of total rentable square feet |
| --- | --- | --- |
| GM (NYSE: GM) Cruise | 5.3% | 2.6% |
| LinkedIn/Microsoft (NYSE: MSFT) | 4.3% | 4.6% |
| Adobe Systems (NASDAQ: ADBE) | 4.0% | 3.6% |
| salesforce.com (NASDAQ: CRM) | 3.5% | 3.1% |
| DIRECTV | 3.4% | 4.8% |
| Undisclosed Fortune 50 publicly traded company | 3.3% | 3.3% |
| Box (NYSE: BOX) | 3.3% | 2.6% |
| Okta (NASDAQ: OKTA) | 3.2% | 1.9% |
| Netflix (NASDAQ: NFLX) | 3.2% | 2.5% |
| DoorDash (NYSE: DASH) | 2.7% | 1.3% |
| Synopsys (NASDAQ: SNPS) | 2.2% | 2.4% |
| Riot Games | 2.2% | 1.7% |
| Amazon (NASDAQ: AMZN) | 2.1% | 2.4% |
| Viacom International (NASDAQ: VIAC) | 2.0% | 1.5% |
| Nektar Therapeutics (NASDAQ: NKTR) | 1.8% | 0.9% |
Overall, Kilroy gets 46.5% of its ABR from its top 15 tenants, primarily in the media and technology sectors. That tenant concentration is a potential concern for several reasons. First of all, technology companies are increasingly embracing remote work because of the pandemic, leading many to reduce their office space needs. For example, Dropbox (NASDAQ: DBX) has been subleasing space in a building that Kilroy developed for the company. Meanwhile, other large California-based tech giants are relocating their headquarters to states with better business climates, like Texas.
Finally, DIRECTV filed a lawsuit against Kilroy, claiming that it properly exercised its contractual rights to certain space it leased. If technology and media companies need less West Coast office space in the future, it could significantly impact Kilroy's occupancy level and rental rates.
Kilroy Realty news
The pandemic had a noticeable impact on the office real estate market in 2020. A shift to remote work lessened parking revenue at office buildings and caused some tenants to reduce their office space needs as leases rolled over.
Meanwhile, some businesses couldn't pay rent due to financial issues. These headwinds had some impact on Kilroy. It collected 97% of the rent it billed last year, while same-store GAAP NOI declined by 1.4% during the year. However, its overall NOI increased, driven by recently completed expansion projects.
A highlight of 2020 was the completion of The Exchange on 16th, a $585 million 750,000-square-foot office development in San Francisco 100% leased to Dropbox. The company would go on to sell that property in early 2021 for $1.08 billion, valuing it at a record $1,440 per square foot. Overall, Kilroy completed a record $1 billion of office projects in 2020. It also finished construction on a $245 million, 371-unit residential development as part of a mixed-use project in San Diego.
Kilroy has gotten 2021 off to a solid start. In addition to selling The Exchange, the company completed construction on an office development project in San Diego, phase one of a life science development project in San Francisco, and a 193-unit residential project in Los Angeles.
The company had $1.5 billion of office and life science development projects in process at the end of the first quarter. It has already leased 88% of the space and had only $350 million of remaining spending. Meanwhile, its rental collection rate was solid at 96%, while its FFO grew overall, though it dipped slightly on a per-share basis due to stock sales in the last year.
Kilroy Realty Corporation stock price
Kilroy Realty's strategy of focusing on West Coast office markets hasn't created much value for its investors in recent years.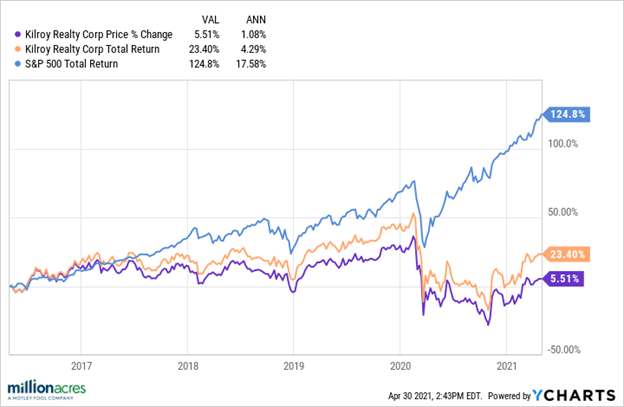 As that chart shows, the office REIT has significantly underperformed the S&P 500 over the last five years.
The main issue seems to be the office REIT's lackluster FFO per share growth during that time frame. While the company's FFO per share has risen from an adjusted $3.20 in 2015 to $3.71 in 2020, that's a relatively meager 15.9% rise over the last five years. Further, 2020's FFO was down 5.1% from 2019's peak and well below its initial $4.01 to $4.21 per share guidance range due to stock sales and the pandemic.
Weighing on FFO per share growth has been a steady string of property and stock sales to help finance development projects. In addition to selling The Exchange in 2021, the REIT sold $783.6 million in properties in 2016 and several hundred million dollars of properties in other years. Meanwhile, the office REIT's outstanding share count has risen 25% over the last five years as it has sold stock to fund development projects and acquisitions.
While Kilroy's FFO per share hasn't grown much in recent years, the REIT has steadily increased its dividend each year since 2015. Overall, it's raised the payout by 46.7% during that time frame. Further, it paid investors a sizable special dividend in 2016 related to realized gains from property sales that year. When combined with a sinking stock price, that steady dividend growth has pushed Kilroy's dividend yield to about 3% over the past year.
The bottom line on Kilroy Realty
Kilroy Realty has focused on owning and developing office properties along the West Coast, primarily leased to technology and media companies. That strategy hasn't paid dividends in recent years because a steady string of property and stock sales have held back its ability to grow FFO. Meanwhile, it's unclear if the REIT's strategy will deliver in the future, given its high tenant concentration to companies that are increasingly considering remote work or moving to states with better business climates.
All this means investors might want to wait until Kilroy's strategy starts creating value before adding this office REIT to their portfolio.
Got $1,000? The 10 Top Investments We'd Make Right Now
Our team of analysts agrees. These 10 real estate plays are the best ways to invest in real estate right now. By signing up to be a member of Real Estate Winners, you'll get access to our 10 best ideas and new investment ideas every month. Find out how you can get started with Real Estate Winners by clicking here.
John Mackey, CEO of Whole Foods Market, an Amazon subsidiary, is a member of The Motley Fool's board of directors. Teresa Kersten, an employee of LinkedIn, a Microsoft subsidiary, is a member of The Motley Fool's board of directors. Matthew DiLallo owns shares of Adobe Systems, Amazon, Netflix, and Salesforce.com. The Motley Fool owns shares of and recommends Adobe Systems, Amazon, Box, Microsoft, Netflix, Okta, Salesforce.com, and Synopsys and recommends the following options: long January 2022 $1920 calls on Amazon and short January 2022 $1940 calls on Amazon. The Motley Fool has a disclosure policy.