Get our 43-Page Guide to Real Estate Investing Today!
Real estate has long been the go-to investment for those looking to build long-term wealth for generations. Let us help you navigate this asset class by signing up for our comprehensive real estate investing guide.
Invesco Mortgage Capital (NYSE: IVR) is a mortgage REIT with a portfolio that consists of commercial and residential mortgage-backed securities, among other assets. With the stock still trading for significantly less than its pre-2020 value and a dividend yield of nearly 10%, it might look like an attractive bargain at first glance.
In this article, we'll take a closer look at how Invesco Mortgage Capital makes its money, why its stock price has fallen so sharply over the past year, and whether it might be worth a look for investors now.
Invesco Mortgage Capital Company Profile
Invesco Mortgage Capital is a real estate investment trust, or REIT. Instead of owning physical real estate, however, the company is a mortgage REIT, focusing its investment efforts on residential and commercial mortgages and mortgage-backed securities.
Invesco Mortgage Capital went public in 2009 and is managed by a subsidiary of Invesco (NYSE: IVZ), a massive investment management firm. (If you're familiar with the Nasdaq ETF that trades under ticker symbol QQQ, that's an Invesco product.)
The bulk of Invesco Mortgage Capital's portfolio consists of agency residential mortgage-backed securities (agency RMBSs). In other words, Invesco owns mortgages that meet the lending standards of government-sponsored enterprises like Fannie Mae and Freddie Mac. In addition, the company owns a substantial portfolio of non-agency commercial mortgage-backed securities (CMBSs) as well as smaller amounts of non-agency RMBSs, commercial loans, and other investments.
Mortgage REITs 101
If you aren't familiar, the general business model of a mortgage REIT is to borrow money on a short-term basis (at a relatively low interest rate) and purchase mortgages that pay higher interest rates. For example, if a mortgage REIT can borrow money at 1% interest to buy mortgages paying 3%, the 2% difference is the profit.
Because no investor would be happy with a 2% return, mortgage REITs use quite a bit of leverage to achieve much higher profits. At the end of the third quarter, Invesco Mortgage Capital had a debt-to-equity (leverage) ratio of 4.3-to-1, meaning that for every $100 in assets, the company borrowed $430 to help fund its investments.
The problem with this business model is that it's very rate-sensitive. When rates spike higher, short-term borrowing costs get much more expensive, and profit margins can quickly disappear. And when rates rapidly move lower, there's often a wave of mortgage refinancings, and loans get prepaid (and therefore don't produce any further income for the mortgage REIT).
In reality, the business isn't that simple. For example, mortgage REITs use hedging strategies like interest rate swaps to protect against rapid interest rate fluctuations. But the general idea is that these are rate-sensitive businesses and when borrowing rates spike in either direction, it can cause significant turbulence for these companies.
Invesco Mortgage Capital news
I won't sugarcoat it. Invesco Mortgage Capital was hit hard by the COVID-19 pandemic, which is by far the most significant news item to ever affect the company.
In March when the pandemic hit, interest rates were all over the place. According to the company's March 24, 2020, press release:
The company and its subsidiaries have received an unusually high number of margin calls from financing counterparties. Through Friday, March 20, 2020, the company had timely met all margin calls received. However, on Monday afternoon, March 23, 2020, the company notified its financing counterparties that it was not in a position to fund the margin calls that it received on March 23, 2020, and that the company did not expect to be in a position to fund the anticipated volume of future margin calls under its financing arrangements in the near term as a result of market disruptions created by the COVID-19 pandemic.
In short, Invesco Mortgage Capital's lenders started to ask for some of their money back as asset values began to decline. And the company was having trouble coming up with the money. So, Invesco was forced to sell assets at fire-sale prices in order to satisfy its lenders' margin calls -- obviously not a good outcome. Specifically, the percentage of the company's assets other than agency RMBSs declined from 56% before the pandemic to just 7% as of the third quarter of 2020. As a result, Invesco Mortgage Capital's book value per share plummeted from $16.29 at the end of 2019 to an estimated range of $2.25 to $3.25 by its May 11 shareholder update.
Invesco Mortgage Capital stock price
We mentioned the impact of COVID-19 on Invesco Mortgage Capital's business, but what about the stock price? Well, it isn't good.
At one point in March, the company's shares lost more than 50% of their value in a single day. In all, the stock is trading for more than 80% less than it was at the start of 2020 as of mid-January 2021.
When the pandemic hit, Invesco Mortgage Capital received an enormous volume of margin calls and was forced to sell assets to satisfy them. The company ended up cutting its dividend from $0.50 to $0.02 as the pandemic eroded the asset value. And while the payment was raised to $0.05 and most recently to $0.08 in the subsequent quarters, it's still far below where the payout was before 2020. Based on the current $0.08 quarterly payment, Invesco Mortgage Capital has an annualized dividend yield of about 9.8% as of January 19, 2020.
With all of that in mind, it's not completely fair to judge a mortgage REIT's performance during the pandemic. It was an unprecedented situation, and panic took over in the early days. So, let's take a look at how Invesco Mortgage Capital performed in more normal times.
From its 2009 IPO through the end of 2019, Invesco Mortgage Capital generated a 230% total return for investors, as compared with the S&P 500's 350% total return in the same time period. This is still an underperformance, but it's worth noting that Invesco Mortgage Capital was a pretty reliable income stock until the pandemic came along.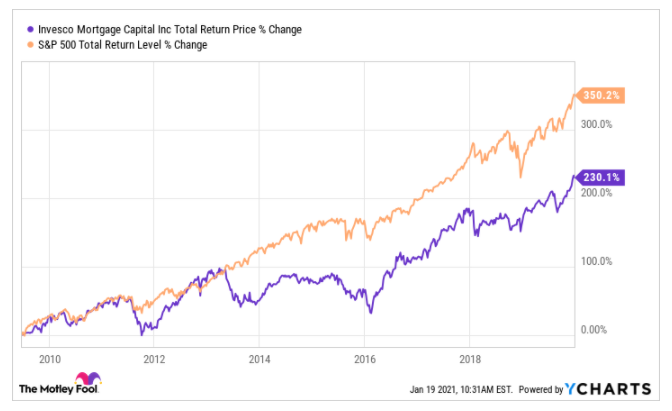 Putting it all together, Invesco Mortgage Capital has generated a negative 19% total return in its 11 years as a publicly traded company. In other words, a $10,000 investment at the company's IPO with all dividends reinvested would have turned into $8,100 today. Even in the world of mortgage REITs -- most of which were rocked by the pandemic -- this is a pretty dismal performance.
The bottom line on Invesco Mortgage Capital
Invesco Mortgage Capital was one of the hardest-hit mortgage REITs in 2020, and it isn't anywhere near its pre-COVID-19 valuation. And there's no reason to believe it will rebound to anything close to those levels anytime soon.
However, the company's portfolio has been significantly pared down and is now highly concentrated in what I consider to be the safest type of mortgage investment, agency-backed residential mortgage-backed securities. Even so, interest rate fluctuations remain a risk factor, so the dividend yield of roughly 10% isn't guaranteed by any means.
The bottom line is that for risk-tolerant investors, Invesco Mortgage Capital could make a solid income investment. But don't buy it expecting it to rebound to its pre-COVID-19 share price anytime soon.
Got $1,000? The 10 Top Investments We'd Make Right Now
Our team of analysts agrees. These 10 real estate plays are the best ways to invest in real estate right now. By signing up to be a member of Real Estate Winners, you'll get access to our 10 best ideas and new investment ideas every month. Find out how you can get started with Real Estate Winners by clicking here.