Get our 43-Page Guide to Real Estate Investing Today!
Real estate has long been the go-to investment for those looking to build long-term wealth for generations. Let us help you navigate this asset class by signing up for our comprehensive real estate investing guide.
The commercial real estate industry has grown over the years to include specialized property types that support the growth of specific industries. One that has recently emerged is medical-use cannabis facilities. These properties grow and process medical marijuana to supply the healthcare industry with chemicals from the plant to make pharmaceutical drugs and other treatments.
One of the leaders in helping meet this sector's real estate funding needs is Innovative Industrial Properties (NYSE: IIPR). The real estate investment trust (REIT) is the first public company focused on owning medical-use cannabis facilities. Here's a closer look at this first mover in an emerging sector of the healthcare industry.
Innovative Industrial Properties profile
Innovative Industrial Properties is an industrial REIT. While most other companies in that sector focus on owning warehouses, factories, and distribution centers, Innovative Industrial Properties concentrates solely on properties triple-net leased to state-licensed medical-use cannabis growers.
The company owned 63 properties across 16 states that contained 5 million square feet of leasable space as of mid-November 2020. It had leased 99.3% of that portfolio with a weighted average lease term of 16 years. These facilities included those used to cultivate and process medical-use cannabis, the manufacturing and distribution of products derived from cannabis, and free-standing retail stores that sell medical-use cannabis products. Cannabis-related products currently have various uses, including treating cancer, HIV/AIDs, pain, nausea, seizures, muscle spasms, multiple sclerosis, post-traumatic stress disorder, migraines, arthritis, Parkinson's disease, Alzheimer's, lupus, spinal cord injuries, and terminal illness.
Innovative Industrial Properties operates in 16 of the 35 states that have legalized cannabis for medical use. These include:
Illinois: 17.2% of its portfolio
Pennsylvania: 16%
Massachusetts: 14%
Michigan: 13.1%
Florida: 9.8%
California: 7.4%
Ohio: 5.8%
New Jersey: 4.1%
New York: 3.1%
All others: 9.4%
The REIT primarily acquires properties via sale-leaseback transactions with the operator. The REIT also makes real estate-backed loans to enable medical-use cannabis growers to expand their operations. These deals provide state-licensed medical-use cannabis growers with capital to finance expansion. Most can't access funding through traditional means like banks due to federal law. Thus, selling their real estate is one of the few funding sources these companies have for expansion.
Innovative Industrial Properties news
Innovative Industrial Properties has been growing like a weed (pardon the pun). During the third quarter of 2020, the REIT bought five properties totaling 448,000 rentable square feet in Florida, Michigan, and New Jersey. It also provided funding to tenants at seven existing properties, allowing them to continue building out and expanding facilities in Illinois, Michigan, Ohio, and Pennsylvania. Overall, it invested $180.3 million across those 12 transactions, which included establishing new tenant relationships and expanding existing ones.
The continued expansion of the company's portfolio has helped fuel significant increases in its revenue and FFO. During the first nine months of 2020, Innovative Industrial Properties generated $79.8 million of revenue, an eye-popping 196% increase compared to the prior-year period. Meanwhile, it generated $62.7 million, or $3.40 per share, of FFO, up a jaw-dropping 223% compared to the year-ago period.
While tenants in other real estate classes struggled to pay their rent in 2020 due to the COVID-19 outbreak, it didn't have much effect on the medical-use cannabis industry. Because of that, Innovative Industrial Properties collected nearly all the rent it billed. It only had one problem tenant (at its Los Angeles, CA, property), which went into receivership. However, another of its other tenants agreed to acquire the retail, distribution, cultivation, and manufacturing licenses for cannabis operations from this tenant and then signed a long-term, triple-net lease for the entire property with Innovative Industrial Properties towards the end of 2020. If the government approves that deal, the REIT will start collecting rent on that property once again.
Innovative Industrial Properties stock price
Innovative Industrial Properties burst on the scene in December of 2016 when it completed its initial public offering and hasn't stopped to catch its breath.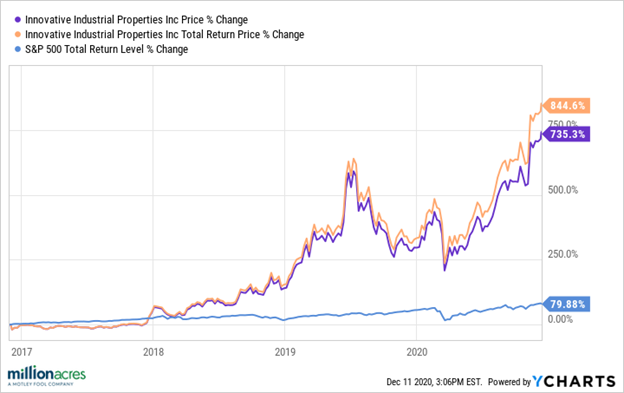 As that chart shows, it has delivered a stunning performance during its short time as a publicly-traded company, significantly outperforming the market, which was up sharply during that time.
Powering the REIT's strong gains has been the rapid expansion of its portfolio. It raised $61.1 million in cash at its IPO. The REIT used $30 million of those proceeds to complete the acquisition of its initial property, a newly-constructed, 127,000-square-foot medical-use cannabis cultivation and processing facility in New York. It has since raised a total of $1.43 billion in capital -- including issuing additional equity and exchangeable notes -- committing $1.18 billion of those funds to grow its portfolio up to its current size of 63. Those deals have increased its annualized base rent (ABR) from an initial rate of $5.2 million to an annualized level of $126.1 million as of the third quarter of 2020. Meanwhile, it has a significant amount of financial flexibility to keep expanding its portfolio thanks to its cash-rich, low-leverage balance sheet.
Innovative Industrial Properties initialized a dividend in the middle of 2017, starting by paying a $0.15 per share quarterly rate, or $0.60 per share annualized. The dividend, like its portfolio, has grown significantly since that time. By the third quarter of 2020, the company was paying out $1.17 per share each quarter ($4.68 per share annualized). That rate was 10% higher than the second-quarter level and 50% above the prior-year payout. The REIT aims to pay out 75% to 85% of its AFFO, suggesting that the dividend should continue growing alongside its cash flow.
Industrial Properties' dividend yield has ebbed and flowed with the stock price, which has risen in fits and starts. It has been as high as 6% and below 1.5%. Though, on average, it has been slightly less than 3%.
The bottom line on Innovative Industrial Properties
Innovative Industrial Properties is the first publicly-traded REIT focused on owning medical-use cannabis facilities. As of late 2020, it was still the only one after a prospective rival decided not to proceed with a deal that would have qualified it as a REIT.
That's good news for Innovative Industrial Properties because it means the company has the market to itself. As a result, it should have no problem raising capital from investors to continue buying more properties. Meanwhile, it should have no shortage of acquisition opportunities since it operates in less than half of the states that have legalized medical marijuana, and banks still can't lend to the industry. Because of that, the REIT has the potential to continue generating outsized total returns, making it worth the attention of real estate investors.
Got $1,000? The 10 Top Investments We'd Make Right Now
Our team of analysts agrees. These 10 real estate plays are the best ways to invest in real estate right now. By signing up to be a member of Real Estate Winners, you'll get access to our 10 best ideas and new investment ideas every month. Find out how you can get started with Real Estate Winners by clicking here.
Matthew DiLallo
has no position in any of the stocks mentioned. The Motley Fool owns shares of and recommends Innovative Industrial Properties. The Motley Fool has a
disclosure policy
.