Get our 43-Page Guide to Real Estate Investing Today!
Real estate has long been the go-to investment for those looking to build long-term wealth for generations. Let us help you navigate this asset class by signing up for our comprehensive real estate investing guide.
Real estate investment trusts, or REITs, can be great options for investors who want to hold a diversified portfolio of commercial real estate without all the headaches of being a landlord. Investing in a REIT, however, does take some work as investors need to understand how to read and analyze their financial reports.
While REITs use Generally Accepted Accounting Principles, or GAAP, to report their earnings, they also use several non-GAAP, REIT-specific metrics. This guide will walk you through how to read those regulatory filings so you can understand how your investment is performing.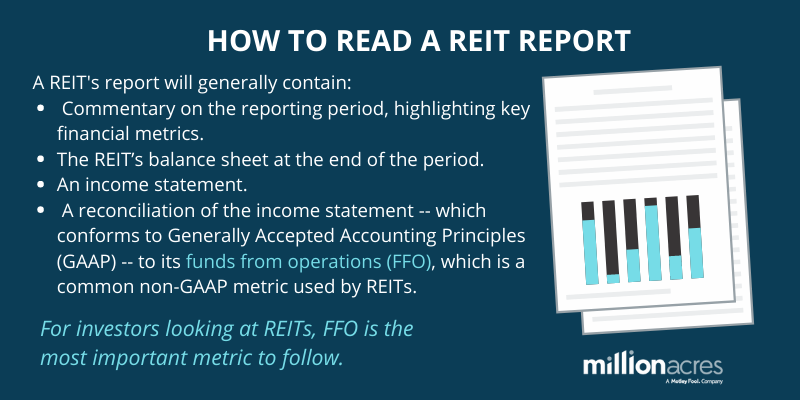 What is a REIT report?
Publicly traded REITs, as well as many non-listed ones, must file quarterly and annual reports, Forms 10-Q and 10-K, respectively, with the Securities and Exchange Commission (SEC). These regulatory filings contain three key pieces of financial data for the reporting period:
A balance sheet.
An income statement.
A cash flow statement.
Many also contain lots of other information. These reports can include commentary about the real estate company and what occurred during the quarter, market data, and supplemental financial information to provide investors with an even more detailed picture of what happened during the period. That extra information tends to be quite useful because it typically provides a better look at a REIT's underlying financial results than its GAAP numbers do.
Many REITs will also issue a slimmed-down version of their quarterly and annual reports, usually via a press release. This document is usually much easier to digest as it typically contains:
Commentary on the reporting period, often highlighting important financial metrics.
The REIT's balance sheet at the end of the period.
An income statement.
A reconciliation of the income statement -- which conforms to Generally Accepted Accounting Principles (GAAP) -- to its funds from operations (FFO), which is a common non-GAAP metric used by REITs.
That last metric is vital to REIT investors, and it holds the key to our discussion here.
The one metric REIT investors need to know
For most companies, net income -- which is the last number on an income statement -- is the most important metric because it tells the owners how much the business earned during the reporting period. But net income isn't the best way to measure a REIT's financial performance, mainly because of the impact of depreciation, which can be significant. This noncash expense reduces a REIT's taxable net income. While the lower net income helps cut a REIT's tax burden, it masks its real earnings power.
FFO, on the other, adjusts for noncash items like depreciation to provide investors with a more accurate picture of a REIT's cash flow during the period. It also adjusts for other one-time items, like gains and losses on the sale of properties, which can have a noticeable impact on net income. In addition to reporting FFO as defined by NAREIT, some REITs also provide adjusted and normalized FFO numbers in their report to give investors an even more accurate reflection of their cash flow during the period, which determines their ability to pay dividends.
To help investors see the difference between net income and FFO, let's look at a real-life example from healthcare REIT Medical Properties Trust (NYSE: MPW). Here's a snapshot of its consolidated income statement in the third quarter of 2019, which compares that period with the prior year: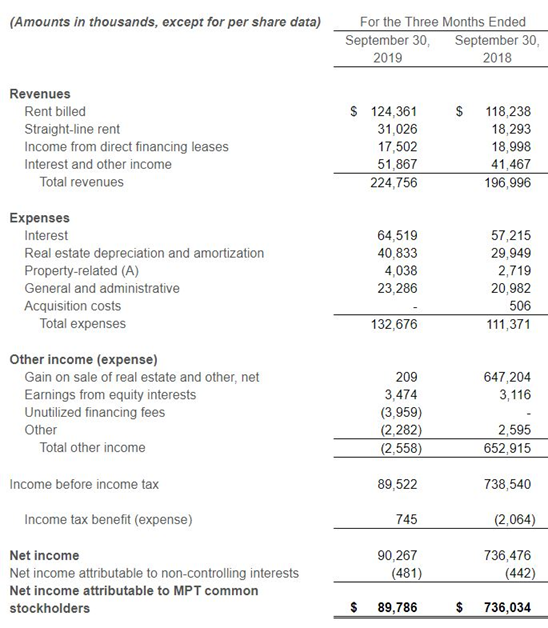 As that report shows, Medical Properties Trust's revenue during 2019's third quarter rose versus the prior thanks in part to higher rents. However, its reported net income plunged because it recorded a large gain on the sale of an asset in 2018's third quarter.
Now, here's a look at the company's FFO during these two quarters: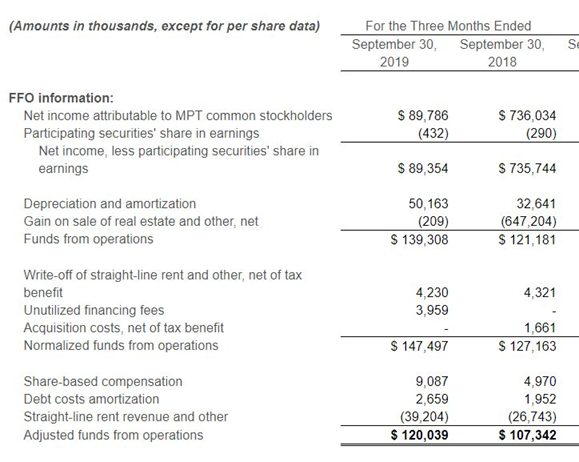 As that table shows, Medical Properties Trust's FFO was not only much higher than its net income after stripping out the effect of depreciation but it also rose versus the prior-year period after adjusting for the impact from gains on asset sales.
Medical Properties Trust also normalized its FFO. It adjusts for "items that relate to unanticipated or non-core events or activities or accounting changes that, if not noted, would make comparison to prior period results and market expectations less meaningful to investors and analysts," according to a note in its earnings press release. The company does this to help improve "the understanding of our operating results among investors and the use of normalized FFO makes comparisons of our operating results with prior periods and other companies more meaningful."
Meanwhile, Medical Properties Trust, like many other REITs, also reports adjusted FFO to more accurately reflect its actual cash flow during the period. It does this by adding or subtracting noncash revenue like straight-line rent -- which is rent that has accrued rather than actual payments received -- as well as other noncash charges or deferred costs.
Why FFO matters to REIT investors
REITs present FFO as their primary financial metric primarily because it is the best way to measure the cash they generated, which they could have paid out to investors via a dividend. In Medical Properties Trust's case, it reported $89.7 million of net income during the third quarter of 2019, which worked out to $0.20 per share. The company, however, paid out $0.26 per share in dividends, suggesting that the company is paying out more than it's bringing in each quarter.
But that's not the case, as its actual cash generation was much higher after adjusting for the impact of depreciation. That's evident in its normalized FFO, which came in at $147.5 million, or $0.33 per share. That was more than enough to cover its dividend, implying a 79% payout ratio -- a comfortable level for a REIT.
Focus on the most important number in the report
Reading all the data in a REIT report can seem overwhelming for beginning investors, but any investment report is much easier to understand when you know where to focus your attention. In this case, it's on the FFO since that number shows how much cash a REIT is generating, which it could pay out in dividends. That number will allow investors to quickly gauge how well a REIT is performing as well as the safety of its dividend.
Got $1,000? The 10 Top Investments We'd Make Right Now
Our team of analysts agrees. These 10 real estate plays are the best ways to invest in real estate right now. By signing up to be a member of Real Estate Winners, you'll get access to our 10 best ideas and new investment ideas every month. Find out how you can get started with Real Estate Winners by clicking here.
Matthew DiLallo owns shares of Medical Properties Trust. The Motley Fool has no position in any of the stocks mentioned. The Motley Fool has a disclosure policy.