Get our 43-Page Guide to Real Estate Investing Today!
Real estate has long been the go-to investment for those looking to build long-term wealth for generations. Let us help you navigate this asset class by signing up for our comprehensive real estate investing guide.
The U.S. consumer has shifted their spending habits over the years. They're allocating less of their disposable income to purchase goods in stores, instead preferring to do their shopping online and use more of their spending money on experiences like dining and entertainment. As a result, the retail industry has evolved by shrinking store counts and tailoring locations to serve more of its customers' needs.
Retail landlords have also had to adapt. One of the companies leading in creating the retail atmosphere of the future is Federal Realty Investment Trust (NYSE: FRT). Here's a closer look at the leading real estate investment trust (REIT).
Federal Realty Investment Trust profile
Federal Realty Investment Trust is a retail REIT focused on owning, operating, and redeveloping high-quality retail-based properties, primarily in major coastal markets. At the end of 2020, the company owned 101 urban mixed-use properties and open-air shopping centers with 23 million square feet of commercial space leased to roughly 2,800 tenants. In addition to that, the REIT owned about 2,900 residential units.
The REIT owns properties in eight major metro markets, including:
Boston: 9% of its property operating income (POI)
New York: 13% of POI
Philadelphia: 7% of POI
The Washington, D.C., region: 34% of POI
Miami: 3% of POI
Chicago: 2% of POI
Silicon Valley (San Francisco and San Jose): 16% of POI
Los Angeles: 12% of POI
All others: 4% of POI
The company owns a diverse mix of retail-focused properties, including:
Mixed-use/urban: 35% of POI.
Grocery-anchored shopping centers: 24% of POI.
Super Regional shopping centers (multi-level shopping centers with several anchor tenants): 25% of POI.
Power centers (Properties with several free-standing category-dominant anchor tenants): 11% of POI.
Other: 5%.
Federal Realty leases space in these properties to a variety of tenants. Roughly 24% of its ABR comes from essential retailers like grocery stores -- 75% of its properties have a grocery component -- banks, and general merchandise retailers. Another third comes from nonessential retailers like health and beauty, housewares and furnishing, and apparel. Meanwhile, as part of its evolution over the years from consumption-focused retail to offering more experiences, Federal Realty gets 15% of its ABR from restaurants, 2% from experiential tenants, and 4% from fitness centers. Finally, another facet of its evolution has been redeveloping some of its real estate for higher and better uses like office space and residential units, which contribute 10% and 11%, respectively, of its ABR.
Federal Realty Investment Trust news
The COVID-19 outbreak had a noticeable impact on Federal Realty in 2020. Due to government-mandated closings of nonessential retailers, only 47% of the company's tenants were open and operating when it reported its first-quarter earnings in early May. Because of that, the REIT collected 72% of the rent it billed during the second quarter. While most stores reopened by the summer -- 92% were open when it reported its second-quarter results at the end of July, which improved to 97% by late October -- its rental collection rate lagged, averaging 85% in the third quarter and 89% during the fourth. That's because the pandemic continued to impact nonessential businesses like restaurants, health and beauty, fitness, and experiential tenants.
That weighed on the REIT's FFO. It declined from $6.17 per share in 2019 to $4.38 per share in 2020 (well below its initial guidance range of $6.40 to $6.58 per share). It also impacted leasing activities because they were under pressure during the first part of the year. On a more positive note, they picked up during the second half, enabling Federal Realty to sign 336 leases for 1.8 million square feet of retail space in 2020. Further, of the 1.7 million square feet of existing space leased, the REIT captured a 3% higher average rate than the prior lease. The company ended 2020 with 92.2% of its retail space occupied, down slightly from 94.2% at the end of 2019.
Federal Realty made a few relatively small tweaks to its portfolio during 2020. It made two acquisitions during the first quarter, paying $36.6 million for a shopping center adjacent to another property and a two-building portfolio as part of a joint venture. Meanwhile, the company sold four assets for $186.1 million in 2020. Those sales included The Shops at Sunset Place in Miami, Florida, which the company determined no longer had a viable redevelopment path following the COVID-19 pandemic. The company used the proceeds from assets sales to further fortify its balance sheet, which remains one of the strongest in the REIT sector. It ended 2020 with nearly $800 million in cash, $1 billion of available credit, no public bonds maturing until 2023, and A-rated credit.
Federal Realty Investment Trust stock price
Despite the REIT's best efforts to evolve alongside the retail sector, Federal Realty has struggled to create shareholder value in recent years: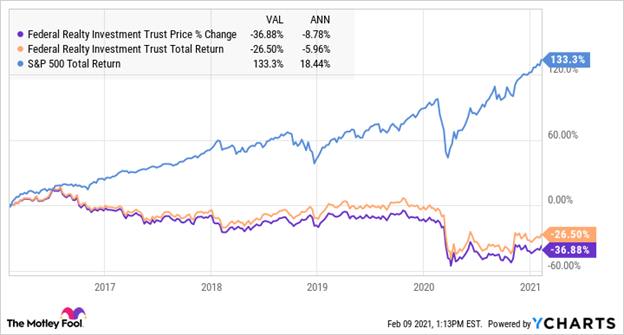 One issue weighing on its stock price has been the impact the COVID-19 outbreak had on its operations in 2020. As noted, nonessential retail tenants struggled to pay rent, which caused its FFO to decline.
In recent years, another issue facing the company has been the shift in consumer spending, which has increasingly gone online or towards experiences rather than purchasing goods in stores. Federal Realty has been working to adapt to this headwind by refocusing its portfolio towards properties that can win in this new environment. It has done that by selling real estate that doesn't fit this new mold and acquiring those it can reposition into live, work, eat, shop, and play destinations that mix shopping, dining, and entertainment options with offices and residential units.
The company has poured hundreds of millions of dollars into building urban mixed-use developments that combine office space and multifamily units with vibrant shopping, dining, and entertainment experiences. It has also strategically redeveloped projects to convert former retail space into apartments, offices, or accommodate new retail and experiential tenants. It has roughly $500 million of investments planned over the next three years to continue transforming its properties into more desirable shopping and entertainment destinations.
While Federal Realty's stock price has lost value in recent years, the REIT has still delivered value for shareholders by increasing its dividend. It notched its 53rd consecutive annual dividend increase in 2020. That's the longest streak in the REIT sector and elite for any company, as it's only one of 30 with 50 or more years of consecutive dividend increases, earning it the distinguished title of Dividend King. Given that steady growth and the slide in Federal Realty's stock price in recent years, its dividend yield has risen from an average of less than 2.5% five years ago to more than 4.5% over the past year.
The Bottom Line on Federal Realty Investment Trust
Federal Realty's stock price has been under pressure in recent years from the headwinds facing retailers as more people shop online and from the more recent impact of the COVID-19 outbreak on the sector. However, the company owns valuable real estate in some of the country's biggest markets that it's transforming into live, work, eat, shop, and play destinations. That strategy should pay dividends over the long run, which makes Federal Realty an intriguing retail REIT to consider owning on the thesis that these properties will become a model for the future of retail.
Got $1,000? The 10 Top Investments We'd Make Right Now
Our team of analysts agrees. These 10 real estate plays are the best ways to invest in real estate right now. By signing up to be a member of Real Estate Winners, you'll get access to our 10 best ideas and new investment ideas every month. Find out how you can get started with Real Estate Winners by clicking here.
Matthew DiLallo has no position in any of the stocks mentioned. The Motley Fool has no position in any of the stocks mentioned. The Motley Fool has a disclosure policy.