Get our 43-Page Guide to Real Estate Investing Today!
Real estate has long been the go-to investment for those looking to build long-term wealth for generations. Let us help you navigate this asset class by signing up for our comprehensive real estate investing guide.
Essex Property Trust (NYSE: ESS), a West Coast-centric apartment real estate investment trust (REIT), has had a tough run over the past year. What once was the REITs claim to success is becoming a detriment, leaving investors to wonder where Essex Properties is headed. If you're considering buying shares of this REIT, here's what you need to know.
Essex Property Trust profile
Essex Property Trust was established in 1971, later going public in 1994. It's grown into one of the leading residential REITs with a primary focus in eight markets along the West Coast. At year-end 2020, the company had ownership or interest in 246 apartment communities, with approximately 60,000 apartment units and six additional properties in active development. Here's a breakdown of how each location figures into the company's net operating income (NOI).
| Location | Percentage of NOI |
| --- | --- |
| Ventura | 6% |
| Los Angeles | 16% |
| Orange County | 10% |
| San Diego | 8% |
| Seattle | 17% |
| San Francisco | 9% |
| Oakland (including Alameda and Contra Costa counties) | 14% |
| Santa Clara | 20% |
The company has made the West Coast its primary focus for acquisition, development, and redevelopment for several reasons. Washington state and California combined comprise the fifth-largest GDP in the world, with ample job opportunities in industries like film production and tech. Favorable tenant demographics, combined with the high cost to enter, develop, and compete in these markets, have helped Essex Property Trust dominate these markets and grow to $1.3 billion in revenues for the year 2020.
Essex Property Trust news
The unique geographic makeup of the company portfolio surely helped build it to what we see today, but the coronavirus pandemic has shook the company's investment strategy. Large cities, including all markets Essex Property Trust operates in, in addition to many others across the central region and East Coast, are experiencing a decline in demand, as tenants look outside of high-density cities for more affordable housing. Work-from-home orders have allowed fluidity in where people reside and put tremendous pressure on apartment owners in these markets.
For the year ending 2020, net income increased 30.5% when compared to 2019. However, core funds from operations (FFO) decreased 4.2%, while NOI fell 6.8%. By year end 2020, the company's portfolio was 96.5% occupied, a slight increase from the prior quarter and just under 1% shy of fourth-quarter 2019 occupancy levels. Delinquencies and concessions were the biggest culprit for the company's loss in revenues in 2020, having earned -$23.5 million in delinquencies and -$31.8 million in cash concessions.
Aggressive anti-eviction policies in the state of California and nationwide eviction moratoriums have continued to put a strain on the company's ability to evict. But with the delinquency rate for the company at 2.2% in October 2020, the bigger issue is lack of demand, which has driven rental rates to -2.5%. Large employers in the company's markets aren't leaving like in other cities, but it's still unknown as to when work and life will resume back to normal, as well as when those who have fled will return.
In a down market, the strength of the company's financial profile is the largest determinant for its future and will determine if the company is able to sustain its financial, development, and shareholder obligations. Thankfully, Essex Property Trust has that on its side.
Despite challenging 2020 results, the company increased its dividend for the 27th consecutive quarter, pushing its payout ratio to 69%, well within a healthy range by REIT standards. While 8% of the company's debt matures in 2021, the company's $269.3 million debt issuance in the form of stock repurchases and bonds earlier in 2020 covers the debt repayment. In 2022, 5.9% of its debt portfolio will mature.
Essex currently has $1.2 billion in cash and cash equivalents, including an undrawn line of credit, which should be more than enough to cover its financial obligations over the next year, which includes the $73 million of uncommitted capital to complete developments underway.
Essex Property Trust stock price
The company's share values plummeted in March 2020, having yet to recover to pre-pandemic highs. Right now, shares are still down 20.5%. Looking at the company's price and total return over the past five years, Essex has done OK, but when compared to the S&P 500, its returns are less than stellar.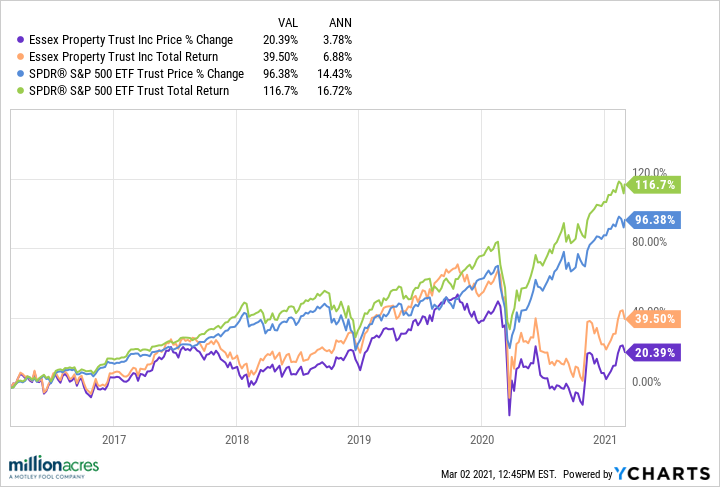 Essex grows share values by driving revenues up through rental rate increases and engaging in new developments or redevelopments. Right now, natural supply and demand are driving rental rates down, and new developments are halted for 2021 outside of current developments underway. This means share prices shouldn't increase dramatically any time soon until a larger base of recovery is achieved.
The bottom line on Essex Property Trust
With the coronavirus pandemic still running rampant, it's clear the challenges facing the company aren't going away any time soon. Many tech and film companies Essex Property Trust relies on to bring jobs and demand to its markets have stated the plan to return to the workplace when it's safe to do so, but others have advocated for making work from home permanent. The general uncertainty over when a safe workplace will be achieved means the company is in for a rocky few years and is one reason its 2021 guidance, which falls in line with performance achieved in 2020, is no surprise to shareholders.
I do see permanent changes coming from the current crisis that will have long-term impacts to the company's revenues and growth, but recovery in its eight core markets is inevitable. People will return to the cities, and with this return will come demand for housing.
Investors interested in Essex Property can invest but should do so with caution. The company could see even worse results in the coming few years. Right now, slightly deflated share values mean investors can achieve a slightly higher return when compared to historical prices, around 3% at the time of this writing.
Essex is a strong company with a top-notch real estate portfolio. But right now, economic conditions have put the company in a challenging spot. It appears the company will be able to come out ahead, but it won't be without obstacles.
Got $1,000? The 10 Top Investments We'd Make Right Now
Our team of analysts agrees. These 10 real estate plays are the best ways to invest in real estate right now. By signing up to be a member of Real Estate Winners, you'll get access to our 10 best ideas and new investment ideas every month. Find out how you can get started with Real Estate Winners by clicking here.
Liz Brumer-Smith has no position in any of the stocks mentioned. The Motley Fool has no position in any of the stocks mentioned. The Motley Fool has a disclosure policy.