Get our 43-Page Guide to Real Estate Investing Today!
Real estate has long been the go-to investment for those looking to build long-term wealth for generations. Let us help you navigate this asset class by signing up for our comprehensive real estate investing guide.
It's an interesting time for residential real estate. Market volatility and general uncertainty as to how tenant preferences and economic conditions will play out have impacted real estate investment trusts (REITs) in particular. Equity Residential (NYSE: EQR), one of the nation's largest REITs specializing in luxury apartments, is one of the leading players in the industry. Let's take a closer look at the company and its current standing.
Equity Residential company profile
Equity Residential develops, owns, and manages 305 high-end apartment complexes having interest in or owning a total of 78,568 housing units. Currently it operates in seven urban markets:
Southern California: 32%
San Francisco: 16%
Washington D.C.: 15%
Seattle: 15%
New York: 12%
Boston: 8%
Denver: 2%
Of these markets, its portfolio is distributed into three submarkets:
Suburban market: 44% share of residential revenues
Urban market: 33% share of residential revenues and
Urban core market: 23% share of residential revenues
The majority of the company's revenues are earned by leasing residential units to long-term tenants; however, a small percentage (2.4%) of its revenues are earned from nonresidential tenants including public pay-for-parking lots and some retail space.
2020 has been a slow year for new developments with the company having sold five properties, netting $754.4 million and achieving a weighted average disposition yield of 4.7% while acquiring a 158-unit apartment complex in Seattle in the third quarter for $48.9 million. The company has roughly $337 million worth of projects under development.
Equity Residential news
2020 has proven to be a very volatile and challenging year for Equity Residential. While Q1 started strong, the coronavirus pandemic has negatively impacted the company's revenues, renewal rates, new lease rates, and funds from operation (FFO). Earnings per share is down a whopping 66.2% from the same quarter last year, and funds from operations are down 17.4%.
This is a huge drop comparing quarter to quarter, but luckily its nine months ending results fared slightly better when compared to the prior year with only a 2.7% total decrease in earnings per share, 2% reduction in funds from operations, and 2.2% decline in net operating income (NOI).
Its tenant base is made up primarily of affluent, high-income-earning tenants, which is one reason the company can boast a 97% collection rate for residential units in Q3, meaning rental collection isn't the concern. Tenant preferences are shifting away from expensive, high-density apartments to more suburban areas where rental housing is more affordable. All seven of its core markets have seen declines in rental growth, with San Francisco and New York being the most impacted.
The suburban sector of its portfolio has been the least impacted but is still suffering from a slight decrease in renewal rates, a roughly 4.8% decrease, which is far better than its urban core markets, which saw a 14.7% decrease in renewal rates for Q3 2020. Occupancy as a whole is down just 1% from the same quarter last year. The major causes for lackluster earnings are fewer leasing renewals, new leases, and declining rental rates. Tenant turnover is up 1.6%, occupancy is down 1.7%, and average rental rates are down 3.2% when compared to Q3 2019.
One thing going for Equity Residential during these challenging circumstances is its balance sheet. Equity Residential is playing its cards very conservatively right now, focusing its efforts on maintaining its balance sheet rather than on new acquisitions or developments. As of Q3 2020, the company's debt-to-EBITDA was 5.0x which is within normal limits for a residential REIT. Its next big debt maturity for just over $818 million is due in 2021. The company has roughly $178 million in cash and cash equivalents in addition to a $2.5 billion revolving line of credit and commercial paper program until 2024.
Equity Residential stock price
Equity Residential's stock price was hit hard back in spring. While many other stocks and REITs have recovered since stocks fell back then, Equity Residential's share price has fallen an additional 10% from its March lows, down 47% from February 2020 highs. Stock prices and performance for the past five years haven't been much better, with the company underperforming the S&P 500.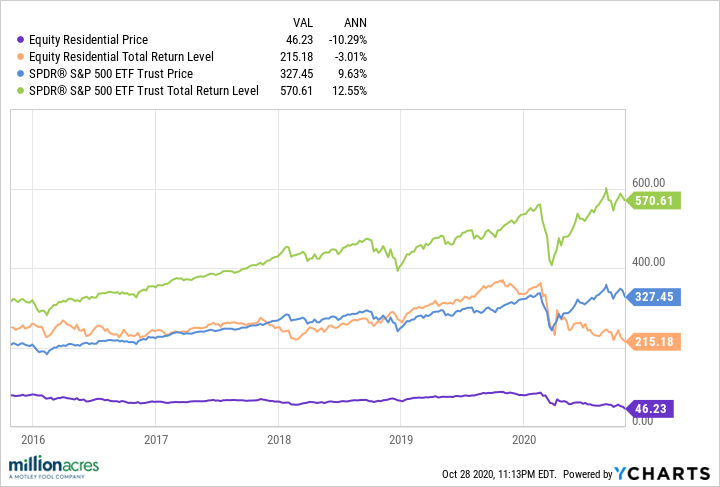 Downward pressure on share prices has bumped its dividend return to 5%, which is a pretty competitive rate among residential REITs. Additionally its payout ratio of 79% means it is well-positioned to maintain dividends despite lowered revenues.
The bottom line on Equity Residential
Despite a lot of negative news around recent performance, many of the challenges the company is facing today are temporary. Market recovery may take a while to achieve, but it's unlikely people will stay away from the top-tier markets Equity Residential operates in forever. Share prices for the stock will likely continue to fall as volatility continues to play out in the market and uncertainty lingers as to its long-term performance. I personally just bought shares in Equity Residential, and despite poor recent performance, I still feel it is among the top residential REITs for patient investors looking for discounted buys in today's market.
Got $1,000? The 10 Top Investments We'd Make Right Now
Our team of analysts agrees. These 10 real estate plays are the best ways to invest in real estate right now. By signing up to be a member of Real Estate Winners, you'll get access to our 10 best ideas and new investment ideas every month. Find out how you can get started with Real Estate Winners by clicking here.
Liz Brumer-Smith has no position in any of the stocks mentioned. The Motley Fool has no position in any of the stocks mentioned. The Motley Fool has a disclosure policy.