Get our 43-Page Guide to Real Estate Investing Today!
Real estate has long been the go-to investment for those looking to build long-term wealth for generations. Let us help you navigate this asset class by signing up for our comprehensive real estate investing guide.
When someone mentions manufactured housing communities or RV parks, it's likely visions of retiree communities filled with moderate but affordable housing or old RVs come to mind. But that's not always the case. Leaders among the sector like Equity Lifestyle Properties (NYSE: ELS) are redefining the possibility of what manufactured and RV communities can be. If you're considering investing in this growing real estate investment trust (REIT), here's what you need to know.
Equity LifeStyle Properties company profile
Equity LifeStyle Properties owns, develops, operates, leases, and manages 415 manufactured home and RV communities across 33 states and British Columbia, totaling nearly 157,000 rentable spaces. Their RV resorts operate under two brands, Encore and Thousand Trails, which is primarily a membership-based network of 80 RV resorts and campgrounds. Their manufactured homes include all-age and 55-plus communities. Of their portfolio:
Just over 65% of their income comes from their 204 mobile home communities.
18% is earned annually from their 200 RV resorts and 11 marinas.
7% is earned from their annual Thousand Trails membership fees.
The remaining 9% is earned from transient and seasonal rentals.
Their communities are located across the USA and British Columbia in ideal locations for retirees and RVers that follow population migration trends. Their locations, including Florida, Texas, Arizona, California, Oregon, Washington, New York, and beyond, are typically located in areas that have favorable weather conditions for the majority of the year, have seasonal appeal, such as a warm getaway for snowbirds, and are close to popular environmental or tourist attractions or located next to a high-density urban area often lacking affordable housing options. More than 90 of their properties are on a lake, and more than 120 are within 10 miles of a U.S. shoreline.
One thing that sets the company apart from other manufactured community providers is that all tenants wholly own the units at their sites, which can include mobile homes, RVs, tiny homes, resort cottages, or boats. Equity LifeStyle rents the units or spaces on a long-term or short-term basis to the tenants, charging a nightly, weekly, or monthly rate while providing resort-style amenities like golf, pools, fitness centers, basketball or tennis courts, clubhouses, and more to their residents. The average age of their residents is in the 55 to 59 age range, which is expected to grow 18% over the next 15 years.
Equity LifeStyle Properties news
The coronavirus pandemic breathed new life into the RV industry. Once reserved for retirees ready to explore the country, RVs became an attractive way for people of all ages and demographics to travel safely amid the worldwide pandemic.
This resurgence for the RV market provided an extra $1 million in transient and seasonal revenues for Equity LifeStyles when compared to October 2019 and an 8.7% boost in rental income growth. The company saw a 5.3% increase in revenues for the nine months ended September 30, 2020, compared to the same nine months of the previous year despite other industries and REITs struggling to remain afloat.
Operating revenues increased 4.9% despite a $0.06 decrease in funds from operations (FFO) from the third quarter of 2019, which is largely due to a gain of $52.5 million from the sale of five mobile home communities in 2019.
Equity LifeStyle Properties recently extinguished $200 million of secured loans that were set to mature in 2021 and 2023 by closing a financing transaction with Fannie Mae that was secured by ten manufactured home communities and provided proceeds of $386.9 million. Paying these debt maturities off early resulted in an early debt retirement cost of $9.7 million but allowed them to push their average weighted maturity to just over 13 years at 3.7% weighted interest rate, which is in line with REIT averages. Their total debt-to-EBITDAre is now 5.0x, with their next maturity being in 2022.
In Q3 2020, the company acquired nine new facilities, developement, or expansion projects for a total of $58.7 million from available cash:
Marina Dunes RV Park, an 89-site RV community in Marina, California.
Acorn Campground, a 323-site RV community in Green Creek, New Jersey.
The Resort at Tranquility Lake, a planned 500-site RV community in Cape Coral, Florida.
Bayport, a planned 900-site RV community in Jamaica, Virginia.
The purchase of five parcels of land adjacent to four of its current facilities.
Natural disasters and environmental hazards, including hurricanes, are an inherent threat to manufactured community operators. Hurricanes Hanna and Isaias, which made landfall during Q3 2020, resulted in approximately $9 million worth of property damage for some communities in Texas, North Carolina, Delaware, New Jersey, and Pennsylvania.
Equity LifeStyle Properties stock price
Equity LifeStyle Properties has achieved impressive growth since their first IPO in February of 1993, growing from 41 properties and 12,312 sites to the company we see today. Its performance hasn't outpaced the S&P 500 over the past 10 years, but it has achieved an impressive 206% return.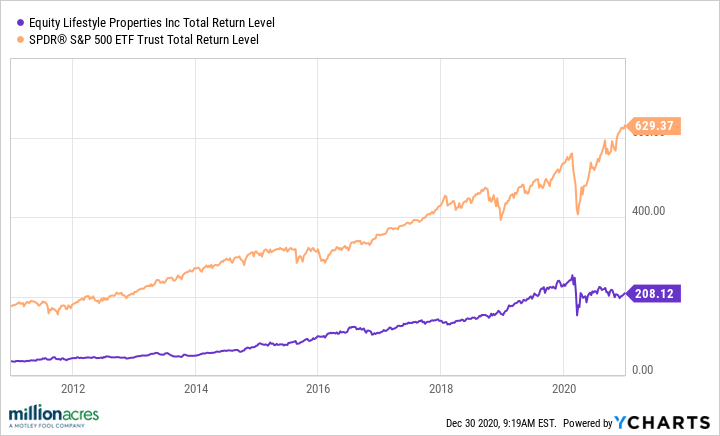 Share prices for Equity LifeStyle Properties plummeted in mid-March 2020 and have yet to recover to their pre-pandemic highs, hovering around 20% less than February 2020 highs. Historically, the company has maintained consistent price and dividend growth. Quarterly dividends are at $0.34 as of Q4 2020, providing investors with just over a 2% return -- not spectacular, but a safe and consistent return in the current environment. Payout ratios are well within a healthy range at 68.5%, allowing the company room for continued dividend growth even during economic uncertainty.
The bottom line on Equity LifeStyle Properties
Equity LifeStyle Properties is a well-established company that shows promising signs for continued growth and expansion in the manufactured and RV industries. RV travel may die down in several years, but steady and consistent demand for affordable housing can help offset that, at least for the time being.
One thing investors need to be aware of is that long-term growth prospects beyond 2030 could be challenging. Attracting and maintaining tenants once the baby boomers' "boom" has expired while trying to combat environmental issues including flooding, hurricanes, and/or fires could eventually put the company and investors in a tough position. It will be interesting to see how the company addresses these issues moving forward.
Got $1,000? The 10 Top Investments We'd Make Right Now
Our team of analysts agrees. These 10 real estate plays are the best ways to invest in real estate right now. By signing up to be a member of Real Estate Winners, you'll get access to our 10 best ideas and new investment ideas every month. Find out how you can get started with Real Estate Winners by clicking here.
Liz Brumer-Smith has no position in any of the stocks mentioned. The Motley Fool has no position in any of the stocks mentioned. The Motley Fool has a disclosure policy.