Get our 43-Page Guide to Real Estate Investing Today!
Real estate has long been the go-to investment for those looking to build long-term wealth for generations. Let us help you navigate this asset class by signing up for our comprehensive real estate investing guide.
EPR Properties (NYSE: EPR) doesn't fit into any of the traditional real estate investment trust (REIT) subsectors. While it has some of the defining characteristics of a few, specifically retail and hospitality, it isn't quite a retail REIT and it isn't quite a hospitality REIT either. EPR Properties describes itself as an "experiential" REIT, specializing in commercial properties occupied by tenants that sell experiences. Think movie theaters, water parks, golf attractions, ski resorts, and gaming properties.
With those property types in mind, it shouldn't come as a big surprise that EPR's business -- and its stock price -- haven't exactly done well during the COVID-19 pandemic. But the company is in better shape than you might expect from a highly affected REIT, has an excellent long-term track record of creating value for investors, and could still have a very bright future ahead of it.
EPR Properties company profile
As mentioned, EPR Properties is an experiential REIT. It was founded in 1997 and has made $6.7 billion in property investments since that time.
EPR's portfolio consists of 369 properties located throughout the United States and Canada, and it leases its properties to more than 200 different tenants. Most of the portfolio is experiential in nature, but about 11% of EPR's revenue comes from its 85 education properties, most of which are early childhood education centers.
Here's a detailed breakdown of EPR's current portfolio:
| Property Type | Number of Properties | % of Revenue (Pre-COVID-19) |
| --- | --- | --- |
| Theaters | 180 | 46% |
| Eat & Play | 56 | 22% |
| Ski | 13 | 8% |
| Attractions | 18 | 6% |
| Private Schools | 16 | 6% |
| Early Childhood Education | 69 | 5% |
| Experiential Lodging | 6 | 3% |
| Gaming | 1 | 2% |
| Cultural | 3 | 1% |
| Fitness & Wellness | 7 | 1% |
| Total | 369 | 100% |
Notice that the revenue column specifies that these are pre-COVID-19 figures. We'll discuss pandemic developments in the next section, but it's worth mentioning that many of EPR's tenants (especially theater operators) have been unable or unwilling to pay rent during the pandemic, and EPR has modified some of its theater leases in mutually beneficial ways.
EPR's goal is to build a collection of top-notch experiential real estate, and the company feels like there is tons of potential to grow. Among its target property types, management estimates an addressable market of more than $100 billion worth of real estate. In addition to the property types currently in the portfolio, EPR has identified museums, zoos, aquariums, marinas, fitness centers, concert and performance venues, and themed lodging properties as potential targets. And the company has previously mentioned increasing its focus on gaming properties going forward as well. Whatever the case, I definitely foresee EPR actively trying to diversify away from its high concentration in movie theaters in the post-pandemic years.
EPR Properties news
Most of the significant recent news involving EPR Properties has to do with the COVID-19 pandemic. As the coronavirus outbreak worsened in March, virtually all of EPR's tenants were forced to close.
For the most part, EPR's properties have reopened. As of early November, 93% of EPR's non-theater properties were open for business along with 63% of its theaters. With the theaters, however, there's a big asterisk here. Nearly two-thirds of EPR's theater properties are open, but there aren't many movies being released -- in other words, these are businesses without much of a product to sell. Most major movie titles scheduled for 2020 releases have been pushed to 2021 or even 2022, so movie theaters are sort of treading water at best right now.
At the onset of the pandemic, EPR's rent collection plunged. As its tenants were forced to shut down, EPR collected about 24% of its contractual rent in the second quarter. This has steadily improved as businesses have been allowed to reopen, increasing to 35%, 40%, and 48% in July, August, and September, respectively. Overall, EPR collected 41% of its contractual rent in the third quarter, and management expects this to increase in the fourth quarter and beyond.
It's also important to point out that EPR reached rent deferral agreements with some of its tenants, so it will get a significant amount of its uncollected rent eventually. The company successfully restructured some of its leases -- particularly AMC Entertainment (NYSE: AMC), its biggest tenant, in a mutually beneficial way that lowers near-term costs for the tenant but extends the terms of the leases.
Even with the low rent collection rate, EPR isn't losing much money right now. In fact, during the third quarter of 2020, EPR was actually slightly profitable on an adjusted funds from operations (AFFO) basis. Cash flow was negative $4 million for the quarter, but with about $985 million of cash on hand, this isn't a major cause for concern, especially since rent collection is expected to rise significantly.
EPR Properties stock price
As you might expect of an experiential REIT during a global pandemic, EPR Properties' stock hasn't exactly performed well in recent history. Even after rebounding strongly from its March 2020 lows, EPR had lost 56% of its value in 2020 through mid-November.
Even in normal times, EPR is a somewhat cyclical REIT. While its tenants generally sign long-term leases, they also depend on discretionary consumer spending. In the five-year period from 2015 through 2019, EPR generated a solid 66% total return for investors, just behind the S&P 500's performance.
Here's a look at how EPR's stock has performed over certain periods of time:
| Time Period | Total Return | Annualized Return |
| --- | --- | --- |
| 2020 Year-to-Date (through 11/17) | (54%) | N/A |
| 3 Years | (45%) | N/A |
| 5 Years | (25%) | N/A |
| 10 Years | 26% | 2.3% |
| Since IPO (11/28/1997) | 750% | 9.8% |
| IPO through 2019 | 1,760% | 14.2% |
Here's the key takeaway: The COVID-19 pandemic has been devastating to EPR's returns in 2020. However, investors who have held the stock for a decade or longer are still sitting on a positive total return, and the long-term performance (since the 1997 IPO) is still rather impressive. In fact, the 750% total return EPR has produced since then is far better than the S&P 500's 498% total return since that time.
In normal times, EPR has been an excellent dividend stock. EPR has been one of the few REITs to pay a monthly dividend and raised its payout in most years since going public. For much of the 2010 to 2020 time period, EPR's dividend yield was in the 5% to 7% range.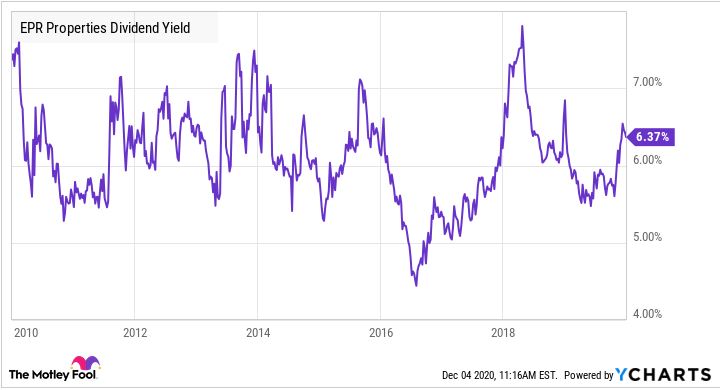 The bottom line on EPR Properties
EPR Properties is about the most clear-cut "reopening" stock you'll find. The company owns a collection of real estate assets that depend on people being willing and able to get out and experience things. Until the COVID-19 pandemic is over and the economy returns to normal, it's wise to expect EPR's business to remain somewhat depressed. However, it's also important to realize that EPR has tons of liquidity to get through the tough times and isn't losing nearly as much money as you might expect from a movie theater-focused REIT in 2020.
Got $1,000? The 10 Top Investments We'd Make Right Now
Our team of analysts agrees. These 10 real estate plays are the best ways to invest in real estate right now. By signing up to be a member of Real Estate Winners, you'll get access to our 10 best ideas and new investment ideas every month. Find out how you can get started with Real Estate Winners by clicking here.