Get our 43-Page Guide to Real Estate Investing Today!
Real estate has long been the go-to investment for those looking to build long-term wealth for generations. Let us help you navigate this asset class by signing up for our comprehensive real estate investing guide.
Would you like to own a part of the famous Empire State Building? Because the building is owned by Empire State Realty Trust (NYSE: ESRT), a publicly traded REIT, you have the ability to do just that. In this article, we'll take a look at Empire State's business, recent developments, stock performance, and more to help you decide if this is a REIT you might want to consider.
Empire State Realty Trust Company Profile
Empire State Realty Trust is a real estate investment trust, or REIT, that owns office properties -- including the iconic Empire State Building -- in the New York City area.
Specifically, the company owns a total of 14 properties. Nine are in Manhattan, three are in Connecticut, and two are in Westchester County, New York. There are just over 10 million square feet of rentable space in the portfolio, about 9.4 million of which is office. And as with most urban office buildings, there is a component of retail space at the ground level of Empire State's properties.
Empire State's office properties are a unique offering in the market, as they sit nicely between the ultra-pricey Class A space in the NYC office market and the lower-amenity Class B office spaces that are available. In other words, the value proposition is that Empire State's buildings provide modern, amenity-rich office spaces at a significantly lower cost than Class A properties.
In addition to leasing space to retail and office tenants, Empire State also owns and operates the observatory at the top of the Empire State Building, which has been a must-do NYC tourist attraction for generations. The observatory space was recently renovated after an expensive multiyear effort, and to put it mildly, during normal (non-pandemic) times, the observatory is an absolute cash machine. In 2019, the observatory generated $129 million in revenue. For context, that's nearly one-fourth of what the company brought in from its 10.1 million square feet of rentable space. And the observatory is high-margin revenue. The $129 million of revenue incurred less than $34 million in expenses.
Empire State Realty Trust (and its predecessor companies) has been operated by the same family for decades. Current CEO Anthony Malkin has been with Empire State since 1989 and has been CEO since the company's 2013 IPO, and prior to that his father, Peter Malkin, was the leader of the business and had been involved since law firm Wein & Malkin purchased the Empire State Building in 1961.
Empire State Realty Trust news
Despite what its stock price may have indicated, Empire State's business weathered the COVID-19 pandemic quite well. Throughout the second through fourth quarters of 2020, Empire State collected 95% of its total billed rent, with 97% collections from office tenants.
There are widespread concerns that the remote-work trend will be accelerated by the pandemic and will create less of a need for office space, but so far this hasn't materialized in any significant way in terms of leasing activity or portfolio vacancies. And on the retail side of the business, leasing activity has been surprisingly strong. In fact, in August 2020, coffee giant Starbucks (NASDAQ: SBUX) signed a lease for 23,000 square feet of space in the ground floor of the Empire State Building, presumably to open a high-concept Roastery store.
By far, the most heavily impacted part of the business was the observatory. In simple terms, from March 2020 onward, tourism in New York City was just not a thing. The observatory was closed to the public for the first several months of the pandemic, and although it has reopened and is getting a bit of (mostly local) visitors, the observatory is losing money. In January 2021, observatory attendance was at just 9% of comparable pre-pandemic levels. It should rebound significantly throughout 2021 as the pandemic dies down, but Empire State isn't anticipating observatory traffic at full pre-pandemic levels until late 2022.
Another news item (and a hopeful one) is that Empire State Realty Trust finally looks like it's ready to grow. The company has about $1.6 billion of total liquidity, including more than $500 million in cash, and no debt maturities until 2024. Empire State Realty recently hired a new CFO and also brought in a chief investment officer for the first time ever. CEO Anthony Malkin said recently that he sees a window of opportunity in the NYC office market. Empire State Realty Trust hasn't grown its portfolio in the seven years it's been a publicly traded REIT, a fact which many investors are disappointed about. But it looks like this could change in the near future.
Finally, it's worth mentioning that Empire State Realty Trust recently became the largest real estate company to be powered by 100% green (wind) energy.
Empire State Realty Trust stock price
Although Empire State Realty Trust has been operated by the same family since the 1960s, the stock only went public in October 2013. Since that time, the stock has fallen by 10%. At first glance, this might not sound like exciting performance by any definition of the word; after all, you could have achieved a better return by putting your money in a high-yield online savings account for the past seven years. But there are two major caveats:
First, as a REIT, Empire State's returns aren't accurately judged by its stock price alone. Total return, which includes the effect of dividends as well as stock price performance, is a far more accurate metric. Empire State suspended its dividend as the COVID-19 pandemic started, but the stock has paid regular dividends throughout much of its publicly traded history.
Second, Empire State was hit hard by the COVID-19 pandemic, and its stock performance was far better prior to the pandemic. To be sure, the New York office market was starting to decline before the pandemic -- in the chart below, you can see a clear downward trend starting in 2017 -- but the COVID-19 pandemic hit the office, retail, and tourism markets hard.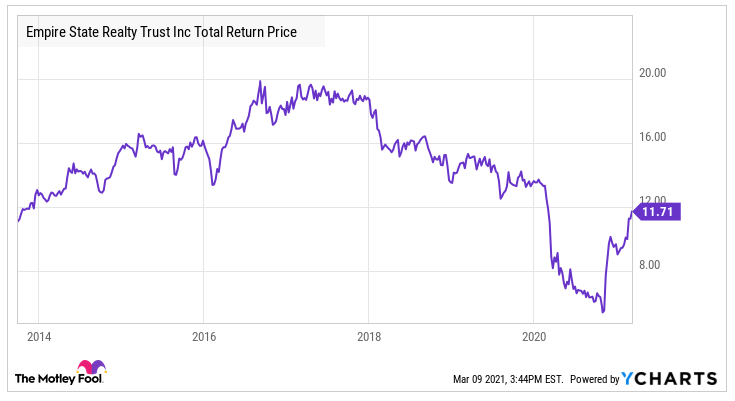 With the above caveats in mind, here's how Empire State Realty Trust's stock has performed over various time periods through March 2021.
| Time Period | ESRT Total Return | S&P 500 Total Return |
| --- | --- | --- |
| 1 Year | 61.5% | 66.6% |
| 3 Years | (27.6%) | 51.0% |
| 5 Years | (25.7%) | 111.2% |
| Since IPO (10/2013) | 4.9% | 171.2% |
So, even including dividends, Empire State has dramatically underperformed the market since going public. To make a long story short, the past several years haven't been the best for urban office properties, and the COVID-19 pandemic certainly didn't help.
Speaking of dividends, Empire State decided to suspend its own to conserve capital when the COVID-19 pandemic hit, and it has announced that this will continue through at least the first half of 2021. However, the most recent quarterly payout amount was $0.105 per share, which was in place from mid-2016 through the second quarter of 2020. Based on the stock's price as of March 2021, this would translate to a yield of roughly 3.6% if it were to be reinstated at the previous rate.
Empire State Realty Trust's stock price crashed at the onset of the COVID-19 pandemic, which certainly made sense given how hard hit New York City was. But the stock has rallied impressively, especially after the vaccine rollout started and it looks like business as usual might be coming back quicker than many thought.
The bottom line on Empire State Realty Trust
Empire State Realty Trust has underperformed the market for several years due to a combination of a generally weak NYC office market in the past few years, as well as the disruptive effects of the COVID-19 pandemic. However, the company has a portfolio of high-quality real estate assets, a cash-cow tourist attraction, and deep pockets to grow the portfolio in the years ahead. So, patient investors who can ride out the ups and downs may want to consider adding this New York office REIT to their portfolio.
Got $1,000? The 10 Top Investments We'd Make Right Now
Our team of analysts agrees. These 10 real estate plays are the best ways to invest in real estate right now. By signing up to be a member of Real Estate Winners, you'll get access to our 10 best ideas and new investment ideas every month. Find out how you can get started with Real Estate Winners by clicking here.
Matthew Frankel, CFP owns shares of Empire State Realty Trust. The Motley Fool owns shares of and recommends Starbucks. The Motley Fool recommends Empire State Realty Trust and recommends the following options: short April 2021 $110 calls on Starbucks. The Motley Fool has a disclosure policy.