Get our 43-Page Guide to Real Estate Investing Today!
Real estate has long been the go-to investment for those looking to build long-term wealth for generations. Let us help you navigate this asset class by signing up for our comprehensive real estate investing guide.
EastGroup Properties (NYSE: EGP) is in a sweet spot these days. The real estate investment trust (REIT) is benefitting from two megatrends: the Sun Belt migration and rapidly rising demand for industrial real estate. Those tailwinds are driving significant growth for the company.
Here's a closer look at the company and how it's capitalizing on those trends.
EastGroup Properties company profile
EastGroup Properties is an industrial REIT focused on owning multi-tenant urban distribution properties in major Sun Belt markets. As of mid-2021, the company is focused on the following states:
Texas: The REIT owns nearly 16.6 million square feet of space across Texas, which supplies 35.2% of its annualized base rent (ABR). Its markets include Houston (12.3% of ABR), Dallas (7.9%), San Antonio (8.7%), El Paso (1.6%), Austin (3.2%), and Fort Worth (1.5%).
Florida: EastGroup has more than 12.7 million square feet of space in Florida, which contributes 27.4% of its ABR. Its markets are Tampa (9.3%), Orlando (8.5%), Jacksonville (4.1%), Miami/Fort Lauderdale (4%), and Fort Myers (1.5%).
California: The company has almost 4.8 million square feet of space in California, which supplies 13.5% of its ABR. Its markets are Los Angeles (7.4%), San Francisco (3.4%), San Diego (2.1%), and Fresno (0.6%).
Arizona: The REIT owns more than 3.7 million square feet of space in Arizona, which supplies 8.1% of its ABR. Markets include Phoenix (6.3%) and Tucson (1.8%).
Other core markets: EastGroup owns more than 6.2 million square feet in other core markets, which combine to contribute 13.1% of its ABR. These core markets include Charlotte, North Carolina (6.5%), Atlanta (2.3%), Denver (2.4%), and Las Vegas (1.9%).
Other markets: The company has an additional 1.5 million square feet in other markets, contributing 2.7% of its ABR.
Overall, EastGroup has nearly 45.5 million square feet of space in operation. Also of note, it operates in 13 of the 15 fastest-growing real estate markets, according to Cushman and Wakefield's research.
In addition to that operating portfolio, EastGroup has several properties under development or in the pipeline:
Lease-up: EastGroup has more than 1.1 million square feet of recently completed projects in the lease-up phase across Atlanta, Houston, San Antonio, Dallas, and Greenville, SC.
Under construction: The REIT has almost 1.9 million square feet of space under construction, including ground-up developments and value-add projects. These projects were in Phoenix, San Diego, Tampa, Charlotte, Orlando, Dallas, San Antonio, Fort Worth, and Fort Myers.
Prospective development: The company owns 469 acres across various markets, suitable for nearly 5.7 million square feet of development projects. In addition, it has several value-add properties that could push its total expansion potential to more than 8.6 million square feet.
EastGroup owns three types of industrial buildings:
Business distribution: 90% of its portfolio, with an average building size of 110,000 square feet.
Bulk distribution: 7% of its portfolio, with an average building size of 270,000 square feet.
Business service: 3% of its portfolio, with an average building size of 40,000 square feet.
The REIT leases this space to various companies. Overall, its top 10 tenants -- which included notable names like Amazon and FedEx -- accounted for 7.9% of its ABR, giving it a very diversified tenant base.
EastGroup Properties news
EastGroup Properties benefited from strong demand for warehouse space during 2021. Through the first six months, property net operating income (NOI) rose 11.6%, driven by recently completed development and value-add projects, acquisitions, and higher rental rates on new and renewal contracts. Overall, rental rates increased by an average of 28.3% during the first half of 2021.
The REIT continued to expand its portfolio in 2021. It made $46 million of acquisitions through the first half, including purchasing 578,000 square feet of operating and value-add space in Greenville, Atlanta, and Phoenix and 15.1 acres of land in Atlanta. In the second quarter, the company also started five new development projects that will comprise 972,000 feet and have a projected cost of $134 million.
That brought the company's total development and value-add program to 16 projects with more than 3 million square feet of space across 12 markets.
EastGroup continued making growth-focused investments in the second half of the year. In August, the company announced the acquisition of the DFW Global Logistics Center -- a four-building distribution facility with 611,000 square feet in the Dallas market -- for $89.7 million.
The REIT also bought 27 acres in Austin and started building a 176,500 square foot distribution facility that will cost $26.2 million. Finally, it purchased 59 acres of undeveloped land in Greenville for $1.4 million. This site will accommodate the future development of three buildings with 400,000 square feet.
EastGroup Properties stock price
EastGroup Properties' Sun Belt-focused logistics real estate strategy has paid big dividends for its investors in recent years: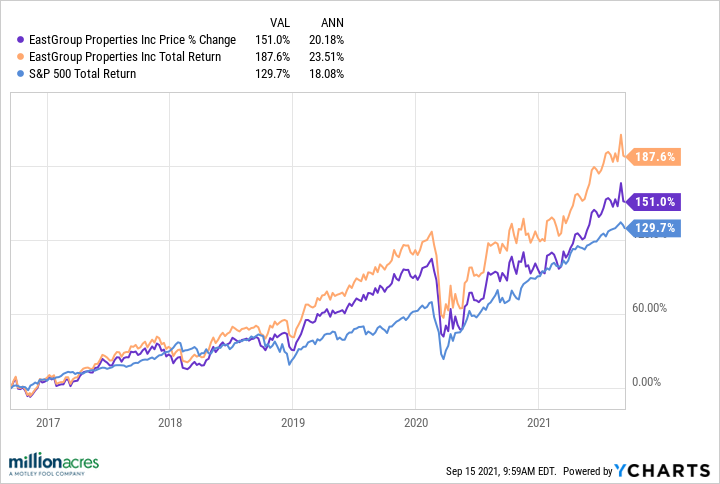 As that chart shows, the industrial REIT has outperformed the S&P 500 during a very strong period for the broader market. The primary driver of that value creation is the company's growth strategy. EastGroup has a four-pronged approach, including targeted development and acquiring operating, value-add, and redevelopment properties.
It also selectively recycles capital by selling properties with limited upside potential to help finance more attractive investment opportunities. In addition, the REIT has benefitted from steady rental growth due to the rising demand for industrial real estate from e-commerce companies.
EastGroup has an excellent development track record, building 47% of its portfolio from the ground up. Since 1996, it has invested $2 billion overall into developing 225 properties consisting of 23 million square feet. The company takes a targeted approach, building in business park settings and designing properties to its specifications for functionality and sustainability. This targeted development strategy increases returns while lowering risk.
In addition, the company makes select value-add investments. It focuses on in-fill locations where it can earn a higher return than market value when factoring in leasing risk. Since 1996, EastGroup has invested $340 million across 3.1 million square feet in 10 markets. These investments have an estimated current market value of $486 million, showcasing its ability to create value through value-add projects.
Finally, the company will selectively buy operating properties. Since 2017, it has spent $269 million to purchase more than 2.3 million square feet of operating properties.
EastGroup's growth strategy has paid big dividends for its investors. The REIT has increased or maintained its dividend for 29 straight years, growing it in 26 of those years, including every year for the last decade. The REIT yielded a little more than 2% in 2021, which was slightly below the REIT sector's average of closer to 3%.
The bottom line on EastGroup Properties
EastGroup Properties is at the intersection of two major real estate trends: Sun Belt migration and e-commerce. Overlay that with the REIT's four-pronged growth strategy, and it should continue growing its income at an above-average rate over the coming years. That should enable EastGroup to keep increasing its dividend, making it an excellent REIT to consider buying for the long haul.
Got $1,000? The 10 Top Investments We'd Make Right Now
Our team of analysts agrees. These 10 real estate plays are the best ways to invest in real estate right now. By signing up to be a member of Real Estate Winners, you'll get access to our 10 best ideas and new investment ideas every month. Find out how you can get started with Real Estate Winners by clicking here.
Matthew DiLallo
owns shares of EastGroup Properties. The Motley Fool owns shares of and recommends EastGroup Properties. The Motley Fool has a
disclosure policy
.