Get our 43-Page Guide to Real Estate Investing Today!
Real estate has long been the go-to investment for those looking to build long-term wealth for generations. Let us help you navigate this asset class by signing up for our comprehensive real estate investing guide.
Data is the fuel of the digital economy. Businesses, individuals, and machines produce and utilize more of it each day, driving the need for additional infrastructure to transport and store all this information. Data centers play a vital role in the information age as they give companies a place to store all their data.
One of the data center industry leaders is real estate investment trust (REIT) Digital Realty Trust (NYSE: DLR). Here's a closer look at the data center operator.
Digital Realty Trust profile
Digital Realty is a data center REIT. It operates in more than 45 major metro areas across over 20 countries on six continents. As of the end of 2020, the REIT owned interests in 307 buildings, including 291 data centers with nearly 35.9 million square feet of rentable space. The company also had 164,000 cross-connects or interconnections, which are private data exchanges between businesses.
The REIT makes most of its money providing space and power to tenants that lease secure areas in its data centers to house servers as well as storage and networking equipment. In 2020, 71% of Digital Realty's revenue was rental revenue from leasing space in its data centers to tenants. Another 21% of its revenue came from tenant reimbursements for things like power. Meanwhile, the company generated 8% of its revenue from providing interconnections and other services to its tenants and the rest from fee income and other sources.
Digital Realty directly owns data centers in the following regions:
North America: 125 data centers with more than 22.5 million square feet of net rentable space. These locations contributed 56% of its annualized rent.
Europe: 107 data centers with more than 7.6 million square feet of net rentable space. These facilities produce 28% of its annualized rent.
Asia Pacific: 13 data centers with about 913,000 square feet of net rentable space. These locations contributed 4% of its annualized rent.
Africa: Three data centers with more than 25,000 square feet of net rentable space. These properties supply less than 1% of its annualized rent.
The REIT also owns an interest in several unconsolidated joint ventures (JVs). Its managed JVs owned 15 facilities in the U.S. and one in Hong Kong that contributed 4% of its annualized rent. Meanwhile, non-managed JVs own 27 data centers in the U.S., Brazil, Japan, Chile, and Mexico. These non-managed JVs supplied 8% of its annualized rent.
Digital Realty leases space to a mix of well-known technology, telecom, media, banking, and data center customers. Its top 20 tenants contribute 48.5% of its annualized recurring revenue with a weighted average remaining lease term of 6.1 years. Its largest tenant (an undisclosed fortune 50 software company) supplies 9.5% of its annualized recurring rental income, with an average of 8.9 years remaining on its leases.
Another notable large tenant is fellow data center REIT Equinix (NASDAQ: EQIX). Digital Realty leases 26 data centers to its peer, which contributes 2.8% of its revenue. Digital Realty owns the physical real estate and leases it to Equinix, which operates the data centers.
Digital Realty Trust news
Digital Realty began 2020 by closing its $8.4 billion merger with Interxion, which enhanced its presence in Europe. At the time, Interxion operated 53 data centers in 11 European countries. It also had a large pipeline of data centers under construction and a vast land bank for future development opportunities.
Digital Realty leveraged its Interxion platform in 2020 by acquiring additional land for future expansion while purchasing other data center businesses. For example, in September, Interxion bought Altus IT, a leading data center provider in Croatia. It followed that up by purchasing Lamda Hellix, establishing a presence in Greece.
Digital Realty also expanded its legacy operations in 2020. One of the more notable deals was acquiring a 49% interest in the Westin Building Exchange in Seattle in 2020. That building serves as the primary interconnection hub for the Pacific Northwest, linking Canada, Alaska, and Asia along the Pacific Rim. The company called it a "linchpin asset," as it strengthens the REIT's interconnection platform.
Meanwhile, Ascenty, a non-managed JV between Digital Realty and Brookfield Infrastructure (NYSE: BIP) (NYSE: BIPC), entered the Mexican market last year while expanding its presence in Chile. Digital Realty and Brookfield Infrastructure teamed up to acquire Ascenty in 2018 to grow their data center operations in Latin America.
Digital Realty Trust stock price
Digital Realty's global expansion strategy has created a lot of value for its investors over the years: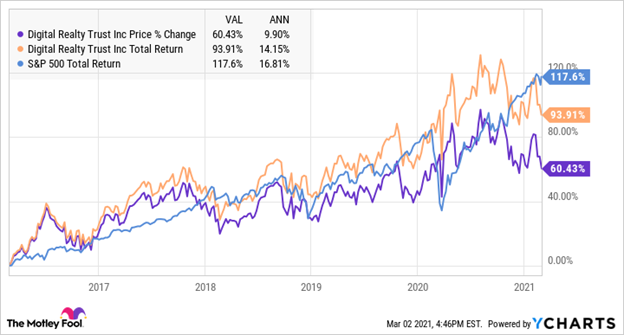 While the REIT has slightly underperformed the market over the last five years, it still generated an impressive total annualized return of more than 14% during that time frame. Further, as that chart showed, it had been well ahead of the market until the late 2020 to early 2021 time frame when the S&P 500 continued rallying while Digital Realty's stock price stagnated.
That's due in part to a decline in core FFO from $6.65 per share in 2019 to $6.22 per share in 2020. Weighing on FFO was lower rates on renewal leases. However, the REIT expects its FFO to bounce back in 2021. It sees its core FFO increasing to a range of $6.40 to $6.50 per share, powered by acquisitions and expansion projects.
Despite 2020's slowdown, the REIT has grown its FFO at a brisk pace over the years, increasing it at an 11% compound annual rate on a per-share basis since 2005. Powering that rise was the steady expansion of its data center portfolio via acquisition and development and relatively consistent rental growth rates.
That rising FFO has given Digital Realty the power to steadily grow its dividend over the years. The REIT boosted its payout by 4% in early 2021, marking its 16th consecutive annual dividend increase. That put it in a select group of REITs as it has grown its dividend every year since its initial public offering in 2004. Overall, the REIT pays a solid dividend that has yielded more than 3% for much of the past year.
The bottom line on Digital Realty Trust
Digital Realty is a leader in the data center industry. The REIT operates an extensive portfolio of data centers across many leading global cities. It has been expanding that portfolio via acquisition and development projects, which should continue in the coming years, given its current pipeline of projects and vast land position. That makes it an ideal REIT for investors seeking exposure to the fast-growing data infrastructure segment, a vital component in powering the digital economy's continued expansion.
Got $1,000? The 10 Top Investments We'd Make Right Now
Our team of analysts agrees. These 10 real estate plays are the best ways to invest in real estate right now. By signing up to be a member of Real Estate Winners, you'll get access to our 10 best ideas and new investment ideas every month. Find out how you can get started with Real Estate Winners by clicking here.
Matthew DiLallo owns shares of Brookfield Infrastructure, Brookfield Infrastructure Partners, Digital Realty Trust, and Equinix. The Motley Fool owns shares of and recommends Digital Realty Trust and Equinix. The Motley Fool recommends Brookfield Infrastructure and Brookfield Infrastructure Partners. The Motley Fool has a disclosure policy.