Get our 43-Page Guide to Real Estate Investing Today!
Real estate has long been the go-to investment for those looking to build long-term wealth for generations. Let us help you navigate this asset class by signing up for our comprehensive real estate investing guide.
The telecom industry needs infrastructure like cell towers to support its communication networks. But, unfortunately, these assets are very costly to build and maintain. Because of that, wireless companies are increasingly relying on third parties to own and operate this vital infrastructure.
One of the leaders in owning telecommunications infrastructure in the U.S. is Crown Castle International (NYSE: CCI). Here's a closer look at the real estate investment trust (REIT).
Crown Castle profile
Crown Castle is an infrastructure REIT focused on owning and operating shared communication infrastructure assets in the U.S. As of the end of 2021's first quarter, the REIT's portfolio consisted of:
Towers: More than 40,000 towers and other structures such as rooftops.
Small Cells: Roughly 80,000 small cells either on-air (50,000) or in the backlog (30,000).
Fiber Optic Cable: About 80,000 route miles of fiber optic cable supporting small cells and other fiber solutions.
The company's tower infrastructure helps support the wireless networks of several mobile carriers. Meanwhile, its small cells and fiber assets are vital to rolling out the industry's 5G (fifth generation) network, which should be much faster than the current 4G network.
The REIT owns and operates communications infrastructure in every state. However, it has its largest tower concentrations in California (11%) and Texas (11%). All others are 5% or less of its total tower portfolio.
The company leases space on this infrastructure to communications companies to support their networks. It has an average of 2.1 tenants per tower. Its top tenants include:
T-Mobile: 34% of its site rental revenue with a weighted average term of five years remaining on its contracts.
AT&T: 22% of its site rental revenue with a weighted average remaining contract term of six years.
Verizon: 18% of its site rental revenue with a weighted average remaining lease term of four years.
All others: 26% of its site rental revenue with a weighted average remaining contract term of three years.
Meanwhile, its fiber solutions revenue comes from the following industries:
Carriers: Wireless and wholesale carriers contribute 39% of its fiber revenue.
Education: Customers in the education sector supply 13% of its fiber solutions revenue.
Healthcare: Customers in the healthcare sector contribute 10% of its fiber revenue.
Financial Services: Customers in the financial services industry supply 10% of its fiber revenue.
Others: The REIT gets the remaining 28% of its fiber solutions revenue from clients in other sectors.
Given the company's focus on the U.S. communication sector, it isn't surprising to see such high tenant and industry concentrations. However, it's still worth monitoring since additional industry consolidation could negatively affect the REIT. For example, T-Mobile's 2020 combination with Sprint has impacted the company. The combined wireless company is consolidating redundant infrastructure where both companies had equipment collocated at the same site.
Crown Castle news
Crown Castle delivered strong results in 2020 despite some pandemic-related headwinds. Overall, the REIT grew its site rental revenue by 4% and its Adjusted Funds From Operations (AFFO) per share by 19%. One factor driving the surge in AFFO was a one-time payment from T-Mobile due to the cancellation of 5,700 small cells contracted to Sprint before their merger. Because these were in the same locations as T-Mobile sites, the company canceled the contracts and paid the entire contracted rental obligation and the capital costs incurred on those sites.
While the T-Mobile/Sprint merger is a near-term growth headwind, Crown Castle is more than offsetting the associated loss by securing new contracts with other wireless carriers. In November, DISH Network signed a multi-year anchor tenant tower agreement with the company. It will lease space on up to 20,000 communication towers and receive some fiber transport services from Crown Castle. This agreement will help DISH build out its nationwide 5G network in the U.S.
Meanwhile, in January of 2021, Crown Castle expanded its strategic relationship with Verizon. The telecom giant committed to leasing 15,000 small cells from the company over the next four years. That infrastructure will help support the expansion of its 5G network.
Crown Castle stock price
Crown Castle's multipronged communication infrastructure strategy has paid off for investors over the years.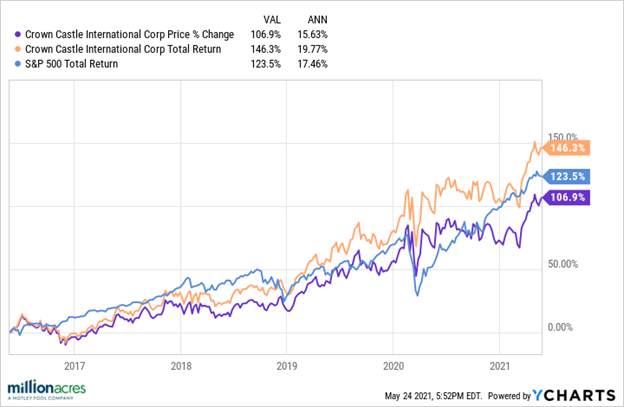 As that chart shows, the infrastructure REIT has outperformed the S&P 500 over the last five years even though it was an extraordinary period for the broader market.
Driving the company's growth has been a steady stream of investments to build and buy tower, small cell, and fiber assets. Since 2011, the company has spent $30 billion on acquisitions and capital investments to expand its infrastructure offerings. These investments have steadily grown the company's AFFO, which has risen from $1.6 billion in 2016 to nearly $2.9 billion in 2020, a more than 80% increase in five years.
The company made several notable fiber acquisitions in recent years. In 2016, it agreed to acquire FiberNet from NextEra Energy for $1.5 billion in cash. That deal added 11,500 route miles of fiber in Florida and Texas to its portfolio. Meanwhile, in 2017 it agreed to acquire Lightower for $7.1 billion in cash. That deal added another 32,000 route miles of fiber located in top metro markets in the Northeast, including Boston, New York, and Philadelphia. Also, in 2017, the company bought Wilcon for $600 million, adding 1,900 route miles in Los Angeles and San Diego.
That fast-paced AFFO growth has enabled Crown Castle to steadily increase its dividend, including giving its investors an 11% raise in 2020. That's allowed the REIT's dividend yield to roughly keep pace with the sector's average of around 3% despite the torrid run in its stock price.
The bottom line on Crown Castle
Crown Castle has a long history of creating shareholder value through building and buying communications infrastructure. The company expects that trend to continue in the coming years, foresting a decades-long investment cycle in 5G. That leads it to believe it can continue growing its dividend, projecting 7% to 8% annual growth for the foreseeable future. That outlook makes Crown Castle a great REIT to hold for the long term.
Got $1,000? The 10 Top Investments We'd Make Right Now
Our team of analysts agrees. These 10 real estate plays are the best ways to invest in real estate right now. By signing up to be a member of Real Estate Winners, you'll get access to our 10 best ideas and new investment ideas every month. Find out how you can get started with Real Estate Winners by clicking here.
Matthew DiLallo has no position in any of the stocks mentioned. The Motley Fool owns shares of and recommends Crown Castle International. The Motley Fool has a disclosure policy.