Get our 43-Page Guide to Real Estate Investing Today!
Real estate has long been the go-to investment for those looking to build long-term wealth for generations. Let us help you navigate this asset class by signing up for our comprehensive real estate investing guide.
There has been a noticeable migration in recent years of people and businesses from states with high tax rates (those along the West Coast, in the Northeast, and the upper Midwest) to cities with more favorable business climates, primarily in Sun Belt markets across the U.S. South. At the same time, many companies have upgraded their office space from Class B and C properties to Class A facilities that offer better amenities to their employees.
One real estate investment trust (REIT) at the intersection of these two long-term trends is Cousins Properties (NYSE: CUZ). Here's a closer look at the company.
Cousins Properties profile
Cousins Properties is an office REIT focused on fast-growing Sun Belt markets. As of the end of 2020, the REIT owned interests in roughly 20 million square feet of primarily Class A office space across the following seven Sun Belt cities:
Atlanta: 35% of its net operating income (NOI)
Austin, Texas: 27% of its NOI
Charlotte, North Carolina: 12% of its NOI
Tampa, Florida: 8% of its NOI
Phoenix: 8% of its NOI
Dallas/Fort Worth: 6% of its NOI
Houston: 4% of its NOI
The REIT owns a dominant market share in many of those cities' top submarkets. It also has several development projects underway and controls significant land positions for future development.
The REIT leases this space to a variety of tenants across several industries. However, it has a fairly high concentration at the top, as its 20 largest tenants contributed 32.7% of its share of annualized rent. Further, four of its five largest tenants are technology companies, led by NCR Corporation (NYSE: NCR) at 5.1% of the total.
While it has a lot of concentration to technology companies at the top, Cousins Properties has a reasonably diversified overall tenant base by industry:
| Industry | % of Annualized Rent |
| --- | --- |
| Technology | 21.1% |
| Financial | 16.9% |
| Professional services | 14.5% |
| Legal | 10.4% |
| Consumer goods & services | 6.7% |
| Energy & utilities | 5.4% |
| Healthcare | 4.9% |
| Insurance | 4.7% |
| Real estate | 4.0% |
| Other | 3.8% |
| Construction/design | 2.5% |
| Marketing/media/creative | 2.4% |
| Transportation | 1.6% |
| Government | 1.1% |
Another noteworthy aspect of Cousins Properties' portfolio is that it consists primarily of relatively newer buildings. The average year built is 2002, and 25% of its portfolio is less than five years old.
That's due largely to the company's development focus in the fast-growing Sun Belt region. It currently has 1.5 million square feet of office space under development via five projects in Atlanta, Austin, and Phoenix. It also has a vast land bank that could support 5.2 million square feet of additional developments across several Sun Belt markets.
Cousins Properties news
Cousins Properties performed well in 2020 despite the ongoing impact of the COVID-19 pandemic. The REIT's same-property NOI increased by 0.7% for the year (or 4.5% after adjusting for rent deferrals and reduced parking income caused by the pandemic).
The company benefited from strong rental collection rates, as many Sun Belt markets reopened their economies sooner than major coastal gateway markets. Further, despite the increase in remote work, Cousins signed more than 1.4 million square feet of office leases in 2020, at 13.1% higher rates than existing in-place rents.
The REIT also took advantage of uncertain economic conditions to bolster exposure to the fast-growing Charlotte market. In November, the company purchased 3.4 acres of land for $28.1 million. It anticipates developing a 600,000- to 700,000-square-foot mixed-use project on that site called South End Station.
Meanwhile, in December, the company closed the acquisition of a 329,000-square-foot creative office property known as RailYard for $201 million. Developed in 2019, RailYard is 97% leased and across the street from the proposed South End Station development.
Before the pandemic, the REIT strengthened its balance sheet by selling some assets. It closed the sale of Hearst Tower, a 966,000-square-foot office tower, to a bank for $455.5 million in March. The company previously leased the building to that bank to serve as its new corporate headquarters, giving it the option to purchase the property in the fourth quarter of 2019 at a set price, which the bank exercised.
Cousins also sold its 50% interest in Gateway Village, a 1 million square foot office property in Charlotte, to its joint venture partner for $52.2 million in the first quarter. Finally, the company sold its Woodcrest office property in the Cherry Hill market of New Jersey for $25.3 million in the first quarter. These property sales combined to generate $533 million of gross proceeds, enabling the REIT to enter the pandemic on a strong financial footing.
Cousins Properties stock price
Cousins Properties' Sun Belt-focused office strategy has delivered mixed results for investors in recent years.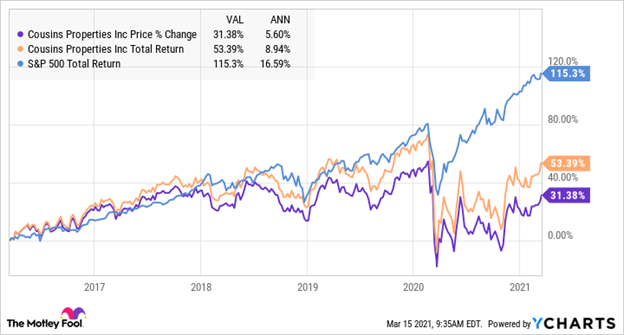 As that chart shows, the REIT has significantly underperformed the S&P 500's total return over the last five years. However, it was an extraordinarily strong period for the market, as Cousins' nearly 9% total annualized return is solid on a historical basis, weighed down in part by a sell-off in the office REIT sector in 2020 due to the pandemic.
Another factor that has weighed on Cousins Properties stock in recent years is the 2019 merger with TIER REIT. The two Sun Belt office REITs combined in a $7.8 billion deal. One of the draws of TIER was its more than 5 million-square-foot pipeline of development and redevelopment projects in the Austin, Atlanta, and Dallas markets. The company believes the transaction will create long-term shareholder value as it develops TIER's pipeline of projects.
Cousins also acquired Parkway Properties in 2016 to bolster its presence in several Sun Belt markets. The company simultaneously spun off the combined entities' office assets in the Houston market via a new company called Parkway Inc. That entity subsequently agreed to a $1.2 billion take-private deal with Canada Pension Plan Investment Board in 2017.
All of Cousin Properties' wheeling and dealing has had a noticeable impact on its dividend. Before the Parkway Properties deal, Cousins paid a $0.08 per share quarterly dividend (before accounting for its four-for-one reverse split following the TIER REIT transaction). However, it reduced that payment to $0.06 per share (on a pre-split basis) following the Parkway Inc. spinoff. The REIT has since grown the dividend from that reset level to $0.30 per share (or $0.075 per share on a pre-reverse split basis).
Because Cousins Properties' share price declined in 2020, its dividend yield has increased in the last year. The payout has averaged more than 3% over the past 12 months, which pushed it close to the REIT sector's average.
The bottom line on Cousins Properties
Cousins Properties offers REIT investors broad exposure to several fast-growing Sun Belt office markets. This means the REIT should be able to grow its rental rates at an above-average pace and expand its portfolio via additional development projects, assuming companies return to their offices in a post-pandemic world. That makes it a compelling REIT to consider for those optimistic about the Sun Belt and a recovery in the office sector.
Got $1,000? The 10 Top Investments We'd Make Right Now
Our team of analysts agrees. These 10 real estate plays are the best ways to invest in real estate right now. By signing up to be a member of Real Estate Winners, you'll get access to our 10 best ideas and new investment ideas every month. Find out how you can get started with Real Estate Winners by clicking here.
Matthew DiLallo has no position in any of the stocks mentioned. The Motley Fool has no position in any of the stocks mentioned. The Motley Fool has a disclosure policy.