Get our 43-Page Guide to Real Estate Investing Today!
Real estate has long been the go-to investment for those looking to build long-term wealth for generations. Let us help you navigate this asset class by signing up for our comprehensive real estate investing guide.
The U.S. government employs nearly 2 million people and has double the number of contractors. All those people require a significant amount of workspace. While the federal government and its contractors own many of their workspaces, they lease quite a bit of office space and other real estate from third-party landlords like real estate investment trusts (REITs).
One REIT focused on meeting these real estate needs is Corporate Office Properties Trust (NYSE: OFC). Here's a closer look at the REIT.
Corporate Office Properties Trust profile
Corporate Office Properties, or COPT, is an office REIT that owns, manages, leases, develops, and acquires office and data center properties. The bulk of its portfolio is in locations that support the U.S. government and federal contractors, most of which are in the national security, defense, and information technology (IT) sectors. It also owns a portfolio of Class A office properties in urban submarkets of the Greater Washington, D.C./Baltimore region.
As of the end of 2020, the REIT's core portfolio consisted of the following defense/IT locations:
Fort Meade/Baltimore Washington Corridor: 89 properties with more than 8.3 million square feet.
Northern Virginia Defense/IT: 13 properties with nearly 2 million square feet.
Lackland Air Force Base (San Antonio, Texas): Seven properties with almost 1 million square feet.
Navy Support: 21 properties with more than 1.2 million square feet.
Redstone Arsenal (Huntsville, Alabama): 15 properties with more than 1.4 million square feet.
Data center shells:

Consolidated properties: Nine data centers with nearly 2 million square feet.
Unconsolidated joint venture properties: 17 data centers with more than 2.7 million square feet.
COPT also has eight regional office properties with more than 2 million square feet in its core portfolio. Meanwhile, it has two non-core properties with 157,000 square feet.
Overall, the company has 179 core properties with 20.8 million square feet. It gets 87% of its annualized rental revenue from defense/IT locations and 13% from regional offices.
Given the REIT's heavy presence in locations that support the U.S. government and its contractors, it should come as no surprise that these entities are its largest tenants. The federal government is the largest by far, at 34.1% of its annualized rental revenue. Rounding out the top five are:
An undisclosed Fortune 100 company: 9.1%
General Dynamics (NYSE: GD): 5.6%
Boeing (NYSE: BA): 3%
CACI International (NYSE: CACI): 2.4%
Overall, its top 20 tenants contribute a whopping 72% of its annual rent. While that's significant tenant concentration, these tenants tend to be very strong financially and less likely to relocate given their proximity (close location to the U.S. Capital or military bases) and technology needs.
Corporate Office Properties Trust news
While 2020 was a challenging year for most office REITs because the pandemic forced many companies to pivot to remote work, it didn't have much impact on COPT. CEO Stephen Budorick stated in the company's fourth-quarter earnings press release that:
Notwithstanding the challenges presented by the COVID-19 pandemic, 2020 was a very strong year for our company. Our operations were minimally impacted by the pandemic shutdowns, as demonstrated by our 99.7% rent collection rate, the record 1.8 million square feet of fully leased developments we placed in service, and the 1 million square feet of new development leasing we completed during the year. Additionally, fourth-quarter and full-year FFO per share, as adjusted for comparability, outperformed the high ends of guidance by $0.02 due to nonrecurring items in the quarter.
While the pandemic negatively impacted leasing, as its full-year volume of 416,000 square feet was 60% of its original target, occupancy, cash NOI growth, tenant retention, and change in cash rent were all right on target with its updated guidance.
Development projects are a key growth driver for COPT. It placed a record 1.8 million square feet of projects into service in 2020, 99% of which it had leased to tenants. That was more than the 1.4 million square feet of fully leased space it expected to finish last year.
Completed development projects included several data center shells and office space in the Fort Meade/BW Corridor, Redstone Arsenal, and another regional office building in Washington, D.C. The company ended the year with 11 more properties in development totaling 1.5 million square feet (84% leased), with an estimated cost of $613 million (more than half of which it had already funded).
Finally, COPT formed a new joint venture with an affiliate of the private equity giant Blackstone Group (NYES: BX) in the fourth quarter of 2020. It sold a 90% interest in two wholly-owned data center shell properties and a 40% interest in six other data center shell properties already owned in a 50-50 joint venture. These transactions provided the company with $165 million, which it used to help fund its development pipeline.
Corporate Office Properties Trust stock price
Corporate Office Properties' focus on providing office and data center space to the U.S. government and its contractors hasn't created much value for shareholders in recent years: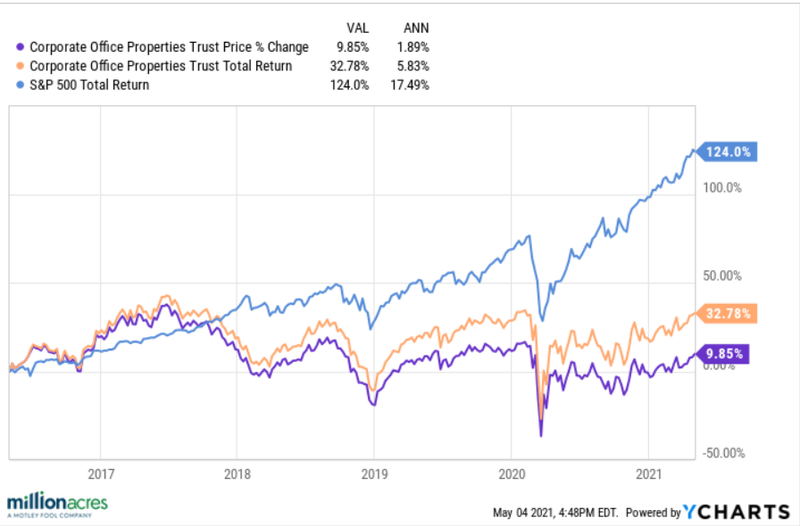 As that chart shows, the office REIT has significantly underperformed the S&P 500 over the last five years.
The biggest issue holding back COPT's stock has been the lack of growth in FFO per share. It has declined from $2.55 per share in 2015 to $1.50 per share in 2020. However, after adjusting for comparability, it rose from $2.01 in 2015 to $2.12 in 2020, a mere 5.5% increase.
One factor weighing on FFO is a steady string of asset sales to help finance development and redevelopment projects. For example, in 2016, COPT sold 21 operating properties with 1.6 million square feet, some nonstrategic land, and a 50% interest in six data centers for $344 million. It sold 13 more operating properties with almost 1 million square feet in 2017 for $184 million. It has sold a few other properties in recent years, including forming joint ventures like its data center partnership with Blackstone Group.
With adjusted FFO per share barely budging in recent years, COPT hasn't been able to increase its dividend. The office REIT's payout has remained at $0.27 per share each quarter since 2012. However, it does offer an above-average yield that has been over 4% during the past year. For comparisons' sake, the average yield across the REIT sector is around 3.3%.
The bottom line on Corporate Office Properties Trust
COPT focuses on owning office buildings and data centers leased to the U.S. government and its contractors. Those tenants tend to be less risky, since they're financially strong and less likely to move, as proximity to the U.S. capital or a military base is essential. This means its higher-yielding dividend seems like a safe bet, making this office REIT a potential option for those seeking bond-like fixed-income returns backed by commercial real estate leased to the U.S. government and its contractors.
Got $1,000? The 10 Top Investments We'd Make Right Now
Our team of analysts agrees. These 10 real estate plays are the best ways to invest in real estate right now. By signing up to be a member of Real Estate Winners, you'll get access to our 10 best ideas and new investment ideas every month. Find out how you can get started with Real Estate Winners by clicking here.
Matthew DiLallo has no position in any of the stocks mentioned. The Motley Fool has no position in any of the stocks mentioned. The Motley Fool has a disclosure policy.