Get our 43-Page Guide to Real Estate Investing Today!
Real estate has long been the go-to investment for those looking to build long-term wealth for generations. Let us help you navigate this asset class by signing up for our comprehensive real estate investing guide.
Infrastructure is vital to supporting the global economy. One essential piece of infrastructure are towers that hold communications equipment used for telephone, mobile data, broadcast television, and radio. Without these towers, companies in those industries couldn't provide services to their customers.
The global leader in owning and operating communications infrastructure is American Tower Corporation (NYSE: AMT). Here's a closer look at this real estate investment trust (REIT) focused on keeping the lines of communication open across the global economy.
American Tower Corporation profile
American Tower is an infrastructure REIT focused on owning, operating, and developing multi-tenant communications real estate. The company's portfolio consisted of more than 181,000 communications sites as of December 2020 in the following 20 countries:
India: Approximately 75,000 sites as well as fiber optic and fiber-related assets.
U.S.: More than 41,000 sites.
Brazil: More than 19,000 sites and urban telecommunications assets, like fiber, and the right to use certain existing utility infrastructure for future telecommunications equipment installation.
Mexico: More than 9,700 sites and urban telecommunications assets like fiber, concrete poles, and other infrastructure.
Nigeria: About 5,600 sites.
Colombia: Approximately 5,000 sites and fiber and fiber-related assets.
Ghana: More than 3,900 sites.
Uganda: More than 3,300 sites.
Chile: More than 2,900 sites.
France: More than 2,800 sites.
South Africa: More than 2,700 sites.
Peru: More than 2,300 sites.
Germany: More than 2,200 sites.
Kenya: Around 2,200 sites.
Paraguay: More than 1,400 sites.
Burkina Faso: More than 700 sites.
Niger: More than 700 sites.
Costa Rica: More than 700 sites.
Argentina: More than 100 sites.
Poland: More than 25 sites.
American Towers is a behemoth in the REIT sector. The company operates more tower sites than its peers Crown Castle (NYSE: CCI) and SBA Communications (NASDAQ: SBAC) combined. Crown Castle owned about 40,000 macro cell towers, 70,000 small cell sites, and 80,000 route miles of fiber optic cable in the U.S. as of the end of the third quarter of 2020, while SBA Communications had 32,400 towers at the end of 2019 around North and South America. Because of that massive portfolio, American Tower was the largest REIT by equity market cap, at over $100 billion at the end of November 2020. That was more than $25 billion ahead of the second-largest -- industrial REIT Prologis (NYSE: PLD) -- and bigger than equity market caps of several other REIT subgroups.
Despite its heavy international presence, American Tower's U.S. portfolio supplies the majority (57%) of its revenue even though it only account for 23% of its total sites:
Big three U.S. mobile carriers: Approximately 51%.

AT&T (NYSE: T): 19%
T-Mobile (NASDAQ: TMUS): 18%
Verizon (NYSE: VZ): 14%
Other U.S.: About 6% (includes additional voice/data providers, broadcast companies, government agencies, local municipalities, etc.).
International: Roughly 44% (induces pass-through and tenant revenue).
American Tower primarily makes money by leasing space on towers that it owns or manages and the land around the site that it either owns or leases. Tenants install antenna equipment on the towers and shelters on the adjacent land that contains base station equipment and heating, ventilation, and air conditioning (HVAC) systems. Its tower sites can usually support four to five tenants. The more tenants it adds to each location, the more revenue and higher returns it generates from each tower site.
American Tower Corporation news
American Tower was very active in 2020. The company started the year by closing the acquisition of Eaton Tower Holding Limited, adding 5,700 communications sites across Africa for $1.85 billion. The company also reached an agreement in January to acquire a joint venture partner's interest in Ghana and Uganda for $523 million. Meanwhile, it entered its 20th market in 2020 by acquiring a few sites in Poland.
The company unveiled another notable transaction in November. It agreed to acquire InSite Wireless Group for $3.5 billion. That company owns, operates, and manages 3,000 communications sites in the U.S. and Canada. The portfolio includes 1,400 owned towers in the U.S, more than 200 owned towers in Canada, 70 distributed antenna systems (DAS) networks in the U.S., more than 600 land parcels under communication sites, and 400 rooftop sites.
Another notable achievement was a new long-term deal with T-Mobile. The agreement enhances the wireless carrier's access to American Tower's U.S. sites to accelerate the deployment of 5G. Meanwhile, it provides American Tower with long-term revenue growth visibility as it supports that key tenant's growth.
The past year also brought a change at the top for American Tower as long-time CEO Jim Taiclet left to take the top post at defense contractor Lockheed Martin (NYSE: LMT). Tom Bartlett succeeded him as CEO, following a decade as the company's CFO and a more than 25-year career at Verizon.
American Tower Corporation stock price
American Tower has done an exceptional job creating shareholder value over the years: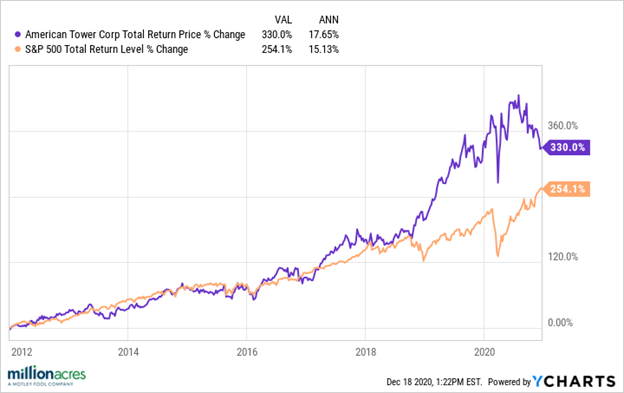 As that chart shows, it has generated market-smashing total returns since it converted into a REIT in 2012.
Powering that exceptional performance has been the REIT's strong growth. From 2009 through 2019, American Tower grew its property segment revenue at a brisk 16.2% compound annual rate. Meanwhile, Adjusted EBITDA expanded at a 14.9% compound yearly rate while consolidated AFFO grew by a 15.2% compound annual rate overall and 14.2% on a per-share basis.
Driving the REIT's rapid financial growth has been a steady string of acquisitions and organic expansion via new site developments and adding additional tenants to existing sites. The company has focused a lot of attention on buying international tower sites directly from telecom companies in recent years. These towers usually only had one tenant on them, allowing American Tower to add more, which significantly bolstered its investment returns. For example, an international site with one tenant typically produces a low double-digit return on investment. Adding a second tenant can usually boost the return up to more than 20%, while a third enhances the returns to around 30%.
The REIT's fast-paced AFFO growth has enabled it to increase its dividend at a rapid rate. Since converting to a REIT in 2012, the company has grown its dividend per share by more than 20% per year. Despite that growth, the dividend yield has remained relatively low because American Tower's stock has risen nearly as fast as the dividend. Overall, it has typically yielded less than 2%.
The bottom line on American Tower Corporation
American Tower is already the largest REIT. However, that doesn't mean it can't continue delivering strong total returns in the coming years. The company has a lot of expansion potential. It can continue to gobble up tower sites and add more tenants to each location, especially as the telecom industry rolls out 5G, which requires more cells located closer together. Because of that, real estate investors should have this REIT on their radar.
Got $1,000? The 10 Top Investments We'd Make Right Now
Our team of analysts agrees. These 10 real estate plays are the best ways to invest in real estate right now. By signing up to be a member of Real Estate Winners, you'll get access to our 10 best ideas and new investment ideas every month. Find out how you can get started with Real Estate Winners by clicking here.
Matthew DiLallo owns shares of American Tower and Verizon Communications. The Motley Fool owns shares of and recommends American Tower and Crown Castle International. The Motley Fool recommends T-Mobile US and Verizon Communications. The Motley Fool has a disclosure policy.