Get our 43-Page Guide to Real Estate Investing Today!
Real estate has long been the go-to investment for those looking to build long-term wealth for generations. Let us help you navigate this asset class by signing up for our comprehensive real estate investing guide.
Realty Income (NYSE: O) lives up to its name as the real estate investment trust (REIT) has delivered dependable income to its investors for decades. The company has even trademarked its tagline -- The Monthly Dividend Company -- to show its dedication to providing investors with consistent monthly income. As of mid-October 2020, the REIT had paid 603 consecutive monthly dividends.
Here's a closer look at a REIT solely focused on providing its investors with a dependable income stream backed by commercial real estate.
Realty Income company profile
Realty Income is a REIT focused primarily on owning freestanding retail properties (84% of its rent in 2020 came from this sector). It leases these buildings to high-quality tenants (48% had investment-grade credit ratings) under long-term triple net leases. That contract structure has several benefits, including higher gross margins and lower rental revenue volatility and maintenance capital expenses than other retail property types like shopping centers and malls.
As of the middle of 2020, Realty Income owned 6,541 commercial real estate properties in the U.S. and U.K. leased to about 600 tenants across 50 industries. Its largest tenant types are:
Convenience stores (12% of total rent).
Drugstores (9.1%).
Dollar stores (8.1%).
Grocery (8%).
Health and fitness (7.1%).
Theaters (6.3%).
Quick-service restaurants (4.8%).
Overall, 80% of the company's rent comes from retailers that are either nondiscretionary, have low price points, or are service-oriented. Those factors put them in a better position to withstand threats from e-commerce or economic downturns. Meanwhile, another 16% of its portfolio is nonretail properties -- industrial, office, and agriculture -- which are entirely resistant to e-commerce. Finally, it leases the remaining 4% of its properties to retailers that face threats from e-commerce or economic downturns. However, that's a much smaller percentage than many other retail-focused REITs.
Realty Income news
Realty Income has been an active acquirer over the years. Since 2010, it has made $16.6 billion of property-level purchases, primarily via sale-leaseback transactions with tenants. It also acquired American Realty Capital Trust for about $3.2 billion in 2013. During the first half of 2020, the REIT bought 94 properties for $640.2 million, including eight still under development. Despite the threats to the retail sector, Realty Income has continued to focus on acquisitions in that space. Overall, 97% of the properties it bought during the first half of 2020 -- and 95% of its $3.72 billion of acquisitions in 2019 -- were in the retail sector.
However, while Realty Income buys lots of properties, it's highly selective. For example, the $640.2 million of real estate it purchased during the first half of 2020 was only a fraction of the $33 billion of deals it reviewed. The REIT focuses on acquiring higher-quality properties that tend to trade at a lower cap rate. Characteristics it looks for are:
Properties leased at or below market rents.
Proven real estate sponsors or tenants with strong credit.
Leases with above-average rent coverage.
Long lease terms.
Tenants in stable industries (i.e., retailers resistant to e-commerce and economic disruptions).
Properties that have flexible alternative uses by other potential tenants.
These properties tend to produce higher internal rates of return over the long term, driven by rent growth.
Realty Income can afford to buy lots of properties each year because it has a strong financial profile. It was one of only eight REITs with A-rated credit, which it supports with a conservative leverage ratio of 5.1 times net debt-to-EBITDAre. That gives it the flexibility to issue low-cost debt to finance acquisitions. On top of that, despite its dividend focus, the REIT retains a meaningful portion of its cash flow each quarter to help fund deals. Its AFFO payout ratio was a comfortable 81.5% during the second quarter of 2020, even though that was a turbulent period for retail landlords as many struggled to collect rent. It will also sell stock from time to time to ensure it maintains a top-tier credit profile.
The REIT selectivity paid dividends in 2020 when the COVID-19 outbreak slammed the retail sector. While many retail REITs struggled to collect rent, most of Realty Income's tenants paid theirs on time. The company routinely collected a larger percentage of its rent than other free-standing retail owners and shopping center landlords. For example, during the worst month of the downturn (May), Realty Income collected 87.5% of the rent it billed while free-standing retail owners only received an average of 70.1% that month and shopping center owners only got 49.2%.
Because its collection rate held up relatively well, it didn't join many of its retail-focused peers in suspending its dividend. Instead, its acquisition-driving growth and strong financial profile enabled it to continue increasing its payout.
Realty Income stock price
Realty Income's conservative strategy has paid enormous dividends for investors over the years. From its initial public offering (IPO) in 1994 through the middle of 2020, the REIT has produced an average annual total shareholder return of 15.3%, outperforming the S&P 500 by a wide margin.
On the one hand, its performance in more recent years hasn't been quite as stellar as it has underperformed the S&P 500 due mainly to shares sold off in early 2020 as a result of the COVID-19 outbreak and the associated recession that impacted retailers: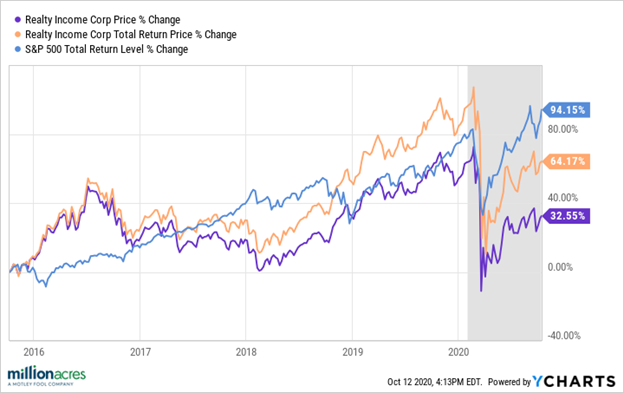 However, as mentioned, Realty Income's portfolio has held up much better than most peers focused on the sector. Because of that, it was able to continue growing its dividend. In mid-September of that year, the REIT declared its 108th increase since its initial public offering, extending its streak to 92 consecutive quarters. Overall, it has grown its dividend at a 4.5% compound annual rate since its IPO.
On the bright side, the decline in its stock price had an inverse effect on its dividend yield. As a result, it was up to nearly 4.5% in late 2020, quite a bit above its sub-4.0% average over the previous year. That made it an even more attractive option for income-focused investors.
The bottom line on Realty Income
Realty Income has done a phenomenal job delivering on its objective to provide investors with a dependable monthly income stream. That sets it apart from most REITs as its peers typically pay quarterly, while many have struggled to maintain their dividends over the years, let alone grow them consistently. Realty Income has succeeded where others failed by focusing on owning high-quality properties leased to top-tier tenants and maintaining a top-notch balance sheet. That conservative strategy paid dividends during the downturn of 2020 as its portfolio held up much better than those of its peers, which enabled it to continue delivering a growing income stream to its shareholders. That resilience makes it stand out as a top REIT for income-seeking investors.
Got $1,000? The 10 Top Investments We'd Make Right Now
Our team of analysts agrees. These 10 real estate plays are the best ways to invest in real estate right now. By signing up to be a member of Real Estate Winners, you'll get access to our 10 best ideas and new investment ideas every month. Find out how you can get started with Real Estate Winners by clicking here.
Matthew DiLallo has no position in any of the stocks mentioned. The Motley Fool has no position in any of the stocks mentioned. The Motley Fool has a disclosure policy.