Get our 43-Page Guide to Real Estate Investing Today!
Real estate has long been the go-to investment for those looking to build long-term wealth for generations. Let us help you navigate this asset class by signing up for our comprehensive real estate investing guide.
There are a lot of moving parts relating to a real estate transaction before it gets to the final sale, from the initial listing to underwriting, closing preparation, and title work. Realogy Holdings Corp. (NYSE: RLGY) is a full-service real estate company that provides these much-needed services through franchises, brokerages, and beyond. Let's take a closer look at Realogy, parent company to some of the most well-known franchises in real estate today.
Realogy company profile
Realogy is a multi-service Fortune 500 company based out of Madison, New Jersey, that provides essential real estate services relating to the sale and purchase of residential and commercial real estate including brokerages, real estate franchises, mortgage, title and closing, and relocation services. In 2019 Realogy's businesses made up a 15.3% share of all U.S. existing home sale transaction dollars spent, earning billions in revenue each year.
Their franchises and brokerages are some of the biggest names in real estate including:
Better Homes and Gardens
CENTURY 21
Coldwell Banker
ERA Real Estate
Sotheby's International Realty
Coldwell Banker Commercial
Realogy Brokerage Group (largest owned brokerage company by sales and volume in the U.S.)
Corcoran
Combined these franchises and brands have 19,000 offices and over 318,000 independent sales associates operating and conducting business in 115 countries and territories around the world, and in 2019, they were the largest brokerage company by sales and volume.
Additionally the company owns:
Title Resource Group, LLC: a title and closing franchise of the company with over 465 offices across the United states
Realogy Title Services, LLC: a closing title company providing closing services in all 50 states
Cartus ZapLabs LLC: a technology hub for their franchises, brands, and services
Cartus Corporation: a relocation service operating in approximately 185 countries
In 2017, Realogy entered into a joint venture, Guaranteed Rate Affinity LLC, with Guaranteed Rate, Inc., one of the largest private mortgage brokerage firms in the U.S. with Realogy having a 49.9% stake in the joint venture partnerships that offer mortgage services to Cartus, NRT, and other brokerage companies under the company's umbrella. This joint venture has contributed to over $103 million in increased revenues year over year.
Realogy makes money by charging fees through their various franchises, brands, and services. Having integral roles in all facets of a real estate transaction allows them to earn multiple fees or revenue streams from a single transaction. The company's largest revenue source is from its brokerage services followed by its franchise groups, mortgage and title services, and then corporate or other services.
Realogy news
Realogy recently released their Q3 2020 earnings, which by no surprise reported a very strong quarter with $1.9 billion in revenues, a 20% increase year over year. The recent surges in home demand, refinancing, and low mortgage rates have urged prepared homebuyers to flood the markets, creating a strong real estate market, the perfect conditions for the company to thrive. Brokerage and franchise sales transactions were up 12% and 10% respectively, with the average home sale price seeing a 17% increase, allowing them to achieve a 28% increase in closed transaction completion rate year over year.
Generated earnings before interest, taxes, depreciation, and amortization (EBITDA) reached $309 million thanks to the company's mortgage joint venture Guaranteed Rate Affinity. New mortgage originations were up 10%, but refinancing activity was up 129% for the quarter.
Realogy entered into a contract with Sirva in 2019 to sell Cartus, the company's relocation service, for $400 million, but Sirva canceled the contract just short of the closing deadline because Realogy wouldn't be able to satisfy closing conditions in the required timeline. Realogy filed a lawsuit against Sirva in spring for exiting the contract after confirming they had satisfied closing requirements; however, the court dismissed the suit in July, stating that the breach in contract was due to a failure to perform by Realogy.
After having pulled more than $400 million from their revolving line of credit in early spring after the initial onset of the coronavirus and failed closing of the sale of Cartus, the company made some wise financial decisions with this increased real estate activity, using a portion of revenues to decrease their overall debt and leverage balances by $276 million since Q3 2019. Reology has $379 million of cash or cash equivalents and a 4.2x leverage ratio, which is still a bit high by stock standards but significantly lower than their previous quarter's leverage ratio of 5.6x. Realogy has stated that they will continue to prioritize the consolidation of their debts, which to date is over $3 billion, reducing leverage with cash on hand.
Adjusted earnings per share (EPS) were up 146% from the same quarter the previous year to $1.38. While Realogy had a strong Q3, they are extremely dependent on real estate demand maintaining its current momentum and drive. Experts are forecasting a strong 2021 for the residential market, meaning there's a strong likelihood we'll see positive growth and results for the company.
With that being said, their business is very cyclical. If there is a market pullback or the marketplace shifts in response to the global pandemic and current recession, it could impact the company negatively, which is the reason it's focusing a large effort on reducing its debts and strengthening its financial balance sheet. The company doesn't have any debt maturities until 2025, which, based on its current financial position, means it has plenty of time to continue to maintain its dividends and operations comfortably before coming due.
Several of Realogy's franchises and brands are expanding, which is providing opportunity for further growth, although the company has emphasized the desire to consolidate the number of franchises and services under management to a smaller, core group of brands. Brokerage agents increased 2% the past quarter, and ERA, Corcoran Group, and Sotheby have all launched new offices with presence in new markets, but the company's large debt continues to linger over it and be a lead priority over expansion and growth.
Realogy stock price
Share prices for the company are down 67% since it first went public in 2012, a nearly 200% difference compared to the total return for the S&P 500. Just as share prices were starting to make a comeback, they took a tumble earlier this year during the stock market crash. Prices have recovered slightly now, trading around 15% less than March highs, and seem to be on an upward trend, especially after their positive performance this past quarter.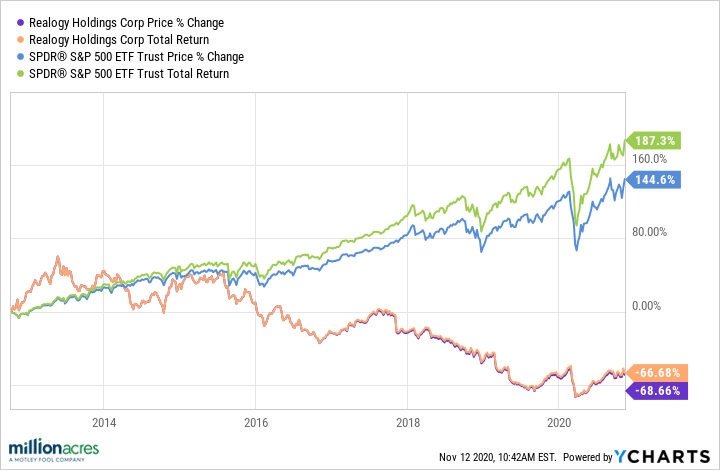 The company paid quarterly dividends from 2016 until 2019, ending their dividend payouts completely at the end of 2019 to focus on reducing their leverage and debt. Eliminating their dividend payouts, in addition to disappointing past earnings, which had less-than-hoped-for EBITDA and net revenues, the company has underperformed a large part of the time.
The Millionacres bottom line on Realogy
Since the company doesn't currently pay any dividends, investors are purchasing this for a growth opportunity, which I do believe it has. Right now, the market is favoring the services and businesses operated by Realogy, which means they are well-positioned to profit and benefit from the increase in home sales and real estate activity -- but only as long as it lasts. I think reducing their leverage and debt burden is a smart move, given their history of being overleveraged, and will put them ahead of the game if and when the market turns. In the short term, I believe there is potential for Realogy, but I'm not sure how long this opportunity will last or how far it will take them.
Got $1,000? The 10 Top Investments We'd Make Right Now
Our team of analysts agrees. These 10 real estate plays are the best ways to invest in real estate right now. By signing up to be a member of Real Estate Winners, you'll get access to our 10 best ideas and new investment ideas every month. Find out how you can get started with Real Estate Winners by clicking here.
Liz Brumer-Smith has no position in any of the stocks mentioned. The Motley Fool has no position in any of the stocks mentioned. The Motley Fool has a disclosure policy.