Get our 43-Page Guide to Real Estate Investing Today!
Real estate has long been the go-to investment for those looking to build long-term wealth for generations. Let us help you navigate this asset class by signing up for our comprehensive real estate investing guide.
Investing in real estate stocks can be a wonderful way to diversify an investment portfolio in real estate beyond a real estate investment trust (REIT). Brokerages, which play a crucial role in facilitating the sale of residential and commercial real estate can be an attractive way to invest. Marcus & Millichap (NYSE: MMI) is one of the top commercial real estate brokerages in the United States, specializing in the sale and financing of commercial property while offering research and advisory services to clients. If you're considering investing in Marcus & Millichap, here's what you need to know.
Marcus & Millichap company profile
Marcus & Millichap commercial real estate brokerage firm was founded by George Marcus in 1971. Millichap was one of the first agents he hired in 1976, creating the name known today. George later went on to found the REIT Essex Property Trust and is now the sitting chairman.
Marcus & Millichap went public in 2013 and now has 1,999 investment and sales agents across 82 offices in the United States and Canada. In 2019, the company participated in over 7,000 commercial real estate sales, making one of them the top brokerages in the commercial market. Like most real estate brokerages, the bulk of their revenues are made through commissions and fees earned from the sale of commercial real estate, but the company also attributes a small portion of revenues from financing fees earned through advisory services and loan sales.
The bulk of the revenues earned by the company are for properties valued at $1 million to $10 million, which year to date 2020 made up 68% of total sales revenues, in turn making up roughly 80% of all commercial sales transactions in the market. Out of the remaining sales revenues, 12% was earned from real estate valued at $10 million to $20 million, 16% for real estate valued over $20 million, and 4% for real estate valued under $1 million.
Marcus & Millichap operates nationally, but the West is the leading region for sales transactions (35%) followed by the Midwest/Mountains (33%), Northeast/Atlantic (18%), and the Southeast (14%).Multifamily (51%), retail (31%), and office (7%) are the company's three core sectors by sales volume, with the remaining 11% of sales being attributed to miscellaneous commercial properties types outside of these sectors.
Marcus & Millichap news
2020 has been a challenging year for commercial real estate. The coronavirus pandemic has hit certain sectors, including retail, hospitality, and office exceptionally hard. Uncertainty as to how the situation will play out in the future and extent of impacts to the global market has pushed cap rates, net absorption, and transactions down. Sales transactions as a whole for commercial real estate are down 40% year over year.
With that being said, it's no surprise that 2020 has been a tough year for Marcus & Millichap. Reduced sales transactions directly impacts company revenues, which are down 17.9% year to date when compared to 2019. Sales transactions year to date are down 15.5% for a total of 4,217 transactions earning a total sales volume of $20.9 billion, a 19.5% reduction from last year. Operating expenses as a percentage of revenues are down 7.2% year to date when compared to operating expenses year to date 2019. Net income took the hardest hit, with a 65% year-over-year drop.
But it's not all bad news for Marcus and Millichap; things are starting to improve slowly. Q3 2020 saw an upswing in almost all areas when compared to Q2 2020. The company is also fairly well positioned financially to handle the current challenges. By third-quarter end, the company reported $173 million in cash or cash equivalents.
The company is working to expand their loan sales and advisory services to hopefully boost revenues outside of sales transactions. They also increased their team of agents by 4% in 2020. In October 2020, Marcus & Millichap acquired Mission Capital, which specializes in the sale of loans and due-diligence services, adding an additional 18 capital markets specialists to the company. Reports on current debt maturities and debt securitization aren't openly reported for 2020, making it difficult to determine how long the company can last with such deflated revenues.
Marcus & Millichap stock price
Share prices tumbled in March 2020, along with most other stocks and REITs, but have since rebounded nicely, currently trading around 3% less than January highs. The company's price to earnings ratio (P/E) is 13 year to date, which is within normal range for stocks and means the company is relatively priced for its performance and growth potential. Marcus & Millichap doesn't pay dividends, so investors who are interested in purchasing shares are doing so for growth potential. Growth and returns for the company have remained relatively in line with current share prices, which isn't terrible, but are dismal when compared to the performance of the S&P 500 during that same period.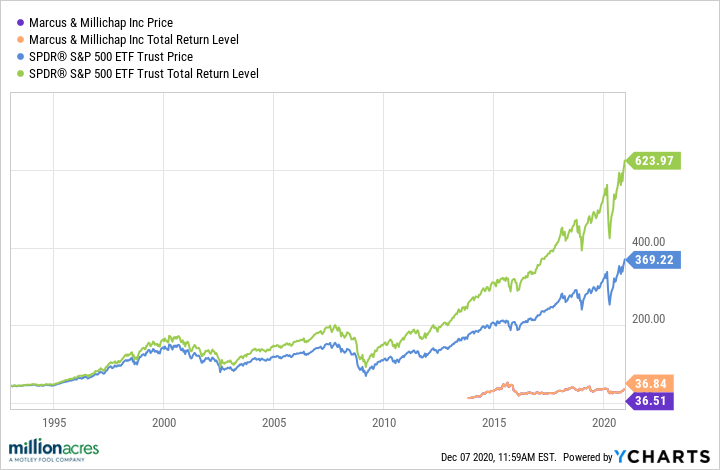 The bottom line on Marcus & Millichap
The company is predicting continued volatility in the commercial market with reduced sales transactions. How long this volatility will last and how bad it gets is still unknown. To reduce losses, Marcus & Millichap will need to leverage sales in the sectors that have been least affected, including maintaining multifamily while broadening their activity in other sectors like industrial and self-storage, in addition to minimizing expenses. Possible governmental policies, incentives, or initiatives could provide some temporary relief until full market recovery is achieved. But at the time of this writing, there are no planned policies currently in place to help incentivize investor activity to the CRE market or support or CRE owners who may be struggling.
Unfortunately, operating as a brokerage who relies on transaction activity has to ride the ups and downs of the marketwaves. Marcus & Millichap's success directly relates to the overall health and activity of the CRE market. Until that's discerned, it will likely be a rough few quarters for the company. Markets are cyclical. It appears Marcus & Millichap should be able to ride out the turbulent times ahead and will have strong growth opportunities as markets rebalance and activity returns.
Got $1,000? The 10 Top Investments We'd Make Right Now
Our team of analysts agrees. These 10 real estate plays are the best ways to invest in real estate right now. By signing up to be a member of Real Estate Winners, you'll get access to our 10 best ideas and new investment ideas every month. Find out how you can get started with Real Estate Winners by clicking here.
Liz Brumer-Smith has no position in any of the stocks mentioned. The Motley Fool has no position in any of the stocks mentioned. The Motley Fool has a disclosure policy.