Get our 43-Page Guide to Real Estate Investing Today!
Real estate has long been the go-to investment for those looking to build long-term wealth for generations. Let us help you navigate this asset class by signing up for our comprehensive real estate investing guide.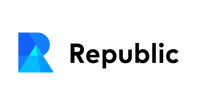 Republic Real Estate
Republic Real Estate (formerly Compound) provides a sleek mobile experience that allows all investors to buy equity stakes in condos for very low minimums.
It fully vets every deal but is still a little vague on what that means.
It takes 1% equity in every deal as part of its fee structure.
Deal flow improving.
Jesse Stein now sole head of RE.
Republic has raised a lot of money, including from MF.
---
Bankruptcy Protection
8/10
Diversified Fund Options
4/5
Non-accredited Investor Offerings
5/5
What is Republic Real Estate?
Republic is an alternative investment platform that offers private investment opportunities across many categories, including start-ups, growth-stage companies, crypto, film, esports, and real estate. The company's real estate investment offerings are made under the "Republic Real Estate" brand name.
Republic Real Estate is a full-service real estate crowdfunding platform. It offers direct equity investments in residential and commercial real estate as well as fund options by a variety of sponsors both in the U.S. and abroad. While some of its offerings are only open to accredited investors, most are open to all investors at low minimum investment levels.
Summary: Is Republic Real Estate a good investment?
Republic offers a wide variety of residential and commercial investment opportunities from a range of sponsors. That will allow investors to build a diversified real estate portfolio on the platform. Some properties and funds might turn out to be poor investments while others could deliver above-average returns. Because of that, investors will have to gauge each investment opportunity on its own merits.
Republic Real Estate pros and cons
Pros
Accessable: The platform is open to all foreign and domestic investors, including non-accredited investors.
Affordable: The investment offerings on its platform have low minimums, often as little as $100.
Diverse offerings: Individual property investments and fund investments are available on the platform.
Global: Republic's offerings include both foreign and domestic properties.
User-friendly: Republic's platform features a straightforward process that's easy to use.
Strong backing: Republic Real Estate is part of the broader Republic platform, which launched in 2016 and has raised more than $150 million.
Innovative: Republic launched a first-of-its-kind tap-to-invest

house-flipping

program on social media that will allow individuals to invest in house-flipping projects and participate in the returns when it's sold.
Cons
Limited offerings: At the time of this publication, Republic Real Estate had only closed a handful of deals and just had a couple of live offerings on the site.
Limited track record: Due to the recent launch of its real estate platform, Republic doesn't have an investment history or track record.
High fee structure: Republic usually collects a one-time fee of between 3% and 5% of the capital raised for each project. On top of that, sponsors may charge investors asset and property management fees.
How Republic Real Estate works: How are investments sourced?
Republic sources offerings from a wide variety of industry contacts and referrals. It thoroughly vets each one before listing it on the platform. Republic focuses on providing a wide range of diverse real estate opportunities to allow individuals to build a portfolio based on their investment strategy.
The company provides investors with information on each offering on their website. Each offering page follows a similar format that ensures transparency and has a portal for discussion, allowing investors to interact with the sponsor and ask questions about the investment. It also features an updates tab that allows sponsors to keep investors informed about the investment's progress.
Is Republic Real Estate legit? How strong is it?
Republic Real Estate performance
Republic Real Estate is a new start-up with a limited operating history. It's in the process of building out its offerings. However, the team behind the real estate group has extensive real estate experience.
Republic Real Estate management
Janine Yorio is the co-head of the real estate group at Republic. She is a 20-year real estate veteran, having worked as the senior vice president of acquisitions & development at Standard Hotels and portfolio manager at NorthStar Capital. She has managed institutional real estate investments for pension funds and endowments and has overseen more than $2 billion in real estate investments over the course of her career. She graduated from Yale University.
Jesse Stein is the other co-head of the real estate group at Republic and currently serves as its COO. He was previously the co-founder and COO of ETRE Financial and the executive vice president of acquisitions for United Realty Advisors, a real estate investment trust (REIT). He graduated from Cornell University and has an M.S. in real estate from New York University.
Yorio and Stein co-founded Compound, a real estate tech start-up that allowed individual investors to make small-increment real estate investments through a mobile app. Republic acquired Compound in 2020.
Who can invest in Republic Real Estate?
Most of Republic Real Estate's offerings will be open to both accredited and non-accredited investors (provided the latter don't invest more than 10% of their annual income or net worth in any of its offerings).
What is the minimum Republic Real Estate investment?
The investment minimum ranges by deal. It can be as low as $10 to as much as $50,000. However, the typical real estate offering on Republic Real Estate's platform will have a minimum of around $100.
What are Republic Real Estate's fees?
The fees vary depending on the deal. However, Republic typically earns a one-time fee of 3% to 5% of capital raised, some of which it may earn as equity in the project. Sponsors using the Republic platform may also charge investors asset and property management fees.
Republic Real Estate returns: What should you expect?
Republic offers a variety of real estate investment options, including commercial and residential opportunities in the U.S. and abroad. Each offering has a different return profile depending on the type and structure of the investment. Some are lower risk opportunities geared toward investors seeking passive income backed by rental income. Others focus more on capital appreciation, with gains or losses dependent on the sale.
When (and how) can you sell Republic Real Estate investments?
There currently isn't a secondary market for investments made on Republic Real Estate's platform, nor does it offer a redemption program. Instead, investors must continue holding until the issuer has a liquidity event, which could include selling or refinancing the investment. Generally, investors need to make a three-to-five-year commitment, though that varies by offering.
Going mobile: Is there a Republic Real Estate app?
Republic launched a mobile app in December of 2020 that allows investors to easily view and manage their investments.
Republic Real Estate risks: Is Republic Real Estate safe to invest with?
Republic is a leading alternative investment platform backed by strategic capital partners and venture capital firms. However, even if the platform failed, it wouldn't directly impact an investment made on the site because they're with the sponsors of the deal, not Republic. As a result, Republic is a safe platform to invest with for those looking to build out a diversified real estate portfolio.
While Republic is a safe platform to use, that doesn't mean the investments offered on its platform will be suitable for all investors. Some carry high levels of risk. For example, it has offered investors the opportunity to participate in a house-flipping project and a vacation rental development in Mexico. These types of projects carry more risk than other real estate investments geared toward generating passive income.
Disclosure: Matt DiLallo has made investments on Republic Real Estate's platform.
Got $1,000? The 10 Top Investments We'd Make Right Now
Our team of analysts agrees. These 10 real estate plays are the best ways to invest in real estate right now. By signing up to be a member of Real Estate Winners, you'll get access to our 10 best ideas and new investment ideas every month. Find out how you can get started with Real Estate Winners by clicking here.