Get our 43-Page Guide to Real Estate Investing Today!
Real estate has long been the go-to investment for those looking to build long-term wealth for generations. Let us help you navigate this asset class by signing up for our comprehensive real estate investing guide.
Before 2012's Jumpstart Our Business Startup (JOBS) Act, individual investors couldn't invest in private real estate deals. The government feared that unsavory real estate developers would take advantage of individuals who couldn't do proper due diligence.
But things have changed. Crowdfunding platforms now provide a plethora of opportunities online, opening up a world of choices to investors who never had the chance to play with the big guys before. 
Of course, just because you can doesn't mean you should. Real estate has unique complexities, nuances, risks, and rewards. And you need to understand and navigate them to invest successfully in private deals like those offered by crowdfunding platforms.
So, is real estate crowdfunding a good investment? Let's look at the pros and cons.
Pros of real estate crowdfunding
Access 
The biggest benefit of real estate crowdfunding is access. Access to deals. Access to online research. Access to the convenience and efficiency of technology-driven transactions. Through online platforms, commercial and residential projects that were available only to the wealthy are readily available to individual investors.
It used to be that real estate investment trusts (REITs) were the only way for small investors to add real estate to their portfolios. The minimum investment for most private real estate deals is $250,000 and investors are required to be accredited. Crowdfunding platforms give investors direct access to pre-vetted deals with much lower minimum investments. 
And, unlike REITs, crowdfunding platforms let investors participate in specific properties and projects without having direct ownership.
Minimal investment 
Traditional real estate investing -- like owning a rental or fixing and flipping -- can require a lot of money. And because that money goes into a single property, the investment can be risky. But crowdfunding projects let investors own a portion of bigger projects with a minimal investment. 
So, instead of putting down $200,000 to buy one property in one location, you could spread your risk over eight different locations and types of property with a minimum investment of $25,000 each through a crowdfunding platform. Many crowdfunding sites offer even lower minimum investments of $5,000, and a few are as low as $1,000 allowing you to further diversify and spread out your risk.
Investment stability
One of the benefits of adding real estate to an investment portfolio is overall stability. That's because real estate isn't directly correlated to stock market fluctuations. When stocks are volatile, real estate as a longer-term investment, is typically not.
REITs don't accomplish this because they're traded on the stock market. Their values tend to ebb and flow with stock market fluctuations, which are unrelated to the real estate held within the REIT. 
Direct investments in real estate -- whether through crowdfunding or acquired through individual purchases -- are often affected by economic shifts. But they aren't directly correlated to the ups and downs of the stock market.
Regular cash flow
Typically, crowdfunding investments provide an ongoing monthly or quarterly payout based on rental income or profitability. 
Fundrise, an online crowdfunding company, just announced that their investors received over $9.4 million in total dividends in the second quarter of 2019. Over $6.1 million was distributed in Q1 2019.
While not guaranteed, these payouts are in addition to a return on investment from capital appreciation when the project is complete. 
Ease of getting started
It's easy to invest in real estate via crowdfunding. You set up an account on a platform, select your investment, and send money to fund the deal. You can research the deal and complete due diligence online. There are no closing papers to sign or ongoing costs to hold a real property. You can track the investment's performance and monitor it with a few clicks.
Keep in mind, however, that many platforms offer deals only available to accredited investors. You'll need to submit income or net worth statements to prove that you qualify before you can participate in these projects.
Deidre and Matt discuss volatility
Diversification 
Most crowdfunding platforms specialize in a subsector of real estate. Some offer only commercial deals, while others host only residential deals. Within those broad categories, there are equity and debt options. 
Any qualified financial advisor will encourage investors to hold both stocks (equity) and bonds (debt) in the stock market. The same is true when building a real estate portfolio: Equity investments typically offer higher returns commensurate with a higher risk of loss. Loans provide a more stable and predictable return with less risk of loss because your investment is secured as a first lien against real property. 
Diversification is easier with crowdfunding than with traditional real estate investing because of the low minimum investment per deal. With traditional real estate, you need a lot of capital to properly diversify your holdings. Pre-vetted deals are plentiful on many platforms and the low minimums let investors participate in a variety of property types across many local markets.
Higher return on investment (ROI) potential
The debate over which delivers a higher return on investment, stocks or real estate, continues with staunch proponents of both sides. It's difficult to directly compare the two because they are inherently different on so many aspects. Stocks are liquid; real estate is illiquid. Stocks fluctuate nationally while real estate is local. It's been my personal experience that real estate delivers a much higher return on investment than stocks. That's primarily because there are far more opportunities to take advantage of market anomalies that allow you to buy low and sell high in real estate than in stocks where market efficiencies are quick to close gaps.
Residential real estate investments are generally stable and consistently trend up. Demand is constant Real Estate vs. Stocks: Which Has Better Historical Returns? since people always need a place to live. The value of commercial real estate fluctuates more with the economy and can offer investors a higher upside than residential real estate.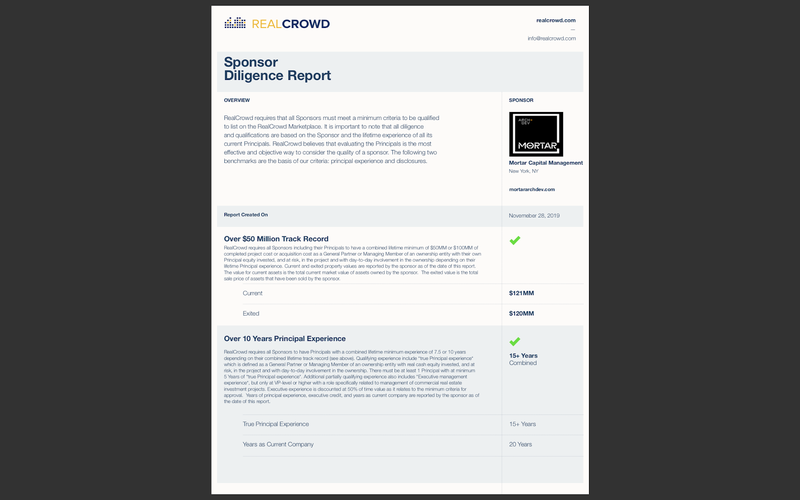 Cons of real estate crowdfunding
Real estate crowdfunding is a new, untested industry
Real estate is a long-term investment and crowdfunding is relatively new. There's no track record of long-term performance yet.
So many real estate crowdfunding sites popped up after the JOBS Act that not all of them will survive. And you can't predict with reasonable certainty which ones will go belly-up.
Several platforms show encouraging initial results and investor money is flooding in. And the opposite is also true: RealtyShares just closed its doors to new investors and the status of current deals is unclear as the company downsizes from 100 to 15 employees. 
Investors have no management control
When you invest in real estate the traditional way, you do it yourself. You buy a single-family home or an apartment building and have direct control over the entire asset and run it the way you like. 
Unlike direct investments, investing in a crowdfunded asset means you rely on the management team to drive the returns for you. You don't have much control over those returns. You must trust the developer and operators to meet goals and successfully manage all aspects of the project.
Some of the crowdfunding platforms on the market are technology companies that simply provide an online marketplace for deals. Others were started and are managed by entrepreneurs with a background in the real estate industry. Do your research on the companies and managers making decisions on the projects you invest in.  
Distributions aren't guaranteed
REITs are required by the SEC to distribute 90% of their profits to shareholders. While sponsors of crowdfunded investments advertise monthly or quarterly distributions, they're not guaranteed. And if the project goes sideways, there may be no profits to distribute.    
Due diligence can be difficult
It can be hard to do due diligence on crowdfunded real estate deals. Most investors don't have the finances and specialized skills to properly evaluate deals. And real estate deals require local market knowledge.
When you invest in a crowdfunded project, you put your trust in the ability of the sponsor. You have to trust that the deal-vetting process was thorough and the management team will do everything possible to mitigate risk and increase ROI during the term of the project.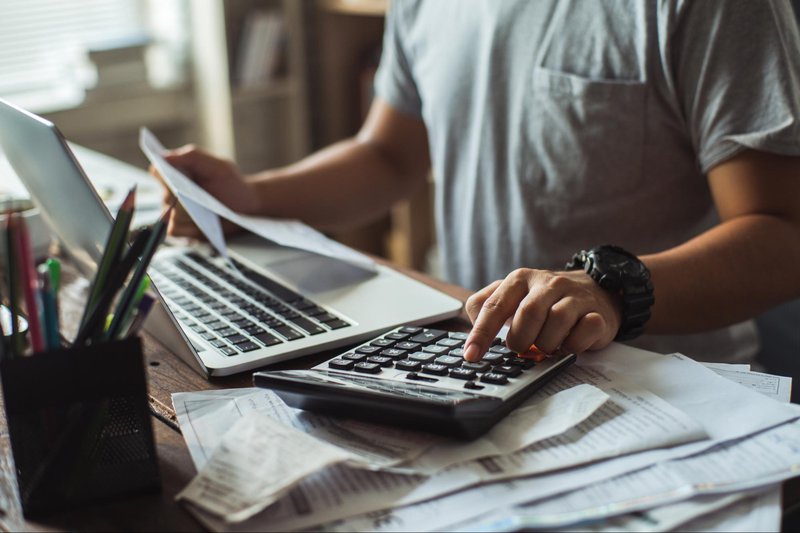 Investment risk
Real estate investing has unique risks and crowdfunding as a method of investing in real estate has inherent risk. If you don't understand how to do proper due diligence on real estate deals and the sponsors behind them, crowdfunding can be very risky.
Your investment is not guaranteed. If the platform goes under (and it's inevitable that some will as hundreds of platforms popped up after the passage of the JOBs Act), there's a possibility you will lose all your capital. And if the specific project you're invested in doesn't go as planned, you could also lose not only the cash flow you were counting on, but also your initial investment.
Limited liquidity
REITs are sold in shares on the stock exchanges, so your money is accessible if you need to cash out. But once you're invested in a crowdfunded deal, or if you buy investment properties the traditional way, your money is tied up and not easily liquidated. 
Longer holding time required
Real estate is a long-term investment that builds wealth over time. Because of that and because the transaction costs are high, investors rarely trade in and out of real estate assets.
Even if you use a crowdfunding strategy where the timeframe is shorter than traditional real estate investments, the holding time can still range from a few years to a decade or more.
Crowdfunding vs. traditional investment vs. REITs
| | | | |
| --- | --- | --- | --- |
|   | Crowdfunded Real Estate Deals | Traditional Real Estate Investing (Owning Cash-Flowing Rentals) | REITs (Real Estate Investment Trusts) |
| Stock market correlation | Some | Very little | Some |
| Cash flow frequency | Quarterly distributions | Monthly rental income | Payout varies; REITS must payout 90% of profits to shareholders |
| Investment costs | 1–3% transaction cost plus annual management fee | No annual broker fee  | Varies on the type of REIT |
| Ability to take advantage of market anomalies | Limited | High | Low |
| Access to deals | Due to low minimum investments, you can invest in many types of deals in many different markets | The number of deals you can invest in is limited by the amount of capital you have to invest | Investor has no control over deal selection or accessibility |
| Investment complexity | Easy to invest in (set up account, fund it, and choose deals)  | "Know-how" required. Lots of moving parts that need to be skillfully managed | Easy to invest in (trade on stock exchanges) |
| Minimum investment | As low as $1,000, typically $5,000–$10,000 | $15,000–$25,000; depends on locality. Typically need 20% down payment | Single share prices can be low ( less than$10), but brokerage fees means you should buy several shares at once. |
| Entry knowledge needed | Deals are often pre-vetted, but due diligence is important and not easy | Self-directed; investor must do extensive due diligence | Very little; due diligence done for you by fund managers |
| Liquidity | Mostly illiquid | Very illiquid | Very liquid  |
| Diversification  | Can be very diversified with limited funds | Limited; need substantial capital to diversify widely | Already diversified |
| Control of investment | Investor has no control over profitability | Investor has control over many aspects and can steer project toward profitability | Investor has no control over profitability |
| Risks    | Poor management, local market risk, industry/concept of crowdfunding is untested  | Management and market risks are more easily managed and mitigated | Poor management, local market risk |
| Capital needed to invest | Affordable minimums | Requires significant capital or leverage | Affordable minimums |
| Ability to leverage or scale investment | New deals across platforms readily available  | Tremendous. With systems in place, you can scale efficiently using debt leverage | You can invest more, but you can't scale your investments |
Summary
So, is real estate crowdfunding a good investment? That's like asking if stocks are a good investment. Sure, some stocks are great investments but some are dogs. The same holds true for real estate crowdfunding deals.
You must do your due diligence in the real estate crowdfunding space, just like you would before investing your hard-earned money in any single stock. Warren Buffett follows his own advice to "invest in companies you understand in sectors you understand."
If you know nothing about real estate (other than the fact that you live in a house), it's not an asset you should invest in directly, be that via crowdfunding or buying and holding individual investment properties.  
Many investors are looking for yield in this low-interest-rate environment. Crowdfunding provides an opportunity to get higher yields while diversifying some of your portfolio into real estate without the cash outlay of acquiring -- and the hassle of acquiring and managing -- rental properties yourself. 
Here's the long and short of it: Crowdfunded real estate is a viable investment option for adding real estate to your overall portfolio and aiming for higher yields. But there are a few things to remember:
Do extensive research on each deal before investing. There are good deals, average deals, and bad deals. Double down on due diligence before investing to get the best ones. 
Do extensive research into the crowdfunding platform itself. Understand their business model, financial stability, fee structure, reputation, deal history, etc.
Diversify your asset allocation into both debt and equity investments (just like you would diversify your stock portfolio into stocks and bonds).
Diversify into different property types and locations (to lessen the risk of a specific type of property crashing or a drop in a local real estate market tanking your portfolio).
Understand that real estate markets are local and invest in an area you already know or can extensively and confidently research.
Got $1,000? The 10 Top Investments We'd Make Right Now
Our team of analysts agrees. These 10 real estate plays are the best ways to invest in real estate right now. By signing up to be a member of Real Estate Winners, you'll get access to our 10 best ideas and new investment ideas every month. Find out how you can get started with Real Estate Winners by clicking here.