Get our 43-Page Guide to Real Estate Investing Today!
Real estate has long been the go-to investment for those looking to build long-term wealth for generations. Let us help you navigate this asset class by signing up for our comprehensive real estate investing guide.
Real estate investing is evolving as technology and digital tools become more accessible and prominent. One of these innovations has been crowdfunding -- the ability to source investments from many investors to fund a particular project. Capital providers to these crowdfunding initiatives in turn receive equity or debt stakes. Real estate crowdfunding portals such as Fundrise, RealtyMogul, RealtyShares, and others present interesting opportunities for investors.
Equity crowdfunding is not just for startup companies and venture capital firms. But what are the real estate crowdfunding regulations surrounding these investments? Clearly there are rules that both investors and those offering crowdfunding deals need to follow. Here's an overview of real estate crowdfunding regulations, the pros and cons of these regulations, and whether real estate investors should try to get in on the action.
SEC regulations on crowdfunding
The Jumpstart Our Business Startups (JOBS) Act, passed in 2012, loosened the crowdfunding rules, allowing non-accredited investors to invest in these types of projects. The new rules allowed companies to raise up to $1 million via crowdfunding, and outlined Regulation A, which allowed companies to offer stock without having to go through federal securities law via the Securities and Exchanges Commission (SEC).
This gave retail and small investors -- who represent that vast majority of investors in the U.S. -- access to deals that would have only been available to accredited investors before. These rules also apply to real estate crowdfunding.
Regulation D: Private placement
The new rules in the JOBS Act eliminated an 80-year ban on public solicitation of private investments. Now, Regulation D offered real estate syndicators a brand new way to raise money.
Specifically, Reg. D meant real estate developers or syndicators can solicit unlimited amounts of funds from accredited investors and up to 35 non-accredited investors. The non-accredited investors, however, must be considered "sophisticated investors."
According to the SEC, a sophisticated investor means "they must have sufficient knowledge and experience in financial and business matters to make them capable of evaluating the merits and risks of the prospective investment."
There are two main vehicles under Reg. D: 506(b) and 506(c). Under Reg. D 506(b), you are allowed to involve up to 35 non-accredited investors as noted above; however, you aren't allowed to publicly solicit for this investment (no advertising). For 506(c), you may advertise, but you're only allowed to take investments from accredited investors. Under both 506(b) and 506(c) there's no investment limit to how much funding can be raised, unlike in Regulation A.
Title III and Crowdfunding Regulation A (Reg A+): Securities
The second part of the JOBS Act came into effect in 2016 and contained what is referred to as Title III and Reg A+. Under these new sections, an issuer could essentially raise money by selling stocks to an unlimited number of investors up to a specific amount and over a certain time period.
Title III, also referred to as Regulation Crowdfunding (Reg CF), allows an issuer a maximum fundraising of $1 million from an unlimited number of investors. This can be limiting for many real estate developers and syndicators who typically need to raise higher amounts.
Regulation A+ is a bit more empowering; however, there are more restrictions in place. According to the SEC, "Regulation A is a crowdfunding exemption from registration for public offerings. Regulation A has two offering tiers: Tier 1, for offerings of up to $20 million in a 12-month period; and Tier 2, for offerings of up to $50 million in a 12-month period. For offerings of up to $20 million, companies can elect to proceed under the requirements for either Tier 1 or Tier 2."
This is why Reg. A+ offerings, particularly for Tier 2, are referred to as "mini-IPOs" (initial public offerings). They do carry with them requirements for audits and disclosures (such as financial statements and prospectus) that make it more burdensome than a Reg. D offering.
Crowdfunding regulations: Investors
Non-accredited investments in crowdfunding deals are now allowed as a result of the JOBS Act. That said, there are still guidelines that need to be adhered to when it comes to accepting non-accredited investors.
According to the SEC, due to the risks involved with crowdfunding, non-accredited investors are limited in how much they can invest during any 12-month period. This limitation depends on the investor's net worth and income.
"If either your annual income or your net worth is less than $107,000, then during any 12-month period, you can invest up to the greater of either $2,200 or 5% of the lesser of your annual income or net worth. If both your annual income and your net worth are equal to or more than $107,000, then during any 12-month period, you can invest up to 10% of annual income or net worth, whichever is lesser, but not to exceed $107,000."
The SEC provides some great examples to help investors better understand the limitations: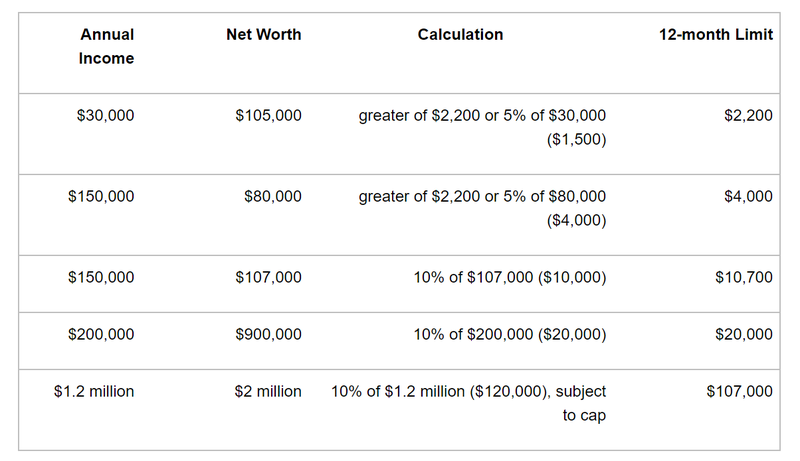 Who can use crowdfunding? Intermediary transaction
In order to qualify to raise money crowdfunding under Reg. A+, you must be a registered crowdfunding portal or platform. The SEC website notes that they "require all transactions under Regulation Crowdfunding to take place online through an SEC-registered intermediary, either a broker-dealer or a funding portal." This is what is referred to as an intermediary transaction through an equity crowdfunding platform.
For a Reg. D transaction, that's not the case. An LLC holding a real estate asset can now raise funds under the provisions of Reg. D. There are some guidelines, however, that must be followed, but they're much less stringent than in a Reg. A+ crowdfunding offering. Specifically, the SEC states:
General solicitation or advertising to market the securities is prohibited.
Securities may not be sold to more than 35 non-accredited investors.
All non-accredited investors must meet the legal standard of having sufficient knowledge and experience in financial and business matters to be capable of evaluating the merits and risks of the prospective investment.
Must give any non-accredited investors disclosure documents that generally contain the same type of information as provided in registered crowdfunding offerings
The offering LLC is not required to provide specified disclosure documents to accredited investors, but if it does provide information to accredited investors, it must also make this information available to the non-accredited investors.
Must give any non-accredited investors financial statement information specified in Rule 506 and should be available to answer questions from prospective purchasers who are non-accredited investors.
The LLC raising the capital must also file a Form D with the SEC, "within 15 days after the first sale of securities in the offering."
The bottom line
Real estate equity crowdfunding regulations can seem complicated but fall into two general categories: Reg. A+ and Reg. D. For smaller investors looking to syndicate, a Reg. D offering may give some initial flexibility to bring on capital from non-accredited investors who make up the vast majority of investors in America.
Got $1,000? The 10 Top Investments We'd Make Right Now
Our team of analysts agrees. These 10 real estate plays are the best ways to invest in real estate right now. By signing up to be a member of Real Estate Winners, you'll get access to our 10 best ideas and new investment ideas every month. Find out how you can get started with Real Estate Winners by clicking here.