Get our 43-Page Guide to Real Estate Investing Today!
Real estate has long been the go-to investment for those looking to build long-term wealth for generations. Let us help you navigate this asset class by signing up for our comprehensive real estate investing guide.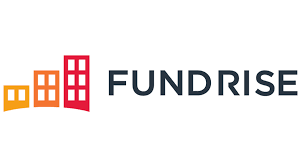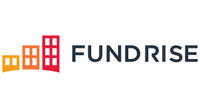 Fundrise
Fundrise takes a unique approach to crowdfunded real estate investments. While most platforms act as a marketplace connecting sponsors and investors, Fundrise instead builds diversified funds with low investment minimums. These significantly lower the barrier to entry for m…
Excellent Non-Accredited Options
Broad Regulation A Access
Easy, low-cost diversification
---
Bankruptcy Protection
8/10
Diversified Fund Options
5/5
Non-accredited Investor Offerings
5/5
What is Fundrise?
Fundrise is one of the oldest and largest real estate crowdfunding platforms. Since 2012, Fundrise has made more than $5 billion of real estate transactions. Further, while most other crowdfunding platforms require you to be an accredited investor -- meaning you must meet certain minimum income and/or wealth requirements -- Fundrise is open to non-accredited investors as well, allowing nearly anyone to invest in private real estate. It also has some of the lowest minimums compared to other real estate crowdfunding sites, with a plan that lets you invest as little as $500.
Another factor that separates Fundrise from many other real estate crowdfunding companies is its account structure. Instead of having the option of picking and choosing individual deals to invest in or a specific real estate investment trust (REIT), Fundrise spreads an investor's money across several diversified REITs (called eREITs) and funds (eFunds) based on their account level and investing goals.
Put it all together, and Fundrise has something for everyone as it makes private real estate investing accessible to both beginners and those with larger amounts of money to put to work.
Summary: Is Fundrise a good investment?
Fundrise has been a good platform to invest with throughout its history. Through the end of 2020, the Fundrise platform portfolio has generated a 10.11% average annual return since 2014, which includes the aggregate time-weighed, weighted-average returns of the real estate investing programs sponsored by the company. While that has underperformed the stock market as measured by the Vanguard Total Stock Market ETF's (NYSE: VTI) 12.74% total return during that time frame, it has outperformed many other real estate investments, including the Vanguard Real Estate ETF's (NYSE: VNQ) 8.37% total annualized average return.
The platform also performed reasonably well during a challenging real estate market in 2020:
While Fundrise's portfolios underperformed the stock market, they produced a solid total return and outperformed publicly traded REITs.
The platform has yet to deliver a down year due to its focus on fixed-income investments like real estate-backed loans and preferred equity and equity investments in lower-risk opportunities like multifamily properties. However, while these investments reduce risk, they also cap the upside potential.
For investors working with smaller amounts of capital or wanting to set up recurring new investments, Fundrise is one of the only games in town. Moreover, the way its account levels diversify an investor's capital across dozens of real estate investments has some appeal in that it prevents investors from having too much wealth concentrated in a single property deal. For many investors, that's a good thing.
However, for someone working with larger amounts of capital and wanting to pick individual real estate deals to invest in, Fundrise might not be the best fit, though it does have a premium account level for accredited investors that offers investments with more upside potential.
Fundrise pros and cons
Pros
Some of the lowest minimums, starting at $500.
Ability to set up automatic recurring investment.
Relatively low fees.
Diversified fund options.
Perpetual fund offerings ensure investors can always put money to work in real estate.
Easy-to-use platform designed to make private real estate investing more streamlined.
The opportunity to invest in more sophisticated real estate strategies without being an accredited investor
Continually innovating. Its new flagship fund, the Fundrise Interval Fund, launched in 2021 and offers improved liquidity and greater diversification and prices its NAV each day.
Redemption plan that allows you to sell some of your investment early.
Cons
Investors can't invest in individual Fundrise REITs or property deals.
The sheer number of real estate funds you'll be invested in can make it difficult to do due diligence.
Unlike investing in standalone deals with a defined investment period until return of capital, it may be difficult to fully exit your position all at one time.
Fundrise makes most of its money from origination fees it charges developers, not the fees it charges investors. This could be a conflict of interest in its due diligence. That's important since investors will be counting on Fundrise management to pick the best investment options.
Is Fundrise legit? How strong is it?
I don't think there's much doubt that Fundrise is a legitimate real estate investing business. As one of the oldest and largest crowdfunding real estate platforms, Fundrise has a solid documented track record. By the end of June 2019, it has originated $816 million in debt and equity real estate investments since its founding.
It also regularly files reports with the Securities and Exchange Commission for all its REITs and for Rise Companies, the parent company. This means that we can learn far more about Fundrise's performance and balance sheet than we can from the vast majority of its peers, which tend to be closely held private companies.
Fundrise performance
I don't think there's much doubt that Fundrise is a legitimate real estate investing business. As one of the oldest and largest crowdfunding real estate platforms, Fundrise has a solid documented track record. As of the time of this review, Fundrise had more than 150,000 active investors, transacted more than $5.1 billion in real estate, and paid out more than $100 million in dividends to its investors.
It also regularly files reports with the Securities and Exchange Commission for all its REITs and funds and for Rise Companies, the parent company. This means we can learn far more about Fundrise's performance and balance sheet than we can from the vast majority of its peers, which tend to be closely held private companies.
Fundrise performance
Fundrise has a long track record of solid performance, which it regularly publishes on its website. Here's a snapshot of its results over the past several years compared to two major investing benchmarks:
| | | | |
| --- | --- | --- | --- |
| Year | Fundrise (platform portfolio) | Vanguard Total Stock Market ETF | Vanguard Real Estate ETF |
| 2014 | 12.3% | 12.56% | 30.29% |
| 2015 | 12.4% | 0.40% | 2.37% |
| 2016 | 8.8% | 12.68% | 8.53% |
| 2017 | 11.4% | 21.16% | 4.95% |
| 2018 | 9.1% | (5.13%) | (5.95%) |
| 2019 | 9.5% | 30.80% | 28.91% |
| 2020 | 7.4% | 20.95% | (4.72%) |
| Annualized avg. | 10.1% | 12.74% | 8.37% |
As that table shows, while the platform has underperformed the stock market, it has outperformed a key real estate benchmark. Further, it has delivered positive returns each year, with relatively low volatility. That makes it an ideal option for those seeking an investment with low correlation to the stock market.
The platform's solid performance is due to its relatively conservative investment approach. While "some may call this approach too conservative," Fundrise wrote in its 2019 year-end letter to investors, "our belief is that the investors who have achieved consistent success spanning multiple decades tend to spend more time protecting against the downside than they do regretting the upside they may have missed." That focus on downside protection has paid off as the platform as a whole has not delivered a down year in its history and was resilient in a challenging 2020.
Fundrise stock
One other factor that makes Fundrise stand out is that its parent company, Rise Companies, has offered stock for sale -- but only to those who've invested with Fundrise -- to raise capital. So even though its stock isn't publicly traded, it's still publicly held and must file regular reports of its financial condition with the SEC.
Sales of Fundrise stock through the company's IPO -- internet public offering, not initial public offering -- have helped the company raise substantial capital to fund its growth. Moreover, the company has increased the per-share price every time it has updated this ongoing offering.
But before you consider participating in it, be forewarned: Unlike the Fundrise REITs, there is no redemption plan for Rise Companies stock. So be prepared to own a stake in the company for potentially many years before you have any opportunity to cash out of your investment.
Fundrise management
One of the main things about Fundrise that makes it appealing is its management. The CEO, Ben Miller, is also a co-founder and one of the largest investors in the company. Miller, along with other executives and several members of the Miller family, owns a controlling stake in Rise Companies.
There are a few positives to this. First, we have executives -- and family members of the executives -- whose interests are aligned with investors in Rise Companies. Moreover, since the business operators have control, there's less risk of a large outside investor, such as a venture capital fund, forcing management to act in a way that may not be aligned with the company's best interests.
On the other hand, there's some risk to this structure, particularly since Fundrise makes most of its money from lending fees, not asset management fees. What's in the best interest of the company itself -- and its owners -- isn't necessarily what is in the best interest of investors in Fundrise's various investment products, at least in the short-term.
Yet, there's one more aspect of management that must be considered: experience in real estate development. The Miller family has a multiple-decade track record of developing commercial real estate, and in every part of the real estate and economic cycle. This experience should prove valuable in navigating the real estate cycle in the future.
How Fundrise works: How are investments sourced?
Unlike other real estate crowdfunding platforms where investors choose individual real estate deals to participate in, Fundrise has several account levels with different investment minimums. As investors add capital, it unlocks new investment options:
Starter: $500 minimum investment. The starter plan is Fundrise's simplest experience that allows investors to test its product.
Basic: $1,000 minimum investment. This plan includes all the essential options like IRA investing, investor goals, auto-invest, and dividend reinvestment.
Core: $5,000 minimum investment. This plan offers more customization with access to "core plans" that are goal-based automated investment strategies. Investors have the option of focusing on generating consistent cash flow, maximizing long-term growth, or taking a balanced approach.
Advanced: $10,000 minimum investment. This plan offers the option of adding more sophisticated offerings to an investor's portfolio with access to "plus plans" that are add-on options to each core plan. These plans allocate a portion of an investor's capital to more sophisticated real estate strategies that evolve based on new market opportunities.
Premium: $100,000 minimum investment. This account level provides accredited investors with access to private funds as they become available. These are specialized, illiquid private funds with long-term time horizons that offer the potential of earning outsized returns.
Fundrise plans: Which is best?
There's really not a right or wrong answer to this. It's more a matter of choosing the core plan that matches best with your investing goals and risk/reward profile. Here is a summary of each of Fundrise's three core plans.
| | | | |
| --- | --- | --- | --- |
| CORE INVESTMENT PLAN | STRATEGY | WHO'S IT FOR? | WHAT'S IN IT? |
| Long-Term Growth | Pursue superior overall returns over the long-term. | Investors looking to grow the value of the underlying investment. | Weighted toward assets with a high potential to appreciate in value such as opportunistic and value-add investments. The typical portfolio allocation is 20%-30% income-focused assets and 70%-80% growth-focused assets.  |
| Supplemental Income | Create an attractive, consistent income stream. | Investors looking for the biggest dividends. | Weighted toward assets that should generate consistent cash flow like fixed-income or core plus investments. The typical portfolio allocation is 70%-80% income-focused assets and 20%-30% growth-focused assets.  |
| Balanced Investing plan | A balance between growth and income investments.  | Investors looking for balanced total returns (dividends and capital appreciation). | Weighted relatively evenly across income- and growth-oriented real estate investments. The typical portfolio allocation is 40%-60% income-focused assets and 40%-60% growth-focused investments.  |
The company makes investments across each strategy based on the following real estate strategies: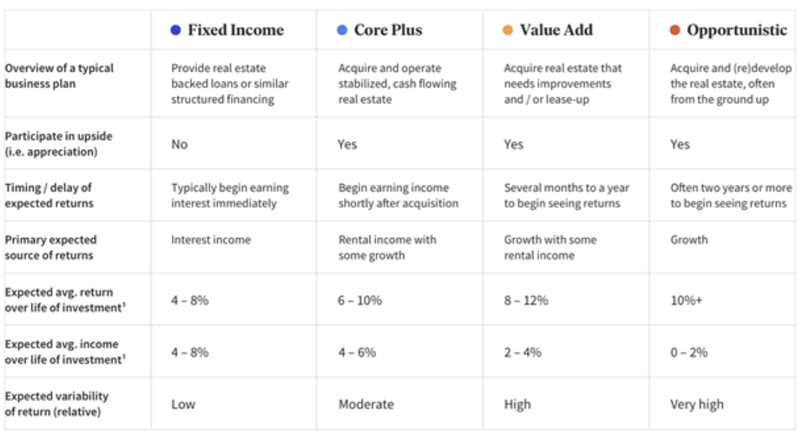 Deciding which plan is best for you is largely a matter of need and preference. These are relatively illiquid investments since your ability to cash out will be very limited and could come at a cost in fees in the first five years.
With that in mind, choose the plan that provides you with the income or cash flow you need or want today and the long-term returns profile that fits within your expectations. Also consider the tax implications. If you won't need the dividends and plan to hold for many years to come, you can likely reduce your taxes by choosing the Long-Term Growth plan.
This is because REIT dividends are generally taxed at your marginal income tax rate in the year they're paid (whether you reinvest them or not, they're still taxable income). Capital gains, on the other hand, won't be taxed as income until you realize the gain and sell your investment, while also being classified as long-term capital gains, which have a much lower tax rate than most people's marginal income tax rate.
Fundrise takes the pool of money from you and other investors and then invests it across dozens of different real estate deals, including debt and equity stakes. This is great for diversification, reducing the risk of losses from too much exposure to a single property. It's also nice for investors who don't have the time for, capacity to, or interest in vetting standalone real estate offerings and picking individual investments.
On the other hand, it also means you're passing along essentially all of the due diligence and capital allocation decisions to Fundrise's managers. They will decide which kinds of properties to invest in, how to invest in them, and for how long. For a lot of long-term investors, that's simply too much responsibility to hand off to someone else.
Who can invest on Fundrise?
Just about anyone, including non-accredited investors, can invest with Fundrise. As noted above, Fundrise offers a starter account level with a $500 minimum investment, one of the lowest minimums we've seen for commercial real estate. Even the $1,000 minimum for its Basic plan is on the lower side for platforms offering commercial real estate investments.
Fundrise also supports automatic investments, starting at $100 per month. This can be an excellent way for investors who are working with smaller amounts of money or just getting started to gradually build up their real estate investment portfolio over time.
Don't mistake Fundrise's low minimums as meaning it's not a platform for high-wealth individuals. It's premium account level caters to accredited investors looking for the opportunity to earn higher returns from private real estate investments.
What is the minimum Fundrise investment?
Fundrise has a $500 minimum for its starter account level and $1,000 for a basic account. However, investors will need $5,000 to invest in its core strategies and $10,000 to unlock more sophisticated real estate strategies at the advanced account level.
What are Fundrise's fees?
Investors pay a 0.85% asset management fee each year. This fee goes toward supporting the ongoing expenses of operating Fundrise's real estate portfolios for things like project-specific accounting, zoning, and construction.
Fundrise also charges a 0.15% advisory fee. This fee reimburses the company for the time and money invested in building its industry-leading platform. This fee supports the company's ability to provide project-level performance reporting, an automated dividend distribution system, composite tax management, customer support and investor relations, asset rebalancing, and fund administration.
When (and how) can you sell Fundrise investments?
You can put in a request to sell your stake in a REIT or fund purchased through a Fundrise account at any time. The catch is, depending on how long you've invested, there might be fees, and due to limitations on how much of each REIT Fundrise will redeem in any month or quarter, your request isn't guaranteed to be honored. That was the case in 2020 as the platform suspended redemptions and new investments due to the pandemic.
Fundrise offers quarterly liquidity under the following redemption policy:
Basic and starter account levels: These account levels have no early redemption penalty, meaning investors can submit their shares for repurchase at the current NAV each quarter.
Core, Advanced, and Premium service levels: These account levels may impose up to a 3% early redemption penalty for shares held less than five years. There's variability in the potential penalties due to the different types of funds included at each account level and the length of each investment in a relevant eREIT or eFund.
Fundrise Interval Fund: Fundrise's new flagship product offers improved access to liquidity via quarterly repurchase opportunities with zero penalty or cost.
Going mobile: Is there a Fundrise app?
Fundrise is one of the few real estate crowdfunding platforms with an app, and it's a good one. It is simple to use, gives users a plethora of information at their fingertips, and -- maybe most importantly -- gives investors the same level of access and control they'd find through a web browser on a desktop computer.
In today's mobile computing world, Fundrise is ahead of many of its peers. If there's an argument to be made against this, it's that the Fundrise app could make it too easy to invest, letting people easily skip personal due diligence, including understanding how truly illiquid an investment in Fundrise could prove to be.
Fundrise risks: Is Fundrise safe to invest with?
There are two parts to this. First, let's talk about Rise Companies, which manages the investments, and its ability to continue as a going interest.
Here are the risks as we see them. The market will turn at some point, and when it does, Rise Companies' biggest business -- originating funding for developers, not managing assets for investors -- could struggle for three reasons:
Reduced capital demand from developers who slow development.
Reduced access to capital from investors in a weak economy.
Added pressure from increased redemption requests, likely to happen in a market downturn or recession.
But those risks are likely to prove short-term in nature and would be a risk for Rise Companies, not the individual REITs investors own. Moreover, Rise Companies' balance sheet and experienced management will likely prove strong enough to navigate the market's cycles.
But what if there were a worst-case scenario and Fundrise went bankrupt? The good news is, your investments -- with the exception of the Fundrise IPO -- are in bankruptcy-remote entities. Each REIT is a separate legal business from Rise Companies. And while Fundrise does own a small stake in each of its REITs, individual investors by far make up the controlling shareholders and would be able to elect a replacement investment manager were Fundrise to fail.
In other words, creditors would not be able to go after the assets held in the REITs, or the cash flows those REITs generate that are then paid to investors in dividends (beyond the portion tied to Fundrise's small stake in each REIT). A Fundrise bankruptcy could temporarily impact the business of the REIT, delaying dividend payments until a replacement manager could be hired, but it's unlikely it would have a permanent impact on the value of the underlying investments.
Put it all together, and Fundrise -- both the business itself and the underlying investments available via its crowdfunded real estate platform -- look about as safe as any other commercial real estate investment out there, while the built-in diversity of the Fundrise investments probably reduces investors' risk of losses, at least as compared to investing in a single property.
Moreover, since it focuses on conservative investments like fixed-income and equity stakes in multifamily residential real estate, investors are further protected from economic downturns by owning one of the safer asset classes in commercial real estate. That was evident in 2020 as the platform delivered relatively solid performance despite the pandemic's impact on commercial real estate. The platform's resilience in a challenging year increases our confidence that it can continue delivering results throughout the real estate cycle.
Disclosure: Matt DiLallo owns shares in several of Fundrise's eREITs.
Got $1,000? The 10 Top Investments We'd Make Right Now
Our team of analysts agrees. These 10 real estate plays are the best ways to invest in real estate right now. By signing up to be a member of Real Estate Winners, you'll get access to our 10 best ideas and new investment ideas every month. Find out how you can get started with Real Estate Winners by clicking here.
Matthew DiLallo has no position in any of the stocks mentioned. The Motley Fool owns shares of and recommends Vanguard REIT ETF. The Motley Fool has a disclosure policy.