Get our 43-Page Guide to Real Estate Investing Today!
Real estate has long been the go-to investment for those looking to build long-term wealth for generations. Let us help you navigate this asset class by signing up for our comprehensive real estate investing guide.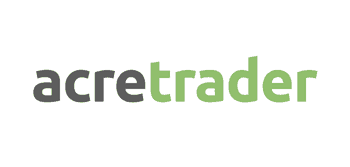 AcreTrader
A unique crowdfunding portal providing access to income producing farmland with attractive minimums to participate.
Unique Asset With Income Potential
Low Minimums
Marketplace For Selling Shares Back
---
Bankruptcy Protection
9/10
Diversified Fund Options
1/5
Non-accredited Investor Offerings
0/5
What is AcreTrader?
AcreTrader is a crowdfunded real estate investing platform that specializes in farmland. And while it's only open to accredited investors (meaning you have to have a net worth above $1 million and/or earn at least $200,000 annually), many of the deals on its platform have had lower investment minimums than other commercial real estate (CRE) investing platforms.
Moreover, the nature of the asset class it focuses on makes it very appealing. According to AcreTrader, farmland has outperformed every other major asset class since 1990, while also not having a single negative year.
That's not to say that individual deals don't lose money -- low-risk isn't risk-free. But it still makes for a very appealing asset class, and AcreTrader is one of the first platforms to bring it to retail investors.
AcreTrader provides extensive due diligence, including in-person interviews with sponsors and operators and in-person visits to the properties as well as the expected financial analysis and comparisons to similar farm transactions in the area as appropriate.
In addition to its focus on farmland, AcreTrader also makes money in a slightly different way than many other real estate investing platforms. While it does charge asset management fees -- typically between 0.75% and 1% annually -- it also acts as a real estate broker, making a commission when each property is bought and then sold. Like any other property sale, real estate listing fees and commissions are a standard and customary expense, and AcreTrader says that by acting as a real estate broker, it can profit from this fee while keeping other fees lower for investors.
Summary: Is AcreTrader a good investment?
AcreTrader is one of a handful of crowdfunded real estate investing platforms bringing retail investors access to an asset class very few people have any exposure to: farmland. In addition, AcreTrader's key leadership all have deep experience in farmland, both at the institutional investing level as well as in farm operations, ranging from multigeneration farm ownership to operating large commercial farms.
Lastly, farmland has proven an excellent long-term investment, generating some of the best risk-adjusted returns of any real estate class over the past several decades. Put it all together, and we really like AcreTrader's prospects. Our comprehensive real estate investment service, Mogul has recommended deals on AcreTrader in the past, which shows our confidence in the company's due diligence and the return potential of its offerings.
However, there's a caveat: AcreTrader only closed its first transaction in 2019, and no deals have fully realized since farmland is a long-term investment requiring a five-to-ten year holding period. Our expectations are high, but it will be a few more years before we have much of a measurable track record on its execution.
What are AcreTrader's pros and cons?
Pros
Unique asset class with a great return profile. Farmland has an excellent track record of strong returns and minimal losses.
Deep due diligence. An experienced management team knows what to look for in farmland and invests substantial resources to vet each deal. It sees hundreds of farms each month but only selects about 1% of the deals it reviews since most don't make the cut.
Low investing minimums. Since even a 200-acre farm can sell for less than $1 million, investors can often participate in deals with a minimum investment of less than $15,000.
Low fees. This asset class may have some of the lowest fees you'll find in real estate investing.
Cons
Accredited investors only. At this stage, AcreTrader is only open to investors worth $1 million or more (excluding their primary residence) or who earn at least $200,000 per year.
Limited track record of results. AcreTrader doesn't have any realized deals because farmland investing is long-term. However, some of its deals have already started bearing fruit, as the company made more than 500 distributions to its investors in 2020 from row crop investments.
Is AcreTrader legit? How strong is it?
By all appearances, yes, AcreTrader is legit. It has received significant funding from a small group of investors, including some private equity, and has closed the acquisition of several farms on its platform since launch, with new ones coming at a pace of once every one-to-two weeks.
Whether that legitimacy will lead to profitable investments, however, remains to be seen. This is a very new platform, and despite the relative safety of farmland as an asset class, as well as deal structures that seem to err on the side of low risk, some investors may prefer to let more time pass and results come in before deciding to invest on AcreTrader.
However, farmland is a long-term investment requiring a five-to-ten-year holding period, so it will take quite a while to know whether the company's deals pay off. AcreTrader did report to us in early 2021 that it made 500 distributions to its investors in 2020 from row crop deals, all of which yielded at or above the stated annual metrics per the initial offering information.
AcreTrader management
AcreTrader's founder and CEO, Carter Malloy, comes from a farming family and spent much of his career before founding AcreTrader working in real estate investing for large private equity and investment banks. Malloy is the largest shareholder of AcreTrader, giving him substantial personal skin in the game. We had the privilege of interviewing Mr. Malloy in 2020, where he discussed the benefits of farmland investing and how AcreTrader evaluates this unique asset class.
Garrott McClintock is AcreTrader's VP of farm operations and a fifth-generation family farmer. He has deep experience in farm operations, having co-managed a portfolio of more than $200 million in active farmland and advised agricultural start-ups.
How AcreTrader works: How are investments sourced?
In short, investors are buying an equity stake in farmland that is then leased to an individual farmer or commercial farm operator. In general, farmland deals on AcreTrader should be viewed as long-term investments, taking five or more years to complete in many cases. Given the long-term nature of farmland investments, the company has made it easier to invest with a self- directed IRA over the past year.
How do investors make money? In two ways, depending on the structure of each deal:
By earning income paid by the farm operator.
By realizing a gain on the value of the investment when the farm is sold for a profit, which could be five to 10 years after the initial investment.
Who can invest?
At this time, AcreTrader is only open to accredited investors. They have expressed interest to extend offerings to non-accredited investors but have not announced definitive plans as of this writing.
What is the minimum AcreTrader investment?
While it varies from one deal to the next -- unlike on other platforms that advertise set minimums -- AcreTrader says minimum investments can range from $5,000 to $50,000. From what we have seen so far, $15,000 to $25,000 is a pretty typical range. This is definitely on the lower end for minimum investments in stand-alone real estate deals.
What are AcreTrader's fees?
Depending on the individual deal, AcreTrader charges investors an asset management fee of between 0.75% and 1% per year based on asset value.
In addition, it also owns a real estate brokerage, earning commissions when a property is bought and sold. This fee is typically 5% of the selling price of the property and is customarily divided 50/50 between the buyer's agent and the seller's agent.
According to AcreTrader, by structuring itself to earn a portion of this expected and customary fee that's part of nearly every real estate transaction, it is able to earn a solid profit without taking a share of investors' profits in the form of a "promote" (a portion of profits the sponsor gets when a deal outperforms certain thresholds) or other performance fee as is typical of other real estate investing managers.
And while we like the idea of keeping fees as low as possible, AcreTrader also doesn't have any downside exposure to not earning those promote fees if a deal doesn't reach certain profit thresholds; it will earn that real estate commission even if investors lose money on a property when it's sold.
AcreTrader's returns: What should you expect?
At this stage of its life, we don't have any data to go on since none of its deals have gone full circle. The company did report making 500 distributions in 2020 from its row crow investments, which have all yielded at or above the stated annual return metrics found in its offering documents. Those near-term returns from the passive income generated from farmland is one of the reasons we like the asset class.
In short, farmland, as an asset class, is likely to continue growing in value. Every year, more of it gets developed for other uses and the global population goes up, putting more demand on the remaining land to produce crops. Moreover, people eat no matter the unemployment rate, a key reason why farmland has historically maintained its value across every economic condition. Lastly, the deals AcreTrader has offered so far have proven very low risk; they don't use any debt, and if improvements are planned, the capital to fund them is included in the initial capital raise.
That's not to say every deal will be a guaranteed winner. Extreme weather and catastrophic events can wipe out an individual farm, and as with any business, mismanagement can cause losses too. With that caveat, we expect AcreTrader investors to generally do quite well in a high-demand, low-risk asset class that's not correlated with any other asset type.
When (and how) can you sell AcreTrader investments?
In most cases, investors should consider their capital committed to a deal for the full term. With that said, AcreTrader intends to offer a secondary market, so there could be potential for liquidity in the future.
Going mobile: Is there an AcreTrader app?
AcreTrader doesn't have an app for your smartphone or tablet, but it has a mobile-optimized website that makes an app unnecessary. You can complete account setup and funding and invest in deals on AcreTrader with your smartphone just as easily as on a desktop. You'll also have full access to documents, your portfolio, and every other resource you would find on the desktop version of the AcreTrader website.
AcreTrader risks: Is AcreTrader safe to invest with?
Each deal is structured as a stand-alone legal entity (in this case as an LLC) so that if AcreTrader were to fail, your investment would not be at risk. Moreover, since each farm has a separate operator, there should be no impact to the farm's operations if AcreTrader were to fail or otherwise struggle. There could be a temporary interruption to some things, including distribution payments or tax documents, until a replacement asset manager could be identified, but your core investment would be generally unaffected. Though that risk seems remote since AcreTrader recently raised $5 million of additional seed capital while growing its funds raised on the platform twelve-fold in 2020.
The biggest risk investors take on with a deal on AcreTrader is the farm operator failing to meet their obligations, causing an interruption to expected cash distributions paid to investors. AcreTrader says it structures deals to mitigate these risks, with cash rents paid before planting seasons and via crop insurance farmers purchase. It's your job as an investor to make sure you understand how each deal you invest in is structured to protect your capital and potential cash flows. The company made that a little easier in 2020 by previewing farms prior to listing the offering. This information on the farm gives investors the time and resources to make a more informed investment decision.
It's also possible that mismanagement of a farm could result in the decision to sell, and potentially at a loss, if a replacement operator can't be found quickly. AcreTrader plays an important role here, since it is responsible for putting a farmer in place if there's not already a farmer leasing the property. It is also responsible for managing the farmer and holding them to their contractual obligations.
In many ways, this is no different than any other commercial real estate deal; sometimes things go badly, and investors lose money if the operator of the property struggles or fails. However, because there is no debt tied to these properties (so far they've been cash deals where investors own the entire property unencumbered by debt), and since farmland tends to hold value and is always in demand, the risks are probably lower than in any other commercial real estate type.
But with that said, investors should take the time to understand exactly what they're getting into before they invest -- with the understanding that low risk doesn't mean risk-free.
Got $1,000? The 10 Top Investments We'd Make Right Now
Our team of analysts agrees. These 10 real estate plays are the best ways to invest in real estate right now. By signing up to be a member of Real Estate Winners, you'll get access to our 10 best ideas and new investment ideas every month. Find out how you can get started with Real Estate Winners by clicking here.