Get our 43-Page Guide to Real Estate Investing Today!
Real estate has long been the go-to investment for those looking to build long-term wealth for generations. Let us help you navigate this asset class by signing up for our comprehensive real estate investing guide.
Real estate investment trusts (REITs) enable investors to access high-quality real estate portfolios that would otherwise be beyond their reach. That's certainly the case with leading apartment owner AvalonBay Communities (NYSE: AVB), which owns a portfolio of top-notch apartment communities in most of the top metro areas.
Here's a closer look at this apartment-focused REIT.
AvalonBay Communities company profile
AvalonBay is a residential REIT focused on owning apartment communities. As of the middle of 2020, it held interests in 295 apartment communities containing 86,380 apartment homes, including 19 under development, across 11 states and the District of Columbia. The company operates in seven major markets:
New England (14.7% of NOI): Boston and Fairfield-New Haven, Connecticut.
Metro New York/New Jersey (21.6% of NOI): New York City, New Jersey, and Long Island.
Mid-Atlantic (15.4% of NOI): Washington, D.C., area and Baltimore.
Pacific Northwest (6.3% of NOI): Seattle.
Northern California (20.6% of NOI): San Jose, San Francisco, and Oakland-East Bay.
Southern California (19.5% of NOI): Los Angeles and San Diego.
Expansion Markets (1.9% of NOI): Denver and Southeast Florida.
The company operates three distinct apartment community brands -- Avalon, AVA, and eaves by Avalon -- to better meet the specific needs of renters. Avalon caters to high-end renters and AVA is more mid-to-upper tier while eaves by Avalon focuses on those seeking value.
The REIT makes most of its money renting apartments to residential tenants under annual leases. It also collects various fees from residential tenants, including those for pets, parking, and storage. Meanwhile, it leases some space in its communities to retailers (1.4% of its total revenue in 2019). Finally, it manages several investment partnerships that generate management income.
One thing that sets AvalonBay Communities apart from other residential REITs is its development program. In the middle of 2020, the REIT had 19 communities under construction containing 6,198 apartment homes and 64,000 square feet of new retail space. The company expected to invest more than $2.3 billion into these projects, with $757 million of remaining spending at the time. In addition to that, the company held the rights to develop another $4.2 billion of communities.
AvalonBay had 95% of the funding in place to complete its construction projects as of the middle of 2020. Meanwhile, it has one of the best balance sheets in the REIT sector with A-rated credit and a low leverage ratio, giving it plenty of flexibility to fund the remaining balance and sanction new developments. As Avalon completes and stabilizes these development projects, they'll help grow its FFO.
AvalonBay Communities news
The COVID-19 outbreak has had some impact on AvalonBay Communities. During the second quarter, the company's rental revenue declined by 2.9% year over year due to lower occupancy and uncollectable lease revenue from residential and retail tenants. While the company offset some of that by capturing higher lease rates, increased vacancies in some of its major markets -- primarily Boston, New York, and San Francisco -- will likely continue weighing on its financial results in future quarters.
Driving the weakness in those major metro regions is an exodus to lower-cost suburban areas by renters who can telecommute during the pandemic. Because of that, its heavy portfolio focus on those areas has proved to be a competitive disadvantage during COVID-19 compared to rivals with more geographically diversified portfolios.
Meanwhile, falling mortgage rates have spurred a surge in homebuying, which is also weighing on the apartment rental market. Because of that, AvalonBay didn't start any new development projects during the first half of the year. Thus, the company likely won't meet its initial target of beginning $750 million to $1 billion of new developments in 2020.
Instead of starting new developments, the company believes its best use of its capital amid the current market uncertainty is to repurchase its shares, which tumbled in value in early 2020. It believes the market has significantly undervalued its apartment portfolio due to overblown concerns about the future of major metro areas as more people work from home. That led its board of directors to authorize a $500 million repurchase program, which it initially expected to fund with cash on hand and available credit. However, the company eventually intends to match repurchases with proceeds from the sale of existing apartment communities and new debt.
In addition to developing new communities, AvalonBay will also acquire properties when it finds attractive opportunities. For example, in 2019, the REIT bought five communities with 1,175 apartment homes for $345.5 million in legacy and expansion markets. The company also bought out a joint venture partner's 45% interest in another community for $71.3 million.
Meanwhile, AvalonBay sold six communities in 2019 for $427.6 million, notching a $70.9 million gain. Those asset sales helped fund acquisitions and development projects, enabling AvalonBay to maintain a strong balance sheet. They've also reduced its exposure to its biggest markets while giving it the flexibility to invest in development projects and acquisitions in expansion areas like Denver and Southeast Florida.
AvalonBay Communities' stock price
AvalonBay Communities has created significant shareholder value since its initial public offering (IPO) in 1994. Overall, the REIT has produced an average annual total return of 12.5% through late 2020. One factor fueling those gains has been its steadily growing dividend, which it has expanded at a 5.2% compound annual rate since its IPO.
Unfortunately, the past few years haven't been quite as kind to investors. For example, over the last five years, the REIT has significantly underperformed the S&P 500: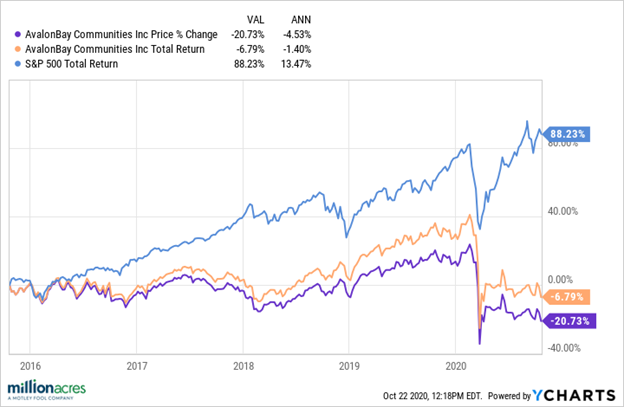 While the early 2020 sell-off played a role in AvalonBay's recent underperformance, that wasn't the only issue. The company's FFO has been under some pressure in recent years due to asset sales, lower joint venture income, and rising operating expenses. It has offset some of this thanks to stronger performance in its existing communities due to higher rental rates and new developments as they stabilize.
Despite its recent headwinds, AvalonBay has continued to grow its dividend, including providing investors with a 4.6% raise for 2020. Because of that and this year's sell-off in its stock price, the yield has risen to more than 4% in 2020. That's quite a bit above its roughly 3% average yield in recent years. The company can easily afford that payout thanks to its A-rated credit and a reasonably conservative payout ratio of less than 70% of its FFO.
The bottom line on AvalonBay Communities
AvalonBay is one of the largest REITs focused on owning apartments. It has a long history of creating value for shareholders via a steadily rising dividend. While the company has underperformed in recent years, it has a lot of growth in the pipeline that should help push its FFO and dividend higher in the coming years. Add that to its strong balance sheet, high-quality portfolio, and discounted stock price, and it routinely tops the list of the best apartment REITs to buy.
Got $1,000? The 10 Top Investments We'd Make Right Now
Our team of analysts agrees. These 10 real estate plays are the best ways to invest in real estate right now. By signing up to be a member of Real Estate Winners, you'll get access to our 10 best ideas and new investment ideas every month. Find out how you can get started with Real Estate Winners by clicking here.