Get our 43-Page Guide to Real Estate Investing Today!
Real estate has long been the go-to investment for those looking to build long-term wealth for generations. Let us help you navigate this asset class by signing up for our comprehensive real estate investing guide.
This year has been tough on real estate investors, especially those with exposure to the retail sector. That short-term pain can often cause investors to throw in the towel on a property or their investing thesis. That's evident in the returns from retail REITs, or real estate investment trusts, this year, as the average one has plummeted 28% because many investors abandoned the sector.
However, real estate is notoriously cyclical, so investors need to look past the near-term challenges and see the larger picture. With that in mind, here's a look at what the future might hold for shopping center-focused REIT Retail Opportunity Investments (NYSE: ROIC).
Where Retail Opportunity Investments is today
Retail Opportunity Investments recently concluded its first decade as a public company. It formed in October 2009 with a mission to "acquire, own, lease, reposition, and manage a diverse portfolio of necessity-based retail properties, including, primarily, well-located community and neighborhood shopping centers, anchored by national or regional supermarkets and drugstores...in the eastern and western regions of the United States." The company has acquired seven shopping centers all along the West Coast.
Today, the REIT owns 88 shopping centers with 10.1 million square feet of space. All its properties are on the West Coast, making it the largest pure-play grocery-anchored shopping center REIT focused on that region.
Where Retail Opportunity Investments might be in 10 years
Retail Opportunity Investments' management team has focused on executing the same strategy for 25 years: It only owns grocery-anchored shopping centers along the West Coast. Overall, it has purchased $6 billion of these properties and sold more than $4 billion, primarily via the sale of its first REIT, Pan Pacific Retail Properties, in 2006.
Thanks to that long history, Retail Opportunity Investments has unparalleled West Coast shopping center relationships and market knowledge. It believes it can create the most value for shareholders by leveraging this expertise.
While the company did initially have a broader mandate that covered shopping centers in Eastern regions, it prefers the West Coast because of its strong market fundamentals, which include:
Densely populated communities.
Diverse, affluent demographics.
Above-average household income.
High barriers to entry.
Limited new construction.
That's not to say some Eastern markets don't boast those same characteristics. The difference is that the company's management team doesn't have extensive market knowledge and relationships in the East. Thus, it doesn't seem like the company will deviate from its West Coast focus.
Further, it's unlikely the company will move away from grocery-anchored shopping centers, which make up 96% of its portfolio. While it could acquire properties anchored by drugstores or other essential retailers, grocery stores drive consistent traffic to its properties, which benefits other tenants in the shopping center.
Another benefit of these shopping centers is that they're immune to disruption from a recession and e-commerce. That has been evident in 2020 as grocery stores had no problem paying rent. Retail Opportunity Investments collected 98.7% of what it billed during the second quarter and 99.3% in the third. In contrast, other tenants shrugged, evidenced by the overall rates of 81.9% and 88.7%. Because of this, the REIT likely won't buy too many shopping centers that don't have a grocery store anchor, especially as e-commerce continues to steal market share from apparel and general merchandise retailers.
The REIT's West Coast, grocery-anchored strategy had done a decent job creating shareholder value before this year's COVID-19 slump.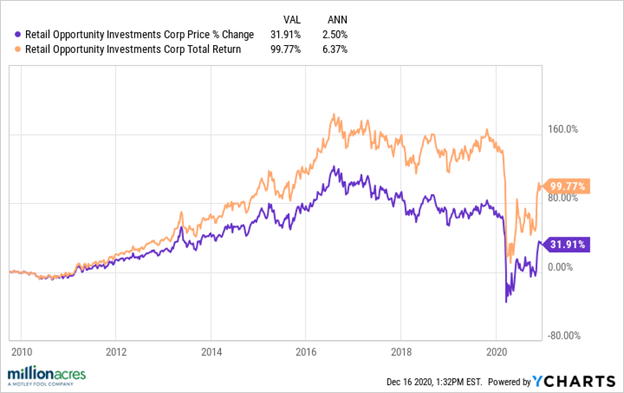 However, there's one thing that might change in the decade ahead: Retail Opportunity Investments' management team could eventually cash in on the REIT as they did with Pan Pacific. They grew that first REIT from a $400 million valuation at its IPO to $4 billion in portfolio value when they sold it in 2006 to larger shopping center REIT Kimco Realty (NYSE: KMI). So far, they've grown Retail Opportunity Investments from $400 million to $3.1 billion. Given their history, it wouldn't be a surprise if they sold this REIT at some point over the next decade, especially if the company can fully recover the value lost in 2020's slump.
The bottom line: Either more of the same, or a profitable exit
Retail Opportunity Investments has a well-worn strategy of owning grocery-anchored shopping centers along the West Coast. Management has followed that same blueprint for the last 25 years and likely won't deviate over the next decade. So, unless they decided to cash in again by selling out to a larger rival, the Retail Opportunity Investments of 2030 will likely look much like today's version -- only with a bigger portfolio.
Got $1,000? The 10 Top Investments We'd Make Right Now
Our team of analysts agrees. These 10 real estate plays are the best ways to invest in real estate right now. By signing up to be a member of Real Estate Winners, you'll get access to our 10 best ideas and new investment ideas every month. Find out how you can get started with Real Estate Winners by clicking here.
Matthew DiLallo owns shares of Kinder Morgan and Retail Opportunity Investments. The Motley Fool owns shares of and recommends Kinder Morgan and Retail Opportunity Investments. The Motley Fool has a disclosure policy.