Get our 43-Page Guide to Real Estate Investing Today!
Real estate has long been the go-to investment for those looking to build long-term wealth for generations. Let us help you navigate this asset class by signing up for our comprehensive real estate investing guide.
Years of expansion in the self-storage industry has resulted in a super-fragmented ownership structure and oversupply in many markets. Well this may not sound like an ideal time to jump into the industry, there's still a lot of room for growth. Take National Storage Affiliate Trust (NYSE: NSA), a storage real estate investment trust (REIT) that specializes in owning, managing, and partnering with independent and regional self-storage facilities.
National Storage Affiliate Trust has grown just over 105% over the past five years while providing investors with an average annualized return of around 20% and forecasts more growth ahead. Let's take a closer look at the company today to see where it may be headed over the next five years.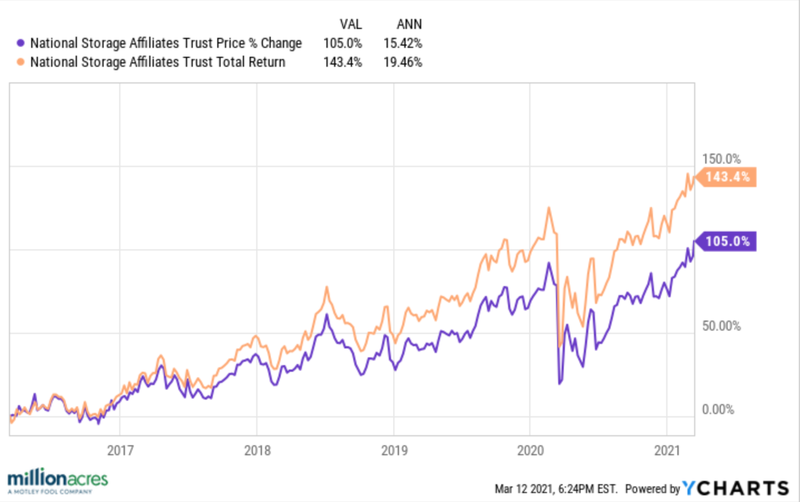 National Storage Affiliates Trust today
National Storage Affiliate Trust owns or has interest in 49.5 million square feet of storage space across 788 facilities in 35 states and Puerto Rico. Of those, 611 facilities are wholly owned, with the remaining 177 being owned through its joint ventures.
National Storage Affiliate Trust, unlike many other self-storage REITs, focuses on expanding its portfolio through a unique partnership structure called Participating Regional Operator (PRO) and joint ventures rather than ground-up development using one core brand. At year-end 2020, the company had 343 properties managed by its 10 PRO partners.
Over 50% of National Storage Affiliates Trust's portfolio is owned in secondary and tertiary markets, a strategy that has proven profitable in the current climate. Years of overdevelopment in primary markets have resulted in shrinking revenues and decreased demand among other storage REITs recently, but that's not the case for National Storage Affiliates Trust. Average annualized rental revenue per square foot increased 0.2% in 2020 from 2019, a small gain, but a significant one when considering recent results of competitors in this industry.
For the full year 2020, the company saw a 20.4% increase in net income when compared to 2019, and core funds from operations (FFO) have grown 13.4% on average per quarter since the company's IPO in 2015.
Fourth-quarter 2020 FFO was $0.46, providing a balanced payout ratio of 76%. This strong performance hasn't gone unnoticed by investors, although the company's debt-to-EBITDA was 6.0 times, much higher than other REITs in this sector.
The company's share prices are now trading higher than pre-pandemic highs, despite a sharp dip at the start of the pandemic. The company increased its dividends in Q4 2020, which provides investors with a 3.4% return at this moment.
Where National Storage may be in five years
National Storage Affiliate Trust's business model makes continued expansion in a market where an estimated 80% of all facilities are independently operated rather easy. By utilizing its partnership structures, which include its own third-party acquisitions through its captive pipeline, new PRO partners, and joint ventures, the company should be able to build on its growth since creation.
At the start of 2021, the company had over 300 properties in its active pipeline through its captive acquisitions model and potential buyouts of joint ventures, which hold an estimated value of $2.9 billion.
The company has no major debt maturities until 2023 and 2024, when roughly $380 million and $270.2 million are due. The company's plan as of today is to utilize its $500 million revolving line of credit in addition to its cash and cash equivalents on hand to pay these debts. However, this strategy would require them to almost tap fully into its line of credit.
The company's 2021 guidance falls in line with the growth achieved over the past several years, making it fairly reasonable to assume the company should be in a better position in five years. Its unique PRO structure hedges against downside potential, meaning if the market continues to head south for storage operators, part of this downside is shared through its partnerships and reduces the risk of a dividend cut among other financial concerns. I personally would like to see improvement with its debt ratios, increasing its cash reserves over the next few years as it continues to grow and expand, but believe the company has a strong future ahead.
Got $1,000? The 10 Top Investments We'd Make Right Now
Our team of analysts agrees. These 10 real estate plays are the best ways to invest in real estate right now. By signing up to be a member of Real Estate Winners, you'll get access to our 10 best ideas and new investment ideas every month. Find out how you can get started with Real Estate Winners by clicking here.
Liz Brumer-Smith has no position in any of the stocks mentioned. The Motley Fool has no position in any of the stocks mentioned. The Motley Fool has a disclosure policy.