Get our 43-Page Guide to Real Estate Investing Today!
Real estate has long been the go-to investment for those looking to build long-term wealth for generations. Let us help you navigate this asset class by signing up for our comprehensive real estate investing guide.
When it comes to residential real estate investment trusts (REITs), Independence Realty Trust (NYSE: IRT) isn't super well-known. The company, which become a publicly traded REIT in 2013, still remains relatively small compared to more popular apartment REITs like AvalonBay Communities, Equity Residential, or Essex Property Trust, having interest in 15,667 rental units across 56 apartment communities.
Despite its smaller portfolio size, the company's unique investment strategy could give it a competitive edge over the next five years. Let's take a closer look at the company today and where it could be in the future.
Independence Realty Trust today
Independence Realty Trust owns and manages Class A and Class B apartment communities in the Midwest, Sun Belt, and Southeast regions of the United States, including 16 major markets like Atlanta; Raleigh, North Carolina; Dallas; Tampa-St. Petersburg and Orlando, Florida; St. Louis; Memphis, Tennessee; and Charlotte, North Carolina. Indeed, 59% of 2020's annual revenues came from the Sun Belt region, an area seeing large inward migration as a result of the global pandemic.
Just over 78% of the company's portfolio is made of Class B apartments , a focused investment strategy that provides flexibility in tenant bases during challenging economic times and often less competition. The company's average rental rate is $1,136, 33% less than the national average, which leaves both room for future growth and the opportunity for a competitive advantage in the coming years as housing affordability is a growing concern.
Independence collected 98.4% of rents in the first quarter of 2021, and occupancy was at 96% as of April 2021. The company's debt-to-EBITDA ratio as of the first quarter of 2021 was 8.2 times, high compared to most equity REITs. Independence Realty Trust has $205.6 million in cash and cash equivalents, with no major debt maturities until 2023.
Where the company could be in five years
The key to Independent Realty Trust's growth over the next five years is the ability to raise rents while still remaining affordable for its tenant base and simultaneously expanding its portfolio. Year-over-year rents have increased 4.3%, with new leases up 9.6% as of the second quarter of 2021. This is a positive sign, which should be maintained considering the high demand for the regions the company operates in as well as its price point.
Additionally, the company has a focused value-add program, which improves existing properties in order to increase rents. Since the start of the program in 2018, the company has completed renovations on 3,861 units, which produced a total return on investment of 16.1% and an average monthly rental increase of 18.5%.
In the first quarter of 2021, the company improved 142 units and identified 1,864 additional units that would benefit from the program. Independence Realty Trust believes the program should add $4.5 million in annual NOI upon completion.
In November 2020, Independence entered into an equity share agreement, selling shares of its common stock in order to raise $150 million. Ideally, these funds will be used to help the company further its value-add program and fund new acquisitions, although the specific use of the money has yet to be shared.
Share prices have increased almost 9% on an annualized basis since becoming public while achieving just over a 16% annualized return for investors. 2021 guidance predicts property revenues to rise 3.75% to 5% in 2021, not surprising given the current demand for real estate in their portfolio markets. The company is also allocating $100 million to $200 million for new acquisitions.
Independence Realty has consistently increased dividends since going public and maintains a relatively safe payout ratio of 66%, meaning there's a strong chance the company will continue to increase dividends over the next five years.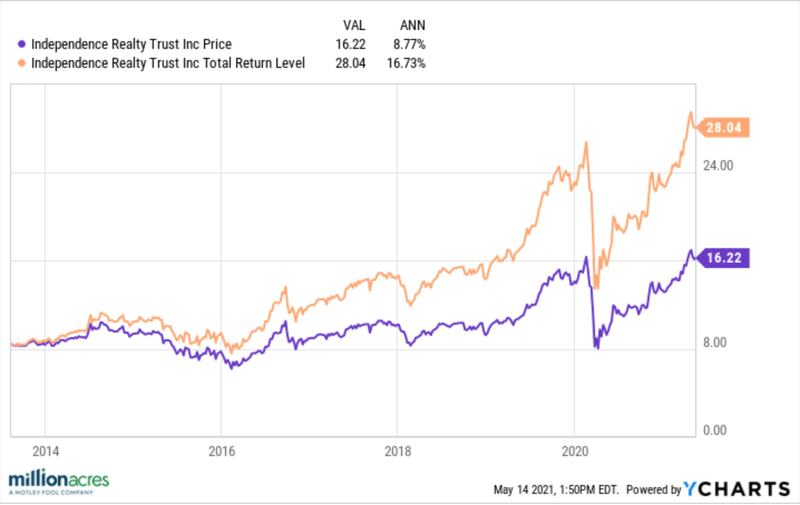 The Millionacres bottom line
I believe the company is in a great position to maintain its growth over the next five years but would like to see a more targeted plan for future acquisitions and bottom-line improvements. Right now, the value-add program is their biggest growth driver, which can only take them so far.
The company's debt is quite high, but considering the company has reduced their debt-to-EBITDA over the past year, I hope to see this number further reduced over the next several years. I think Independence Realty Trust has a lot of potential but still has room for improvement before being able to compete and compare with the bigger players in this field.
Got $1,000? The 10 Top Investments We'd Make Right Now
Our team of analysts agrees. These 10 real estate plays are the best ways to invest in real estate right now. By signing up to be a member of Real Estate Winners, you'll get access to our 10 best ideas and new investment ideas every month. Find out how you can get started with Real Estate Winners by clicking here.
Liz Brumer-Smith has no position in any of the stocks mentioned. The Motley Fool has no position in any of the stocks mentioned. The Motley Fool has a disclosure policy.