Get our 43-Page Guide to Real Estate Investing Today!
Real estate has long been the go-to investment for those looking to build long-term wealth for generations. Let us help you navigate this asset class by signing up for our comprehensive real estate investing guide.
As a real estate investment trust (REIT) sector, the data center segment is well-positioned to weather economic uncertainty. According to NAREIT, the data center REIT segment rose 8.8% in Q1 2020 as others declined, highlighting the expanding role the digital economy will play in global business.
As more and more people work from home, this reality is unsurprising. Data centers support the thriving remote economy, they're relatively location-agnostic, and they're well poised to avoid massive disruption from tenant non-payments as the overall sector remains robust.
Digital Realty Trust (NYSE: DLR) is one such data center REIT, which owns, operates, and acquires data centers domestically and internationally. The verticals in which Digital Realty Trust operates include information technology services, social networking, manufacturing, healthcare, energy, consumer products, and more. Here's an overview of Digital Realty Trust and where it could be three years from now.
Where is Digital Realty Trust now?
Digital Realty Trust is the fifth largest publicly traded REIT in the U.S. and has experienced 15 consecutive years of dividend increases. Digital Realty Trust reported Q1 2020 revenues of $823 million, which is a 5% increase from Q4 2019 and a 1% increase from Q1 2019.
Funds from operations (FFO) for Q1 2020 was $212 million, or $0.91 per share, which is compared to $1.62 per share in Q4 2019. Digital Realty Trust delivered Q1 2020 core FFO per share of $1.53, which was a 6% decrease from Q4 2019, and a 12% decrease from Q1 2019.
Digital Realty Trust's portfolio includes 213 data centers, 122 of which are located in North America, with 41 in Europe, 19 in Latin America, 10 in Asia, and five in Australia.
In their latest earnings release, Digital Realty Chief Executive Officer A. William Stein noted that "Despite the challenging environment, we continued to execute on our strategic plan, closing our highly strategic combination with Interxion as well as the acquisition of the Westin Building in Seattle while delivering another quarter of solid bookings. Our business is highly resilient, and we remain confident that our global platform will continue to deliver sustainable growth for all stakeholders."
Looking at the quarterly FFO per share, Digital Realty sits in the middle of the pack when compared to other data center REITs.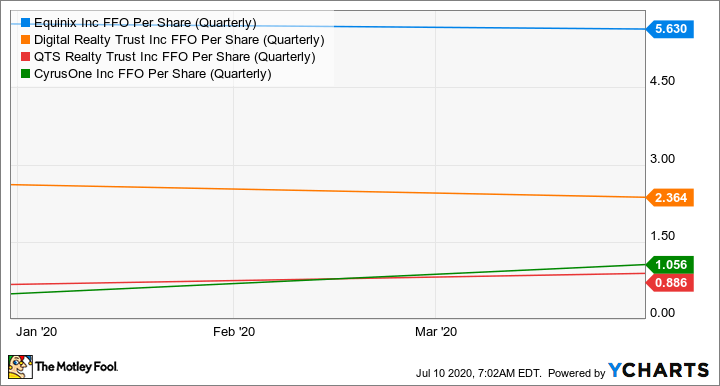 Growth prospects for Digital Realty over the next three years
Equinix (NYSE: EQIX), a competing data center REIT, published a study recently that found robust interest by IT decision-makers in embracing a multicloud approach to business, but that adoption was still less than 20% worldwide. With adoption low, over the coming years as businesses move to more digital warehousing, the data center sector will likely remain in high demand.
In commenting on this report, Sue Daley, associate director for technology and innovation at techUK stated: "Multicloud services are delivering massive business benefits to organizations through the scale and flexibility they provide. However, as this research shows, multicloud adoption is still less than 20% worldwide. With organizations keen to embrace the opportunities of innovative technologies such as AI and the Internet of Things, and as they consider their recovery strategies from the current pandemic, the cloud will provide the digital tools and infrastructure needed to make this happen."
According to a March 2020 forecast, the global data center sector will see a compound annual growth rate of 3% between 2020 and 2025.
A risk is that supply becomes too high amidst a prolonged economic downturn, which could lead to lower revenues and occupancy rates. Digital Realty Trust has been expanding recently, with several deals in the works, including a share exchange with InterXion (European provider of data center services) valued at approximately $7 billion. Further, Digital Realty in February closed on an acquisition of a 49% interest in the Westin Building Exchange in Seattle, WA.
In March, global internet exchanges recorded record traffic peaks, underscoring the critical role of digital infrastructure. Cable providers and video conferencing providers are all reporting record traffic levels, all of whom depend heavily on data centers. Digital Realty Trust clients include, but are not limited to, AT&T (owns CNN and HBO to name a few), Rackspace, IBM, Adobe, and many national banks.
The reality is that Digital Realty Trust has significant exposure to critical levers in the digital economy, which is forecasted for growth in the coming three years. This is why data center REITs have increased by approximately 20% so far in 2020.
Digital Realty Trust is also giving back to the community during uncertain times. Chris Sharp, CTO at Digital Realty, noted in a press release that "In April, we will waive port fees for new ports on Service Exchange to anyone in the Government, Medical, Emergency Services, and Education verticals for 6 months. This offer will be made available worldwide and enables critical services to connect to over 350 service providers and 167 cloud onramps globally."
Bottom line
With Digital Realty Trust set to release second-quarter earnings on July 30, keep a close eye on debt levels and future acquisition and development plans. Will FFO continue to decrease as it has? Will Digital Realty Trust continue its solid history of dividend increases?
Given the history of dividend increases and the solid foundation of Digital Realty Trust's liquidity, continued dividend growth is likely. This is particularly true for REITs operating in the data center sector, such as Digital Realty, as digital infrastructure becomes increasingly important for global business. Further, as the three-year prospects for data centers appear highly positive, expect Digital Realty Trust to maintain its healthy growth throughout.
Got $1,000? The 10 Top Investments We'd Make Right Now
Our team of analysts agrees. These 10 real estate plays are the best ways to invest in real estate right now. By signing up to be a member of Real Estate Winners, you'll get access to our 10 best ideas and new investment ideas every month. Find out how you can get started with Real Estate Winners by clicking here.
bradcartier has no position in any of the stocks mentioned. The Motley Fool owns shares of and recommends Digital Realty Trust and Equinix. The Motley Fool has a disclosure policy.