Get our 43-Page Guide to Real Estate Investing Today!
Real estate has long been the go-to investment for those looking to build long-term wealth for generations. Let us help you navigate this asset class by signing up for our comprehensive real estate investing guide.
If you plan on investing in real estate, in particular owning and managing real estate yourself, it may be a good idea to start a real estate investment company. In addition to certain tax advantages, using a holding company to conduct and manage real estate investments can reduce your personal exposure to risk and liability. Learn what the benefits are, and what is involved in starting a company to determine if it's the right move for you.
What is a real estate investment company?
A real estate investment company, often referred to as a holding company, is a legal entity that is designed specifically for business activity, including holding investment properties. A limited liability company (LLC) is the most common structure for real estate holdings, but there are alternatives. These include an LLC with S-Corp designation, limited partnership, sole proprietorship, or corporation (C-Corp). It's uncommon for real estate investors to file as a C-Corp because they are subject to taxation twice -- once at a shareholder level and again at a corporate level.
A real estate investment company owns and manages any investment(s) and separates properties held by the company from personal holdings. It essentially acts as a shelter that provides protection from personal liability. If your LLC owns three separate rental properties, each property can be managed individually, but all taxes, income, or losses will be shared within the LLC.
Benefits of starting a real estate investment company
Real estate investment companies are a popular choice for investors because of the numerous advantages they offer in terms of taxation and asset protection. A holding company:
Keeps investment properties separate from personal holdings, limiting personal liability and exposure.
Prevents double taxation on investment properties.
Offers specific tax benefits and deductions such as the pass-through deduction.
Offers flexibility in profit distribution in order to gain maximum tax benefits.
Investing in real estate opens the door to potential liability and litigation associated with owning property. For example, litigation can arise if someone is injured on the property. If the property is held in your name and you as the owner are found responsible, you could be personally liable for the costs.
Conversely, if the property is held in a holding company and the company is found responsible, it is the entity itself that would be liable, not the individual managing the company. It is important to note that if a company owns multiple assets, any assets held within that company could be exposed in the event of litigation. This is why many real estate investors have multiple companies in order to properly protect each individual asset.
Asset protection is one of the largest benefits of starting a real estate investment company. But there are also several tax advantages available to those who operate using a pass-through entity, such as an LLC, S-Corp, limited partnership, or sole proprietorship. Any profits generated by the company are passed through the business to the individual, who then files an individual tax return. If the business is structured correctly, real estate investors are able to capitalize on the multiple tax benefits available and avoid double taxation.
Drawbacks of starting a real estate investment company
The biggest drawback of creating a real estate investment company is the upfront and ongoing cost of maintaining the company. There is, of course, the initial cost to start the company and the annual fees to renew and keep the company in good standing. Additionally, someone will need to prepare and file taxes, which can range from a few hundred dollars to a few thousand depending on the amount of activity that was conducted. For some, the cost doesn't support the benefits.
Another drawback is record keeping. There are specific documents such as annual meeting minutes and other forms that are reviewed, signed, and maintained each year. For many, this is an annoying extra task and can easily be missed after starting a company.
Speak with a licensed professional
As previously discussed, there are a variety of ways to structure a real estate investment company, such as an LLC, limited partnership, or corporation -- although corporations are rarely used for real estate holdings. In addition, there are designations that can be made such as filing your LLC as a C-Corp, S-Corp, or sole proprietorship, which is typically elected as a tax strategy.
Before starting a real estate company, it's advised that you speak with an experienced licensed professional such as an accountant that is well versed in real estate tax law. A knowledgeable accountant can advise you on which structure is best for you based on the type of investments you plan to hold.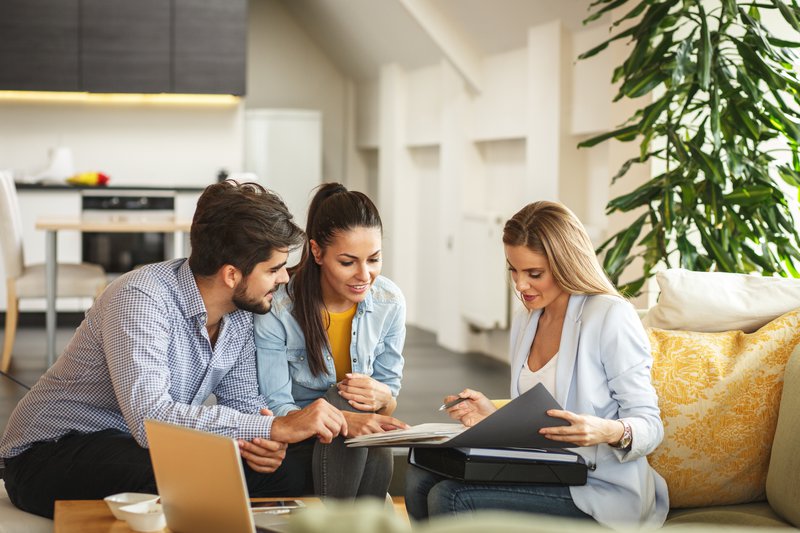 How to set up a real estate company
Setting up a real estate company can seem intimidating at first, however, the process isn't too complicated. You can have an accountant, attorney, or third-party company like Rocket Lawyer or Legal Zoom create your company for you for a few hundred dollars, or you can do it yourself for less. The standard fees for registering and starting a company vary by state, from $40-$500, plus the additional costs of using a licensed professional.
You or the person creating the company on your behalf will need to:
Choose a business name
Register as a business in your state and file the articles of organization
Request an EIN number from the IRS
Draft and execute an operating agreement
Choose a business name
Before you create your entity, determine your company name. Try to keep your company name generic. One of the largest benefits of using a real estate company is for protection, which means it makes sense to avoid using personal details, including your name or initials.
You will also need to confirm the name is available in your filing state. You can look this up in your state's business registry. If you plan on having a website, make sure the domain name relating to your business name is available. No one wants to register a company to later find out there is already another well-established larger company online with the same name.
Register your business
Each state has different requirements and processes for registering a business. Most offer the ability to register and renew online, although you can also apply by mail. Before you begin the application make sure you've confirmed your chosen business name is available. You will also need to know any and all members of the company, and any associated addresses.
Upon or just after registering, you will need to file the articles of organization. This is a basic form that is typically provided by your state's Business Registration department.
Every state requires the appointment of a registered agent. Registered agents are the point of contact for all official and legal correspondence and can provide an additional layer of protection. If you have a business address in the state, you can appoint yourself or you can use a third party.
The registered agent will also help file your annual report and keep you in good standing within your state. If you are using an accountant or attorney to create your business, ask if they offer registered agent services. You can then decide if you would like to use them, a third party company, or be your own registered agent.
Get an EIN
An Employer Identification Number (EIN) is a tax identification number, similar to a personal social security number. It's provided by the IRS and you'll need it to open a bank account and operate your business. EIN numbers will be also be used on Form W-9s provided to any service providers that conduct business on the properties held by that company.
EINs are not compulsory for every business, but using an EIN and separate bank company account will help to keep your accounts in order. Applying for an EIN is free and should be done after you've registered and been approved with your state.
Operating agreement
An operating agreement outlines how the company is organized and run. It sets out who the manager(s) are and their rights, contributions, and duties, as well as how profits or losses are shared. An operating agreement is not recorded or required by the state, but it is a best business practice to create one when you set up a company.
Register or file any other licenses that may be required
Depending on where your business is located, you may be required to apply for a local business license. Some counties and cities will require their own licenses to operate or conduct business. Check with your local municipality to see if this is a requirement. Additionally, if you own investment properties outside the state, additional filing requirements or business licenses may be needed. An experienced accountant can advise if this is necessary.
Why it's best to start a real estate company before you start investing
It is usually a lot easier to create a real estate investment company before you buy a property than to transfer a property you own to the company after the fact. For example, if you own a rental property such as a single-family property and want to transfer ownership from yourself to the company, you will have to execute and file a deed with the county showing a transfer of ownership. You'll also have to update the insurance policy to have the company properly named as owner, and any lease agreements or contracts that may be in place with the tenants. While it can be done at any time, it's far less time consuming and cost-effective to create the company beforehand.
In most cases, the benefits of starting a real estate investment company outweigh the negatives. However, there are circumstances in which it may not be the right choice for you. If you do feel it could benefit you make sure you do your due diligence on the various structuring types and the process of starting a company in your state.
As previously mentioned, speak with a qualified specialist to understand whether creating a company makes sense for you or not and which structuring would be best. Investors should consider the associated costs of creating and maintaining a holding company and ensure the cost is worth the protection and tax benefits the company can provide.
Got $1,000? The 10 Top Investments We'd Make Right Now
Our team of analysts agrees. These 10 real estate plays are the best ways to invest in real estate right now. By signing up to be a member of Real Estate Winners, you'll get access to our 10 best ideas and new investment ideas every month. Find out how you can get started with Real Estate Winners by clicking here.