Get our 43-Page Guide to Real Estate Investing Today!
Real estate has long been the go-to investment for those looking to build long-term wealth for generations. Let us help you navigate this asset class by signing up for our comprehensive real estate investing guide.
Agriculture, timber, and farming are often overlooked sectors when it comes to real estate investment trusts (REITs), but they can be a profitable way to invest in real estate. Right now, with housing demand and new construction at all-time highs, timber is booming, meaning Weyerhaeuser (NYSE: WY), one of the largest timber REITs, could be one way for investors to profit. Take a closer look at the company today to determine if it's a buy right now.
Housing boom resulted in record performance
Weyerhaeuser is the largest private owner of timberlands in North America, owning 11 million acres in the United States and leasing 14 million in Canada, which allows it to sell or lease real estate, timber, energy, natural resources, and wood products domestically and internationally. In 2020, the company achieved net earnings of $7.5 billion, with timberlands and wood products leading the way. Net earnings per diluted share increased $1.17 from 2019 to 2020, while the company achieved the highest wood products Adjusted EBITDA on record. Outlooks for 2021 remain positive, with the company's latest forecast projecting to increase for all product classes.
This performance is largely driven by limited housing inventory, which has created a high demand for new housing starts. But the company isn't taking this increase in revenues for granted, having paid off $900 million in debt while implementing a new dividend structure, which utilizes quarterly dividends with a supplemental bonus dividend to help achievethe targeted return for investors (75 to 80 percent of annual adjusted funds available for distribution).
Is it a buy today?
The company's performance hasn't gone unnoticed. Share prices are up 45% from this same time last year, but so is the company's total return.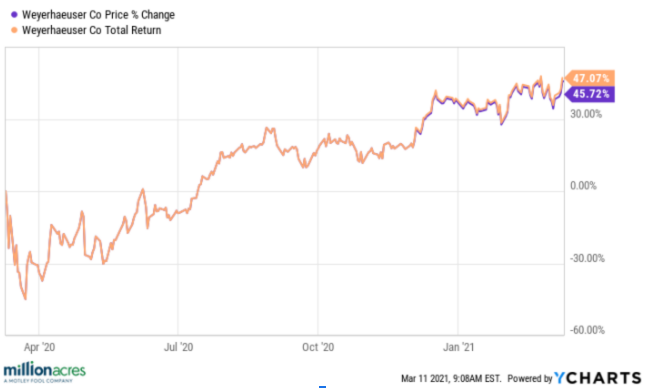 Right now, with the dividend structure, investors can expect to receive just under a 2% return not including supplemental dividend payments, which is fairly low in the world of REITs. However, I do think Weyerhaeuser is still a buy in the given market, as it's set to profit from another high-demand year driven by a housing shortage. But investors should keep in mind that the performance the company is achieving currently isn't necessarily sustainable over the long run. Since Weyerhaeuser has a diversified portfolio outside of timber, it has the possibility to benefit from energy or housing booms, but it's also at risk when it comes to a bust. If housing supply finally outpaces demand, new starts will decrease and the revenues we've seen driven from the company's timberland and wood product sales will decrease with it.
Got $1,000? The 10 Top Investments We'd Make Right Now
Our team of analysts agrees. These 10 real estate plays are the best ways to invest in real estate right now. By signing up to be a member of Real Estate Winners, you'll get access to our 10 best ideas and new investment ideas every month. Find out how you can get started with Real Estate Winners by clicking here.
Liz Brumer-Smith has no position in any of the stocks mentioned. The Motley Fool has no position in any of the stocks mentioned. The Motley Fool has a disclosure policy.