Get our 43-Page Guide to Real Estate Investing Today!
Real estate has long been the go-to investment for those looking to build long-term wealth for generations. Let us help you navigate this asset class by signing up for our comprehensive real estate investing guide.
The commercial real estate (CRE) industry has been rocked by the COVID-19 pandemic. Real estate as a whole has experienced extreme volatility and record demand over the past year and a half, creating unique outcomes for individual sectors of real estate.
Most investors would expect companies like Jones Lang LaSalle (NYSE: JLL) -- which specializes in the acquisition, development, leasing, advisory services, and management of commercial and residential properties across the globe -- to be struggling like some other real estate investment trusts and real estate stocks are. But the company is doing surprisingly well.
Here's a closer look at where the company is today and whether they are a buy in the given market.
Pandemic woes are long gone
Jones Lang LaSalle has a global reach, with more than 92,000 employees in over 80 countries across three continents. In 2020, the company had annual revenues of $16.6 billion, earning money from a wide range of services and products, including:
Transactional revenue from leasing or selling property.
Capital market services.
Property management.
Project development services.
Advisory services.
Pandemic setbacks and uncertainty definitely hurt revenues initially. Still, the company's latest earnings for the second quarter of 2021 reports that business is back and doing even better than pre-pandemic levels. Consolidated revenues for Q2 was $4.5 billion, a 22% increase from 2020 and a 4.6% increase from 2019. Adjusted diluted earnings per share (EPS) climbed an impressive 492% year over year (YOY) and is 43% above pre-pandemic levels (Q2 2019).
Leasing and capital markets have rebounded aggressively, so far doubling 2021 earnings when compared to 2020, giving the company the confidence to boost expected adjusted EBITDA to 16% to 19% for 2021.
Net debt for the company has also decreased YOY, now at $648.5 million. In Q2 2019, net debt was $937.4 million. As of the end of Q2 2021, the company had $246.1 million of cash and cash equivalents, with a super-low net debt to adjusted EBITDA of 0.6x.
Is Jones Lang LaSalle a buy right now?
Share prices have bounced back during the pandemic crash and are now trading at the highest levels in the company's history -- up 48% from its February 2019 high. Historically speaking, the company has produced consistent and reliable returns for investors, with an average annualized return of just over 16% for the past 10 years. Personally, I think JLL is a strong company in a great financial position, riding a very positive momentum for growth across the globe.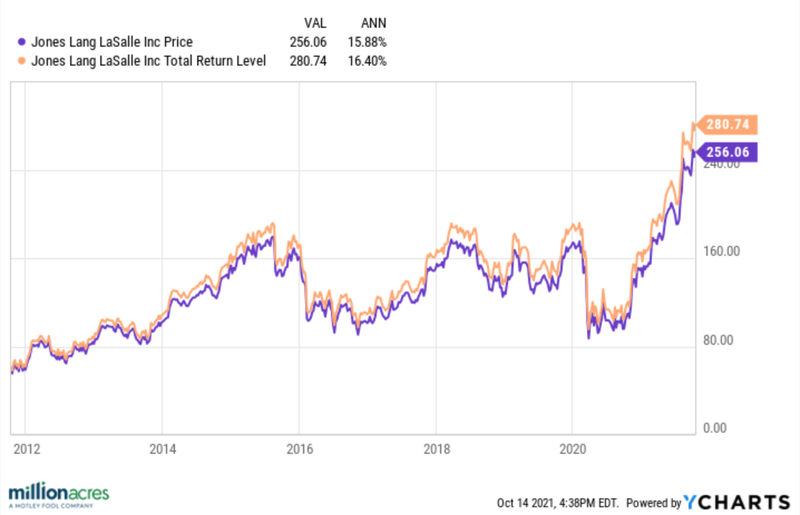 The Millionacres bottom line
Right now isn't exactly an easy time to thrive for companies heavily invested in hotels, retail, and office space, but JLL seems to be able to leverage its other businesses to fuel its growth. Though maybe not at the same accelerated rates we see today, I believe the company will definitely maintain positive momentum.
They do have heaps of competition in this space, with other megastars and huge players in the tech and asset management field. However, for patient investors looking for a reliable return, I think JLL is a worthwhile buy. Investors just need to be aware they are paying a premium for it.
Got $1,000? The 10 Top Investments We'd Make Right Now
Our team of analysts agrees. These 10 real estate plays are the best ways to invest in real estate right now. By signing up to be a member of Real Estate Winners, you'll get access to our 10 best ideas and new investment ideas every month. Find out how you can get started with Real Estate Winners by clicking here.
Liz Brumer-Smith
has no position in any of the stocks mentioned. The Motley Fool has no position in any of the stocks mentioned. The Motley Fool has a
disclosure policy
.