Get our 43-Page Guide to Real Estate Investing Today!
Real estate has long been the go-to investment for those looking to build long-term wealth for generations. Let us help you navigate this asset class by signing up for our comprehensive real estate investing guide.
Real estate investment trusts (REITs) have been great wealth-creating vehicles over the years. From 1972 through the end of last year, REITs generated an average annual total return of 13.3%, beating the S&P 500's 12.1% total return. That above-average return has enabled REIT investors to turn modest initial investments into giant nest eggs over the long term.
Here's a look at whether retail REIT Acadia Realty Trust (NYSE: AKR) has this same capability of enriching long-term investors.
The million-dollar formula
Thanks to the miracle of compound interest, any investment can grow into $1 million if given enough time. For example, $1,000 invested into an S&P 500 index fund should compound its way to $1 million in about 75 years, assuming the market continues to deliver average annual total returns of around 10%. Bump up the amount and rate of return, and an investment can grow into $1 million sooner. For example, $10,000 invested into REITs would have only needed 35 years to grow into $1 million, assuming a 13.3% average annual total return.
Given those numbers, let's take a theoretical look at Acadia's millionaire-making potential.
Acadia's historical performance
For an investment to have worthwhile millionaire-making potential, it must be able to outperform the S&P 500. Unfortunately, that hasn't been the case for Acadia Realty Trust over the years: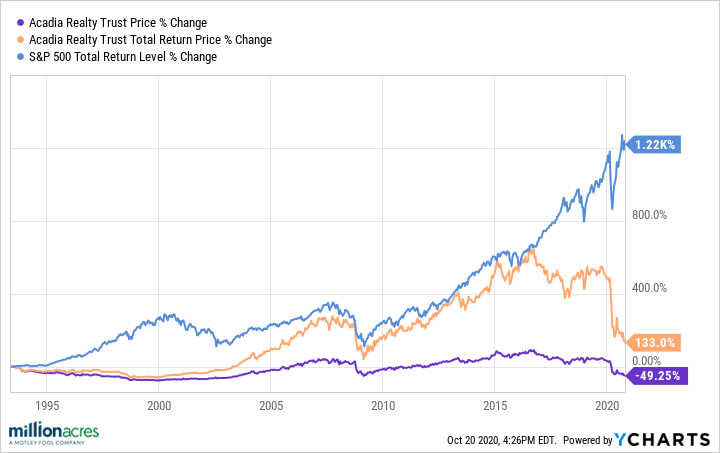 As that chart shows, its stock has lost almost 50% of its value due largely to a more than 60% decline this year. While its dividend -- which it suspended earlier this year -- has helped boost its total return, it has still significantly underperformed the S&P 500. As a result, a $10,000 investment in Acadia has only grown to $22,640, while that same amount invested in the S&P 500 would now be worth $131,420.
Acadia's future potential
As the investment mantra goes, past performance is not indicative of future results. Thus, we shouldn't automatically disqualify Acadia Realty as a millionaire-marker REIT due to its lackluster historical performance. In one sense, its big decline in 2020 potentially sets it up to produce stronger returns if it can bounce back sharply.
However, one factor driving the company's long-term underperformance, and the biggest obstacle facing it in the future, is physical retail's uncertain future. For the last several years, the retail industry has been battling apocalyptic conditions. Headwinds from e-commerce and changing consumer shopping behaviors have impacted physical retail stores' profitability, causing many to close locations and declare bankruptcy.
Those headwinds grew stronger this year as COVID-19 accelerated more shopping online while weakening physical retailers' financials -- many couldn't generate sales due to government-mandated closures. That had a significant impact on Acadia, as many of its tenants couldn't afford to pay rent, causing rental collection rates to plummet to 50% in May. While they've recovered to 81% by September, many of its tenants won't survive this downturn. That will leave the company with more vacant storefronts, which will weigh on rental rates and its ability to pay dividends in the future.
The company is working to combat the retail apocalypse by redeveloping its properties and focusing on leasing space to essential businesses like grocery stores and high-performing discount retailers. However, about 60% of its portfolio is in high-cost urban metro areas. These might remain under pressure from the lingering effects of COVID-19 for quite a while because it's causing an exodus to lower-cost suburban areas since more people can now work from home.
An uncertain future clouds this REIT's outlook
Acadia Realty Trust has routinely underperformed the market over the years, especially more recently as headwinds from the retail apocalypse and COVID-19 battered the retail sector. Those issues will continue impacting the REIT for a while, which will likely affect its ability to grow shareholder value. Because of that, it seems unlikely this REIT can mint millionaires faster than the S&P 500.
Got $1,000? The 10 Top Investments We'd Make Right Now
Our team of analysts agrees. These 10 real estate plays are the best ways to invest in real estate right now. By signing up to be a member of Real Estate Winners, you'll get access to our 10 best ideas and new investment ideas every month. Find out how you can get started with Real Estate Winners by clicking here.
Matthew DiLallo has no position in any of the stocks mentioned. The Motley Fool has no position in any of the stocks mentioned. The Motley Fool has a disclosure policy.