Get our 43-Page Guide to Real Estate Investing Today!
Real estate has long been the go-to investment for those looking to build long-term wealth for generations. Let us help you navigate this asset class by signing up for our comprehensive real estate investing guide.
REITs can be a great source of dividend income. However, dividends are only part of the equation. Because of that, it's much more important to look at a REIT's total return potential -- its dividend income plus capital appreciation -- than to focus on its current yield. That one-two combo has enabled REITs to outperform the S&P 500 over the long-term.
Growth matters more than yield
One of the keys to outperforming the market's average -- whether that be a traditional corporation or a REIT -- is consistent dividend growth. Companies that routinely increase their dividends produced a 12.9% total annual return from early 1972 through the end of last year, according to data from Ned Davis Research and Hartford Funds. That outperformed both the S&P 500's average (12.3%) as well as that of companies that didn't change their dividend policy (11.9%). Because of that, investing in companies that routinely increase their dividends has proven to be a much more rewarding strategy than chasing yield.
Take the case of Realty Income (NYSE: O), which has tailored its approach to meeting the needs of income-seeking investors. Billed as "The Monthly Dividend Company," the REIT has paid a dividend like clockwork for 602 consecutive months. However, instead of just providing bond-like income stability, Realty Income has dialed things up a notch by consistently raising its payout. It has increased its dividend for 91 straight quarters, growing it by a 4.5% compound annual rate. All that growth has paid big dividends for its investors as the REIT has produced a market-smashing 15.3% average annual total return since its public listing in 1994. Not bad for a retirement-focused dividend stock.
High-upside REIT opportunities
Because of that, slow and steady can be a winning REIT investment strategy. However, since outperforming the market is a key goal of many investors, it makes sense to concentrate on REITs that offer outsized growth prospects. While there are excellent upside opportunities in most REIT sub sectors, some of the best growth potential lies in infrastructure, data centers, and industrial. Most REITs in these groups have below-average dividend yields compared to the sector's average because they tend to retain more of their cash flow to invest in expanding their operations. That enables them to grow their earnings and dividends faster, which often yields higher total returns. That's evident by looking at the following chart, which features the total returns of the two largest REITs in each of those three subgroups versus the market in the last five years: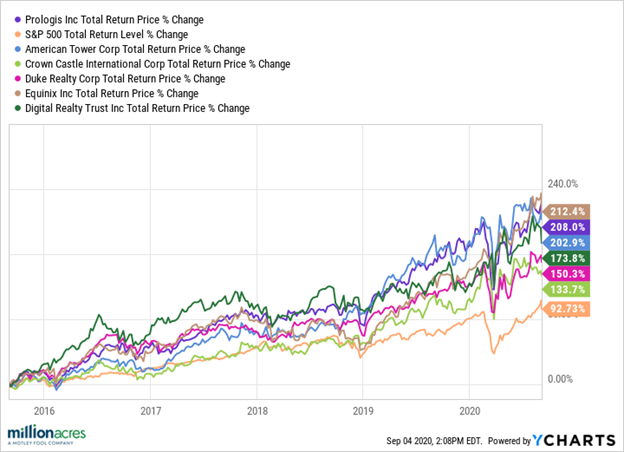 One factor driving those strong total returns is their dividend growth rates. For example, industrial REIT Prologis has grown its dividend at a 10% compound annual rate over the last five years, which is well above the 6% REIT average during that period. Likewise, most of those other REITs have delivered above-average dividend growth in recent years, which helped power their market-beating total returns.
Focus on dividend growth, not dividend yield
The bottom line for investors: Focus less on a REIT's yield and more on its ability to grow its dividend since that's a key factor in driving long-term outperformance. While there are solid dividend growth options across most REIT subgroups, some of the best long-term upside is in sectors that facilitate the expansion of technology like infrastructure (5G), data centers (cloud), and industrial (e-commerce).
Got $1,000? The 10 Top Investments We'd Make Right Now
Our team of analysts agrees. These 10 real estate plays are the best ways to invest in real estate right now. By signing up to be a member of Real Estate Winners, you'll get access to our 10 best ideas and new investment ideas every month. Find out how you can get started with Real Estate Winners by clicking here.
Matthew DiLallo has no position in any of the stocks mentioned. The Motley Fool has no position in any of the stocks mentioned. The Motley Fool has a disclosure policy.