Get our 43-Page Guide to Real Estate Investing Today!
Real estate has long been the go-to investment for those looking to build long-term wealth for generations. Let us help you navigate this asset class by signing up for our comprehensive real estate investing guide.
Most real estate investment trusts (REITs) are rallying strong after the COVID-19-related crash back in March 2020. Even REITs in the hardest-hit sectors like hotel, retail, and office space have bounced back, with the majority of REITs seeing tremendous year-over-year gains. But there are still a few who lag behind, struggling to keep pace with their competitors and provide value and returns to shareholders.
Negative year-over-year growth isn't a great sign and often indicates a bigger problem for the company, but that's not always the case. CyrusOne (NASDAQ: CONE) for example, a data center REIT based in Dallas, is down more than 7% year over year. At first glance, this could be cause for concern, but here's a closer look at why I'm not worried.
Demand has slowed but isn't going anywhere
CyrusOne is the third-largest data center operator in the United States, with 50 facilities across Europe, North America, and South America serving roughly 1,000 customers. The company, which leases data storage space in addition to other data-related services and solutions, is a crucial part of the technological infrastructure our society has come to rely on.
Nearly everything today is rooted in technology. And the companies and services that utilize technology need a safe place to track, organize, and store critical data. As our reliance on technology increases in the future, so will demand for more data centers.
Data centers as a whole aren't seeing huge returns when compared to other REIT sectors like residential housing, self-storage, or industrial real estate right now. When comparing CyrusOne's year-over-year share price to the four other U.S.-based competitors in this space, CyrusOne is clearly the weaker link, but overall share price growth isn't stellar for the sector.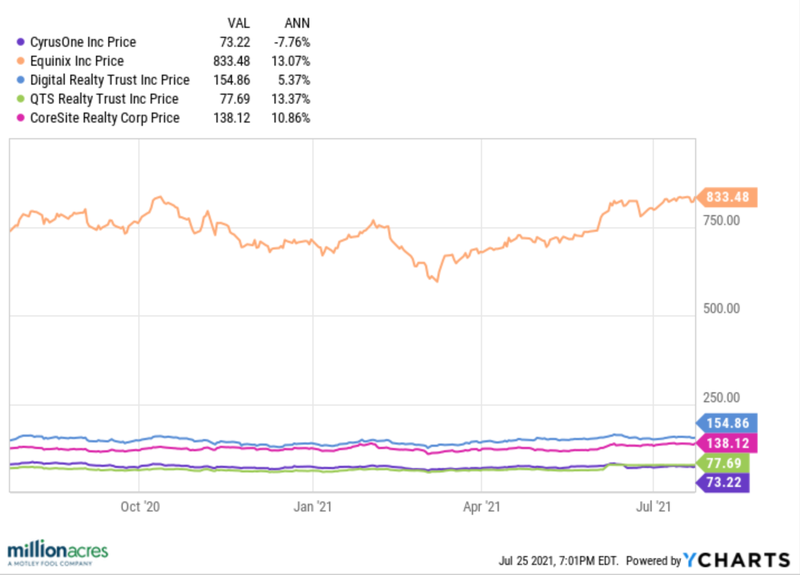 Data centers saw a huge boom in demand last year as people shifted into working remotely and relied on tech-based services like Facebook, Google, and YouTube, among many others. But now that people are returning to society and the workplace, demand is leveling off and returning to normalized levels.
Leasing concerns don't outweigh performance
One of the biggest drivers to negative share price growth over the past year is concern over soon-to-be-expiring leases. While lease expirations could pose a risk for a drop in revenues, CyrusOne is addressing it head on, having signed $35.4 million in GAAP revenue and leasing 28 MW in the first quarter.
CyrusOne's average lease term now extends to 4.3 years, meaning new leasing activity and expanding its data center presence will be a huge way to offset lease expirations. The company delivered 78K CSF, with 380K CSF in development, 69% of which is preleased. Of its active properties, 82% is currently leased.
As of Q1 2021, year-over-year revenues grew 21% while adjusted EBITDA and funds from operations (FFO) grew 6% and 8%, respectively. The company has $1.63 billion in cash and cash equivalents with no major debt maturities until 2024. Its debt-to-EBITDA ratio is 5.6 times, slightly high by REIT standards but manageable, given its payout ratio of 51% and current performance.
Right now, lowered consumer confidence means investors can buy shares in the company at a slight discount, especially when compared to the premium pricing of its competitors. CyrusOne definitely has growing pains and environmental challenges to overcome, but its high-quality tenant base, strong financials, and active efforts to improve its leasing moving forward means it's well-positioned for continued growth. So a 7% year-over-year dip isn't a cause for major concern.
Got $1,000? The 10 Top Investments We'd Make Right Now
Our team of analysts agrees. These 10 real estate plays are the best ways to invest in real estate right now. By signing up to be a member of Real Estate Winners, you'll get access to our 10 best ideas and new investment ideas every month. Find out how you can get started with Real Estate Winners by clicking here.