Get our 43-Page Guide to Real Estate Investing Today!
Real estate has long been the go-to investment for those looking to build long-term wealth for generations. Let us help you navigate this asset class by signing up for our comprehensive real estate investing guide.
Industrial real estate has become the leading investment class among commercial real estate over the past decade. This is an expensive and somewhat challenging area to branch into as an individual investor, making real estate investment trusts (REITs) an enticing way to participate in the growing sector.
First Industrial Realty Trust (NYSE: FR) and Duke Realty (NYSE: DRE) are two popular U.S.-based industrial REITs that buy, own, develop, redevelop, and manage logistics and distribution warehouses in top markets across the United States. Take a look at how the two companies compare to see which is the better buy right now.
| REIT | Dividend Yield | Dividend Payout Ratio | Credit Rating | Debt-to-EBITDA |
| --- | --- | --- | --- | --- |
| First Industrial Realty Trust | 2.5% | 61% | Baa2/BBB | 5.41x |
| Duke Realty | 2.5% | 63% | Baa1/BBB+ | 5.2x |
First Industrial Realty Trust
First Industrial Realty Trust operates in nearly all sectors of industrial including distribution, manufacturing, and logistics warehouses, having ownership or interest in 435 properties amounting to 64.1 million square feet. The company leases its space to a diverse range of industries with institutional-quality tenants including Ford (NYSE: F), Trane Technologies (NYSE: TT), Best Buy (NYSE: BBY), and Lowes (NYSE: LOW), to name a few.
Rental rates grew 13% while funds from operations (FFO) and net income increased. Occupancy is 95.7%, and rental rate collections averaged 99% from April through December 2020. First Industrial's share prices have yet to fully recover to pre-pandemic highs, trading around 4% lower than February 2020 despite increasing its dividend.
The company has a fairly significant debt maturity payable in 2022 with $162 million in cash and cash equivalents. Right now it has $172 million in developments underway but not yet completed, which are 45% leased to date.
Duke Realty
Duke Realty specializes in logistics warehouses, with interest or ownership in 564 properties and 159.4 million square feet in 20 major metro markets. The company leases its space to a diverse range of industries with high-quality tenants like Amazon (NASDAQ: AMZN), UPS (NYSE: UPS), Wayfair (NYSE: W), Home Depot (NYSE: HD), and Target (NYSE: TGT), to name a few. Like most industrial REITs, Duke Realty maintained strong performance during the global recession with an increase in revenues, rent growth, core FFO, and net income.
The company's core FFO grew 5% in 2020 when compared to year-end results for 2019 while occupancy and rental collections are stable with 96% of existing properties and developments underway leased and 99.9% of rent collected in Q4 2020. As a result, share prices grew 7.5% from pre-pandemic highs while increasing dividends. The company has $1.1 billion in development with a fairly healthy debt-to-EBITDA ratio with no significant debt maturities until 2023.
Which is the better buy?
How much debt the company is carrying, the quality of their portfolio and tenants, as well as revenues and developments underway are a few of the key figures to help determine which is the better buy. Both companies have strong portfolios and performance; however, Duke Realty's recent performance and larger exposure to the e-commerce industry makes it a better buy in my opinion.
Both companies share prices, returns, debt ratios, and payout ratios are nearly identical right now, having provided an almost identical return over the past five years. However, over the past year, Duke Realty has definitely outperformed First Industrial Realty Trust.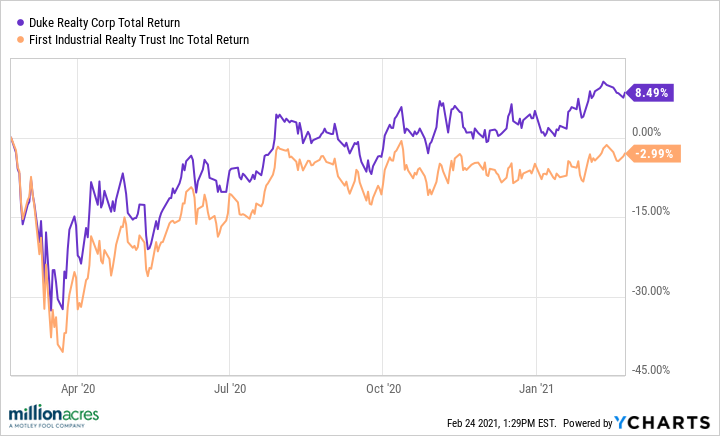 It's important to note that demand is high for industrial real estate right now with higher demand among certain sectors, like e-commerce, when compared to others. But forward momentum over the past several years has driven new developments to high levels and concern of oversupply is on the horizon. Duke Realty has projected a 4% to 5% vacancy rate and slight decline in rental rates in 2021 as supply starts to even out demand in the next few years. However, there is still plenty of room for growth, and the company expects to see a modest gain in 2021.
Got $1,000? The 10 Top Investments We'd Make Right Now
Our team of analysts agrees. These 10 real estate plays are the best ways to invest in real estate right now. By signing up to be a member of Real Estate Winners, you'll get access to our 10 best ideas and new investment ideas every month. Find out how you can get started with Real Estate Winners by clicking here.
John Mackey, CEO of Whole Foods Market, an Amazon subsidiary, is a member of The Motley Fool's board of directors. Liz Brumer-Smith has no position in any of the stocks mentioned. The Motley Fool owns shares of and recommends Amazon, Home Depot, and Wayfair. The Motley Fool recommends Lowes and recommends the following options: long January 2022 $1920 calls on Amazon and short January 2022 $1940 calls on Amazon. The Motley Fool has a disclosure policy.