Get our 43-Page Guide to Real Estate Investing Today!
Real estate has long been the go-to investment for those looking to build long-term wealth for generations. Let us help you navigate this asset class by signing up for our comprehensive real estate investing guide.
Real estate investment trusts (REITs) are an excellent way for investors to quickly gain exposure to several classes of commercial real estate. Another benefit of buying a REIT is that it lets investors diversify well beyond their local real estate market.
Going global with your real estate investments has many benefits. One of the biggest is that investors who added international REITs to their portfolio typically earned higher returns with less risk, according to a study by Wilshire Associates. This approach reduces an investor's exposure to interest rate risk in the U.S. while opening up a world of new opportunities, such as the faster growth found in emerging markets.
However, investing in international real estate isn't without risk, which is why investors need to carefully consider which REITs to buy. Here's a look at three of the best international REITs you can buy.
How to invest in real estate overseas
Aside from purchasing a property in a foreign country, investors have several ways to invest in global real estate. One is to buy a REIT listed on an international exchange. This gives investors direct exposure to the real estate of another country as well as others where the REIT might hold properties. That instant global exposure has some disadvantages, including foreign exchange risk, potential language barriers, a lack of trading liquidity, and country-specific issues (such as geopolitics).
Another option is to buy an exchange-traded fund, or ETF, that invests internationally. The Vanguard Global ex-U.S. Real Estate ETF (NASDAQ: VNQI), for example, holds nearly 700 real estate stocks, all of which are outside the United States. This gives investors broad exposure to global markets. Even better, the fund has a low expense ratio of 0.12%. The SPDR Dow Jones Global Real Estate ETF (NYSE: RWO), on the other hand, holds more than 200 real estate companies, including several top U.S.-listed REITs and many listed on foreign stock exchanges. That gives investors broad exposure to the top real estate companies across the world, though they pay more, given its 0.5% expense ratio. While the broad exposure of ETFs helps reduce risk, it also limits an investor's upside potential to the sector's average less those expenses.

A third option is to invest in U.S.-listed REITs that own properties internationally. This alternative offers an investor the best of both worlds. They gain exposure to global markets without some of the risks associated with investing in a REIT listed on a non-U.S. exchange.
Three top international REITs to buy
Several U.S.-listed REITs have done an excellent job investing overseas, making them top options for investors looking for some global exposure. Here are the best ones to consider buying:
| | | |
| --- | --- | --- |
| Top REITs with Large International Exposure | Ticker Symbol | Dividend Yield |
| American Tower | NYSE: AMT | 1.8% |
| Brookfield Property REIT | NASDAQ: BPR | 6.8% |
| Medical Properties Trust | NYSE: MPW | 5.1% |
Here's a closer look at each of these top global REITs.
1. American Tower
While American Tower's name suggests that it's a U.S.-focused company, that doesn't tell the whole story. Overall, the REIT owns wireless communications infrastructure in 17 countries, with more than 75% of its real estate located outside of the U.S.
American Tower leases space on these sites to mobile carriers, which pay rent and other fees. Currently, the majority of its revenue comes from its U.S. operations, which contributed 57% of its sales during the third quarter. That's mainly because it typically has more tenants per tower (most can hold at least three) in the U.S. market.
However, the company's international revenue is growing faster due to acquisitions and organic growth as it adds more tenants to its existing towers and builds new ones. In 2019, for example, it expects to grow its new site tenant billings in the U.S. by only 0.5% while expanding that number by 5% to 6% internationally.
Meanwhile, in May, it agreed to acquire Eaton Towers, which operates 5,500 towers in five African countries. That deal will help drive growth in the coming years since those towers only have an average of 1.5 tenants per tower, leaving plenty of room to add additional ones. The company also expects to build another 3,000 sites over the next decade to support the growth of Eaton's key tenants.
Like most REITs, American Tower pays out some of its cash flow to investors via a dividend. During the third quarter, the company's dividend payout ratio was about 45%. That low level lets it retain more cash, giving it the financial flexibility to build and buy more towers. As a result, it has grown at a much faster rate than most REITs. That outsized growth, driven mainly by its international operations, makes it a great REIT for investors seeking exposure to the global real estate market.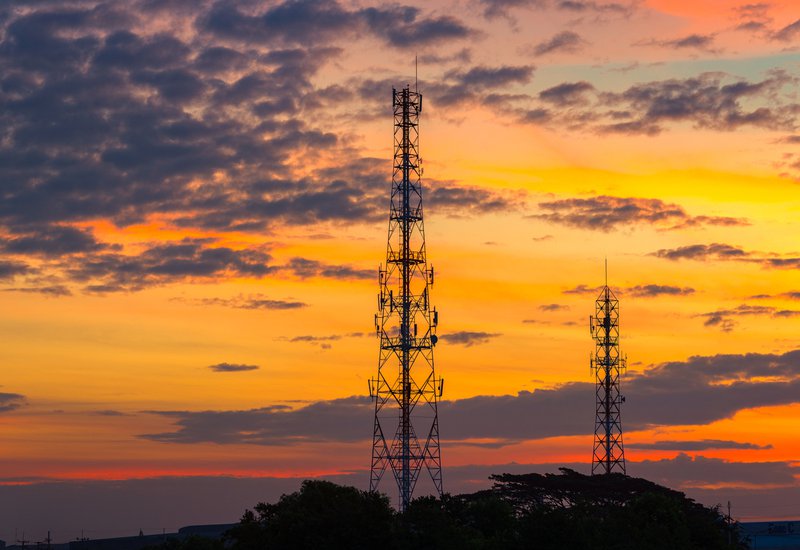 2. Brookfield Property REIT
Brookfield Property REIT is a U.S.-listed REIT managed by Canadian asset manager Brookfield Asset Management (NYSE: BAM). BAM created Brookfield Property in 2018 in connection with its acquisition of mall owner GGP. Investors in GGP continued owning shares of a REIT instead of units in the company's publicly traded global real estate partnership Brookfield Property Partners (NASDAQ: BPY). The two real estate companies, however, are economically equivalent, so investors can own either one and still gain access to its diversified global real estate portfolio.
Brookfield invests roughly 85% of its capital into core office, retail, and multifamily properties that it owns directly. While its entire core retail portfolio consists of malls and urban retail centers in the U.S., its core office and multifamily portfolios are global. It currently owns premier office complexes in several U.S. cities as well as major international gateway cities like London, Toronto, Sydney, and Berlin. Meanwhile, it's developing multifamily properties in New York and London. These assets produce very stable cash flow, which Brookfield uses to pay its dividend.
Besides those core long-term real estate holdings, the Brookfield REIT invests about 15% of its capital into real estate funds managed by Brookfield Asset Management. These funds have a much broader mandate and currently include interests in not only office, retail, and multifamily, but also logistics, hospitality, self-storage, student housing, and other properties, many of which are in international markets. Among its investments are hospitality properties and student housing in the U.K., a resort in the Bahamas, beachfront retail in Dubai, and luxury hotels in India. These investments tend to generate higher returns, which Brookfield reinvests in growing its portfolio so it can increase its dividend. Brookfield aims to boost it by 5% to 8% per year over the long term.
What makes Brookfield Property REIT stand out as a top international buy is its balance of stability from its core assets and the upside from its internationally focused investments in several private equity funds. That should let the company produce outsized total returns in the coming years.
3. Medical Properties Trust
Medical Properties Trust is a U.S.-based healthcare REIT that primarily owns hospitals. As of the end of the third quarter of 2019, the company owned nearly 350 hospitals in the U.S., Germany, the U.K., Switzerland, Italy, Spain, and Australia. The company leases these facilities to hospital operating companies.
While Medical Properties operates a diversified portfolio of hospitals, the U.S. is by far its largest market -- it currently supplies more than 80% of the REIT's revenue -- followed by Germany at 11%. However, its international exposure has surged in recent years.
The company has completed several acquisitions of overseas hospital real estate in 2019 alone. In January, it agreed to invest $859 million to buy 11 hospitals in Australia. It followed that up in May by sealing a deal to invest $236.5 million for a 46% stake in a Swiss hospital real estate company that currently owns 13 campuses in that country. It then bought eight U.K. hospitals for $434 million in July. The company has also acquired several more U.S. hospitals this year. Medical Properties doesn't expect its buying spree to slow, with the company noting in the third quarter that its acquisition pipeline had about $5 billion of opportunities remaining.
That steady deal flow has allowed Medical Properties to grow its cash flow at a healthy pace in recent years, supporting its ability to keep increasing its dividend. The company has raised its payout in each of the last six years, including a 4% raise for 2019. With a conservative payout ratio and a fully stocked acquisition pipeline, it should have no problem keeping that trend going. That dividend, when combined with the company's exposure to the growth in healthcare both in the U.S. and internationally, makes it a top option for global REIT investors.
Buying these international REITs could pay big dividends over the long term
While the U.S. is the largest and most developed real estate market in the world, investors shouldn't remain confined to its borders. Many global markets are growing faster, which could yield higher returns.
While there are many ways to go global in real estate, these three top U.S.-listed REITs have meaningful exposure to several international markets, which should let them grow faster than their U.S.-focused peers. Add their growing dividends and they could produce healthy total returns, making them great REITs to buy for the long term.
Got $1,000? The 10 Top Investments We'd Make Right Now
Our team of analysts agrees. These 10 real estate plays are the best ways to invest in real estate right now. By signing up to be a member of Real Estate Winners, you'll get access to our 10 best ideas and new investment ideas every month. Find out how you can get started with Real Estate Winners by clicking here.
Matthew DiLallo owns shares of American Tower, Brookfield Asset Management, Brookfield Property Partners, and Medical Properties Trust. The Motley Fool owns shares of and recommends American Tower and Brookfield Asset Management. The Motley Fool has a disclosure policy.