Get our 43-Page Guide to Real Estate Investing Today!
Real estate has long been the go-to investment for those looking to build long-term wealth for generations. Let us help you navigate this asset class by signing up for our comprehensive real estate investing guide.
In traditional homeownership, there are limited options available for down payment assistance or capturing home equity without taking out a new loan.
However, Unison is disrupting those traditional models by offering an alternative option for down payment assistance and equity capture through shared appreciation.
Let's take a look at how this Silicon Valley company works, the benefits and disadvantages of Unison's program, and how it stacks up against traditional forms of home financing.
How Unison works
Unison co-invests in your home by giving you cash in the form of down payment assistance or equity withdrawal in exchange for a shared portion of the property's future change in value.
The program is an option investment, not a loan. That means there's no interest or monthly payments. After 30 years, when the property is sold, or when the homebuyer decides to buy Unison out, they repay Unison's initial investment and any shared appreciation. 
Unison doesn't share the equity you build from paying down your mortgage over time. It simply participates in the appreciation or depreciation from the purchase price to the eventual sales price or appraised value after 30 years.
If the property value stays the same or decreases, Unison shares the loss in value with you.
For example, if you bought the property for $400,000 and it's worth $650,000 when you sell it 20 years later, Unison would take a percentage share of the $250,000 appreciation. If the property is only worth $380,000, it would share the $20,000 loss in value with you.
Unison down payment assistance
A conventional bank loan requires 20% down. While there are ways to buy a home with just 5% to 10% down, it comes at a cost: The mortgage payment will be higher and there's an additional payment for private mortgage insurance (PMI).
Unison offers to increase a homebuyer's down payment by offering 5% to 15% down payment assistance in exchange for sharing the future appreciation of the property. It can help turn a 10% down payment into a 20% down payment, eliminating the PMI requirement and lowering the homebuyer's overall monthly payment to the bank. 
So how does Unison pick a number for the equity share? You can estimate it by multiplying the percentage of the home value they provide by 3.3. But that's just an estimate. The actual investment portion varies from deal to deal.
For example, if you received 10% assistance for a down payment, you could expect to share around 33.3% of the change in value according to the valuation from a third-party appraiser at the time of sale, buy out, or after 30 years. If you received a 15% down payment from Unison, you could expect to share 49.5% of the property's future price change.
To qualify for down payment assistance with Unison, you'll need the following:
At least 5% down.
A credit score of 620 or higher.
To use the home as a primary residence.
To work with one of Unison's lenders.
A property value at purchase of $100,000 to $3,000,000.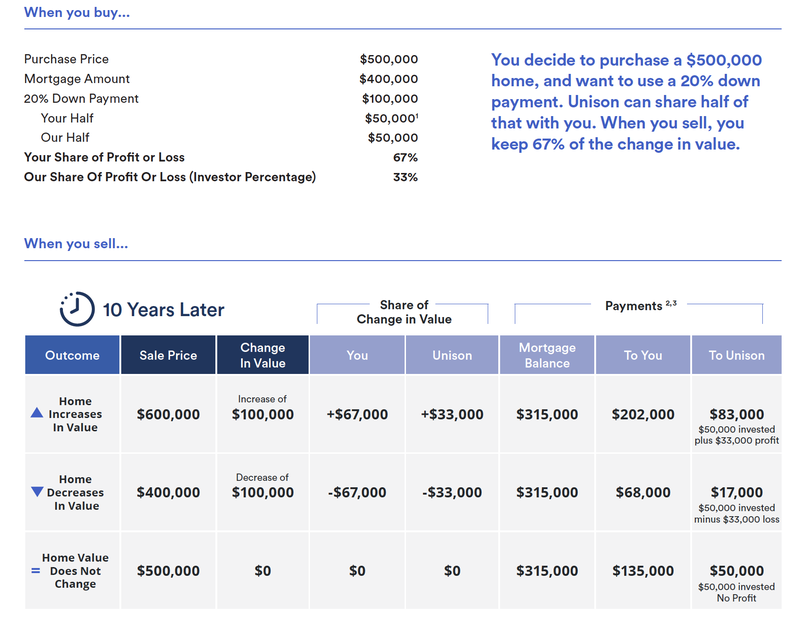 Unison for homeowners with equity
For most homeowners, there will come a time that their property has equity. Home equity means the property is worth more than any debt or liens owed on it.
Some homeowners choose to leverage their equity, pulling out cash against their property's value. They can use this money to make a new investment, help pay for their child's education, improve their home, or many other things.
Traditionally, the homeowner would have to take out a loan to capture their equity. But Unison provides an alternative option. 
Homeowners who have equity in their home can capture up to $500,000 or 17.5% of their property's equity in exchange for sharing future depreciation or appreciation of the property. The percentage interest Unison will have in the home can be estimated by multiplying the percentage that is being provided by four, although the actual investment portion varies from deal to deal.
For example, if you received 10% in your property's value as an equity draw, you could expect to share around 40% of the property's future price change. If you pull the full 17.5% of your property's value, you can expect to share 70% of any future change in value with Unison.
To qualify for HomeOwner Equity program with Unison, you'll need the following:
To be at least 18 years of age.
A debt-to-income ratio of 50% or less.
At least 20% equity in your home.
A credit score of 680 or higher.
To use the home as a primary residence.
A property value of $30,000 or more (although the maximum Unison will invest in a home is $500,000).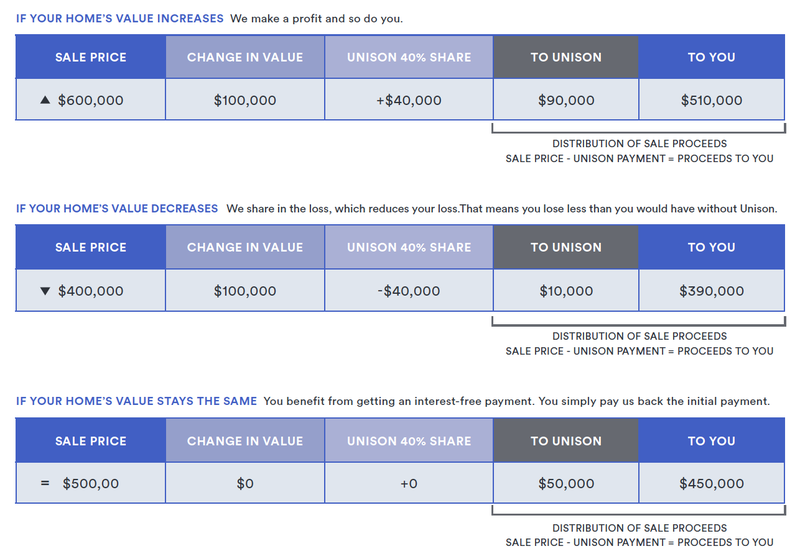 The fine print
Like most programs, there's fine print. Unison has several clauses that are important to know before determining if their program is right for you. The largest is the fact that it charges a 2.5% origination fee for down payment assistance and a 3.9% transaction fee from your cash proceeds at closing with the equity program.
Unison isn't ideal for those who plan on owning their home for less than three to five years. With the down payment assistance program, if the property is sold in the first three years, Unison will only participate in appreciation. That means the owner is responsible for repaying Unison the initial investment plus their investment portion (such as 33.3% of the property value). With the HomeOwner Equity Program, this same rule applies if the property is sold in five years or less. 
If you want to buy out Unison's investment portion, you'll need a Special Termination. Unison will have a third-party appraiser value the home as if it was being sold and you'll pay Unison based on its proportional share of the property value and their initial investment. Special Termination isn't an option if the property is held less than the required program timeline (either three or five years).
Unison expects the property to be reasonably maintained over time. After all, it's investing in the property and only makes money if the property increases in value. If the homeowner doesn't take care of the property and allows excessive wear and tear to affect the value of the property at the time of sale, Unison will adjust the amount owed to it via a Deferred Maintenance Adjustment.
Unison isn't currently a nationwide program, though it's rapidly expanding. As of 2019, the program is available in the following states:
Arizona
California
Colorado
Connecticut
Delaware
Florida
Georgia
Illinois
Indiana
Kansas
Kentucky
Maryland
Massachusetts
Michigan
Minnesota
Missouri
Nevada
New Jersey
New Mexico
New York
North Carolina
Ohio
Oregon
Pennsylvania
South Carolina
Tennessee
Utah
Virginia
Washington
Washington, D.C.
Wisconsin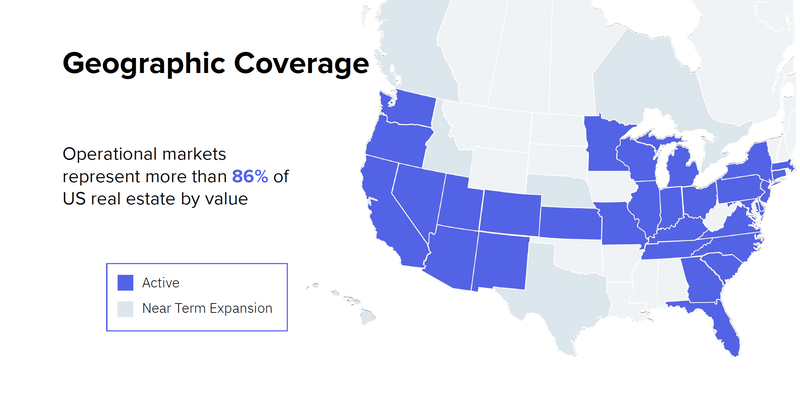 The benefits of Unison
The program isn't a loan, so there are no payments or interest.
It offers cash assistance for buying a home, which can ultimately lower the homeowner's mortgage payment and eliminate PMI.
You can tap into your property's equity-receiving cash now to use as you please.
There's no minimum income or age requirement, making it more accessible than other programs.
You only share the appreciation from the original purchase price to the sale price. You don't share your equity. 
If your property value depreciates or remains the same, Unison shares the loss with you.
The disadvantages of Unison
If the property appreciates, you could pay more to Unison than you would in a traditional program such as a loan.
After 30 years, you're responsible for buying out Unison. If you're not a savvy saver, this could leave you with a large balloon payment to Unison with no way to pay it. That could force you to sell and give up any equitable interest in the home.
If you don't maintain the home properly, you could increase the amount you owe to Unison.
There's an upfront origination fee in addition to Unison's investment share.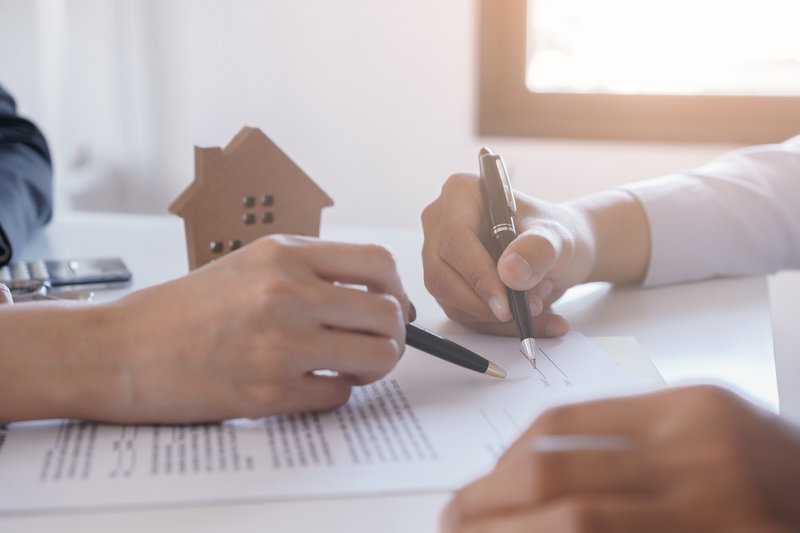 Comparing Unison to traditional programs
There are traditional programs that let homeowners capture their equity or receive down payment assistance, but how do they compare to Unison?
How Unison compares to a HELOC
A homeowner can take out a home equity line of credit, or HELOC, when they have equity in their property. Typically, HELOCs are available to homeowners who have good credit (620 or higher) and a debt-to-income ratio of 43% or less. A HELOC charges interest over a short period, such as five, 10, or 20 years.
While it can be a fixed-rate loan, home equity lines of credit are have variable rates, which means payments increase over time and interest rates are higher than a standard first mortgage. A HELOC's major drawback is that the owner is responsible for an additional payment, potentially giving them two mortgage payments to keep up with. The major benefit to a HELOC is that the balance of the loan is paid down each month, meaning there's no lump sum due. Let's compare a HELOC to Unison's HomeOwners Program to see which is a better option.
Let's say you own a home worth $400,00 and you want to pull out $50,000 from your home's equity. You can get a HELOC at a 6.1% introductory rate for 60 months that adjusts 0.25% every 12 months and is capped at a 9% interest rate. Over the 10 years, your monthly payment would range from $557.62 to $567.99.
You're still responsible for maintaining the home, paying taxes, and any other mortgage payments in addition to your monthly HELOC payment. In total, you would pay $17,366 in interest for a total of $67,366 paid to the bank. At the end of the 10 years, you owe nothing to the bank and can enjoy any appreciation or equity you've built into your home.
Now, let's say you went with Unison's HomeOwners Program and received $50,000 in cash, which is equal to 13% of your property's value. In exchange, you agree to share 50% of any appreciation made on top of your $400,000 home value at the time of the transaction.
If the home appreciates at a conservative 2% per year (currently, the national average home appreciation is around 3.6% per year), your property would be worth around $480,000 at the end of 10 years. If you sold at this time, you would owe Unison $40,000 in addition to their initial investment, totaling $90,000. That's far more than the $17,366 in interest you'd pay to the bank with a HELOC.
However, if your property value drops to $380,000 after 10 years, you'd only pay Unison $40,000. The shared loss of $10,000 each is deducted from the $50,000 loaned to you.
In this scenario, Unison's program prevails only if your property decreases in value, stays the same, or the you simply cannot afford an additional $557 monthly payment.
How Unison compares to a reverse mortgage
A reverse mortgage is a loan available only to people age 62 or older who have equity in their home. (It's challenging to compare reverse mortgages to Unison because of the age qualification.)
Homeowners can receive the equity as a lump sum, a fixed monthly payment, or a line of credit where the homeowner draws from the loan as needed. Reverse mortgages require no payments over the life of the loan, but the entire balance with interest becomes due when the homeowner dies or sells the property. Interest rates vary for reverse mortgages and can be fixed or variable. Reverse mortgages can become very costly if the homeowner lives for a long time, as the interest accrues over that period.
As with a HELOC, if the property continues to appreciate even at a slow pace, the homeowner could pay substantially more with Unison than they would with a reverse mortgage.
However, Unison's program is available to anyone regardless of age, and if the property value stays the same or depreciates, there's no additional payment needed. If you're looking for a lump sum from the equity in your home without payments, Unison's program is one of the better options.
How Unison compares to down payment assistance programs
There are many down payment assistance programs available to homebuyers; especially first-time buyers. They vary in terms and the amount available. Some place the down payment assistance as a subordinate, second-lien-position loan that's due when the home is sold, while others have no repayment and the down payment assistance disappears after a set number of years.
Most of the programs are conditional and require the homebuyer to meet certain income thresholds or hold a specific job, like a teacher, firefighter, or police officer. This greatly limits who can take advantage of these programs, making Unison one of the only down payment assistance programs available on a large scale. 
If you're considering using Unison for the down payment assistance program, be aware of what it will cost over time, especially if the property appreciates. Also keep in mind that, while there are no payments, it's wise to set money aside for repaying Unison.
In most circumstances, if you're trying to eliminate a PMI payment and lower your monthly payment, it's best to save until you have enough for a 20% down payment plus closing costs.
Using Unison's HomeOwner Program to buy an investment property 
Let's see if Unison's program would make sense if you used the cash from your property's equity to buy another investment.
We'll use the same example scenario as above, where you use Unison's HomeOwner Program to get a loan for $50,000 and agree to split the appreciation on your primary home 50-50. Your home is currently worth $400,000, and it will be assessed again at the end of the 30-year loan.
You used the $50,000 as a down payment on a rental property, getting a $200,000 30-year fixed-rate mortgage.
The new investment property produces a positive net cash flow of $400 per month after expenses and paying the mortgage, which is a 9.6% cash-on-cash return on investment.
Assume that your primary residence appreciates at 1% per year. After 30 years, it would be worth $520,000. Based on the original equity split of 50%, you would have to share $60,000 of the property's $120,000 appreciation with Unison in addition to repaying the $50,000 originally withdrawn from the equity of your primary residence.
At this point, the 30-year mortgage on the investment property you purchased is paid off. But you now owe $110,000 to Unison. We'll say your investment property has also appreciated by 1% every year, so you can now sell it for $325,000 to pay off Unison.
You would walk away with roughly $195,000 before taxes. And you've received $400 per month for the past 30 years without putting any of your own money into the investment.
Unison's program may be a viable option when used to invest in property, but doing so means you're putting the future equity of your personal residence on the line.
Unison in summary
In almost every scenario, Unison will cost more than alternative programs if the property appreciates.
However, it may be a suitable choice for homebuyers that would like to lower their monthly payment by using additional down payment funds to get their foot in the door to homeownership and are willing to pay more for it on the backend.
It also makes sense for homeowners who don't believe their home will appreciate greatly over time and are willing to share the appreciation for the benefit of having a lower monthly payment now or to use the funds to create an additional income stream.
Unison's alternative lending model and unique program offer attractive benefits for homeowners and homebuyers, but have disadvantages, too. As with any lending program, read the fine print and understand how the program would affect you before committing.


Got $1,000? The 10 Top Investments We'd Make Right Now
Our team of analysts agrees. These 10 real estate plays are the best ways to invest in real estate right now. By signing up to be a member of Real Estate Winners, you'll get access to our 10 best ideas and new investment ideas every month. Find out how you can get started with Real Estate Winners by clicking here.