Get our 43-Page Guide to Real Estate Investing Today!
Real estate has long been the go-to investment for those looking to build long-term wealth for generations. Let us help you navigate this asset class by signing up for our comprehensive real estate investing guide.
As a property owner, there comes a time when you may want or need to sell a property. While you can sell a property the traditional way, you also have the option of selling property with owner financing. But is that always a good idea? Let's dive into the pros and cons of owner financing to help you determine whether or not it would be beneficial for you.
What is owner financing?
Owner financing also called seller financing, is when a property owner holds financing for the buyer instead of the buyer getting a loan from a traditional lender.
In most cases, the owner or seller of the property receives a down payment from the buyer. Both parties enter into a binding contract, such as a promissory note and mortgage, that outlines the financing arrangements. These may include the interest rate, monthly payment amount, responsibilities of the parties, and timeline to repay the loan.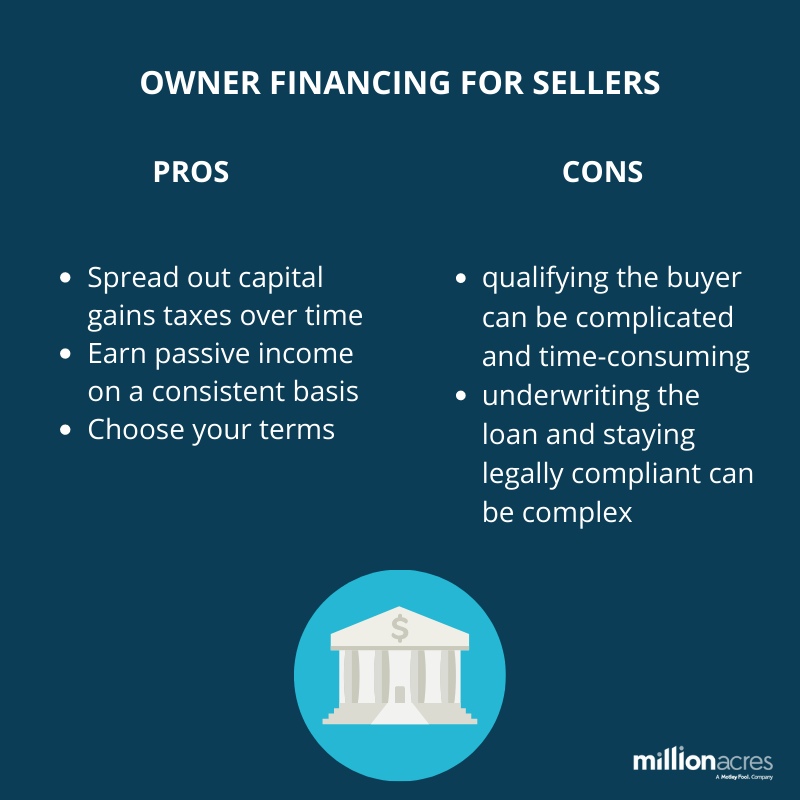 Pros of selling property with owner financing
Spread out capital gains taxes over time
The sale of property can trigger depreciation recapture and capital gains tax, which is a tax on the gains made between the basis, or initial cost of your property, plus improvements in relation to the sales price. For example, if you bought a rental property for $110,000 and sold it 10 years later for $180,000 you would be subject to a $70,000 capital gains tax.
As a real estate investor, the biggest advantage of selling property with owner financing is that you can reduce the capital gains tax hit you would take over time.
Since the property is being sold with financing, the repayment of the loan is made in installments over time, which spreads the gain over a period of years. By financing a property for a period of 10 years, you turn your one-time tax hit of $70,000 into a capital gain of $7,000 per year over 10 years.
If you are selling your home, there is a $250,000 exclusion as long as the property was lived in as a primary residence for two out of the past five years. However, if the capital gains you would pay on the property exceeds that exclusion, it may still be beneficial to offer owner financing in order to break up the tax hit over a period of time.
Earn passive income
Another benefit of offering owner financing is that you create a source of cash flow or passive income. If you're a real estate investor who has relied on passive income from rentals but is now ready to retire, selling your investment properties with owner financing can be a great way to continue receiving passive income without having to own, maintain, or manage the properties.
There is typically very little involved with owning a mortgage, especially if you use a third-party servicing company to help collect payments, send monthly mortgage statements to the homeowner, and keep records of the payments collected and the balance owed for a small monthly fee. A servicing company makes this a much more hands-off investment that earns passive income.
Create your own terms
When you offer owner financing, you have the ability to create your own terms. You aren't restricted to the traditional mortgage terms offering a competitive, low interest rate for 30 years.
As long as you remain compliant with the Dodd-Frank Act and your state's usury laws, you can charge a slightly higher interest rate or have a balloon payment, both of which increase your return on investment. With owner financing deals, you have the freedom to negotiate and create terms that provide you with your desired return and also make sense for the buyer.
Cons of selling property with owner financing
Risk of buyer default
Ideally, when you offer owner financing, the buyer would repay the loan according to the terms of the loan. However, there is always a risk of buyer default. As the mortgagee or lender, you would need to be comfortable working with the buyer to modify or adjust the terms to hopefully get them repaying the loan. Or you may even need to proceed with a foreclosure process in order to regain title to the property. In some states, this process can be very costly and lengthy. There are ways to mitigate the risk of default, such as:
qualifying the buyer,
getting a substantial down payment (around 10% to 30% of the purchase price),
pulling the buyer's credit history,
determining the debt-to-income ratio, and
verifying identity and income;
but these factors alone will not guarantee the buyer's repayment of the loan.
Staying compliant with the Dodd-Frank Act
The Dodd-Frank Act was enacted in 2014 to protect borrowers from wrongful lending and servicing practices. If you intend to sell a property with owner financing, it's imperative you remain compliant with the Dodd-Frank Act and your current state laws.
For example, if the buyer intends to live in the property, you may be required to have a licensed mortgage loan originator (LMLO) underwrite and create the loan documents for you. For this reason, it's important you conduct due diligence on owner financing in greater detail and understand the laws that govern this type of financing.
Is owner financing your property a good idea?
There are advantages and disadvantages to selling property with owner financing.
Pros of owner financing a property
Cons of owner financing a property
• Reduce capital gains taxes over several years

• Earn passive income

• Adjust the loan terms to get you a desirable rate of return

• Release ownership of the home -- meaning no maintenance, taxes, or tenants

• Buyer could default requiring a possibly lengthy and costly foreclosure process to get the property back

• Underwriting documents and complying with the Dodd-Frank Act
Ultimately you have to decide if the pros outweigh the cons. Depending on the type of property you are selling, the location of the property, and various other factors, it may make sense to offer seller financing or it may not. If you do feel it could be a good idea for you, review your state laws and speak to an experienced professional to assist you with the loan.
Got $1,000? The 10 Top Investments We'd Make Right Now
Our team of analysts agrees. These 10 real estate plays are the best ways to invest in real estate right now. By signing up to be a member of Real Estate Winners, you'll get access to our 10 best ideas and new investment ideas every month. Find out how you can get started with Real Estate Winners by clicking here.