Get our 43-Page Guide to Real Estate Investing Today!
Real estate has long been the go-to investment for those looking to build long-term wealth for generations. Let us help you navigate this asset class by signing up for our comprehensive real estate investing guide.
Portfolio loans may be a suitable financing option if you're struggling with one of the biggest hurdles to buying real estate: getting a mortgage loan. 
In recent years, the qualification process for getting a real estate loan has become stringent. It's becoming more challenging to qualify for a VA loan, FHA loan, and even conventional loans.
For those unable to qualify for traditional loan programs, portfolio loans may be a good option. Read on to learn what a portfolio mortgage is, how it works, and when it may be a suitable option for financing real estate.
What is a portfolio loan?
A portfolio loan is a mortgage loan originated by a bank and held in the bank's portfolio over the life of the loan. These loans don't have the stringent requirements of FHA or VA loans, so banks can't sell them on the secondary market. This can help borrowers get approved more easily.
Traditionally, banks create or underwrite loans according to a set of standards outlined by the government. They require a loan to meet a minimum requirement of credit score, debt-to-income ratio, down payment amount, or loan limit, among other criteria.
They follow these criteria so they can sell the loans on the secondary mortgage market, typically to government-sponsored entities (GSEs) like Fannie Mae or Freddie Mac, to recapitalize their money so they can create more loans.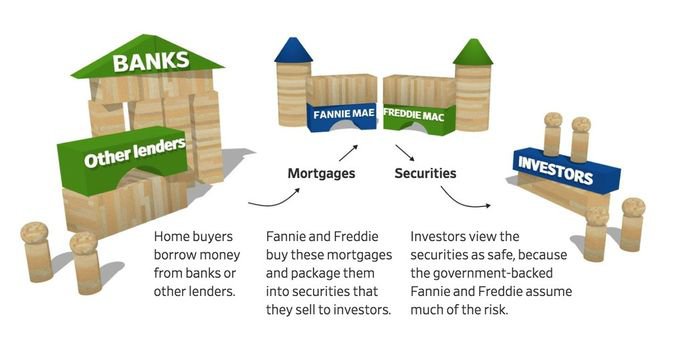 If a mortgage lender creates a loan that doesn't meet those criteria, they cannot sell it on the secondary market. Instead, they have to hold that loan on their bank's balance sheet for the long term -- earning the title of portfolio loan.
Why are portfolio loans used?
Portfolio loans often have looser loan approval criteria in exchange for higher loan interest rates, origination fees, and possibly prepayment penalties. The lender receives a higher rate of return, making it a more favorable loan to hold for the long term. 
The lender can underwrite a portfolio loan to meet whatever criteria they choose, because they assume 100% of the risk in the loan.
Who is a portfolio loan right for?
A portfolio loan can be a suitable choice for those who:
are self-employed;
have tarnished credit history, such as previous bankruptcy, foreclosure, or other issues;
earn a high income or have high net worth but a low credit score;
are buying a property that won't qualify for traditional loan programs because of its condition;
have a poor debt-to-income ratio; or
need a loan above $484,350 for a one-unit property (which is outside of the conforming loan parameters).
Since the loan stays with the same bank or lender for the life of the loan, the borrower doesn't have to deal with the loan being sold or transferred to a new servicer. This can mean getting better customer service.
In most cases, portfolio loans are a less popular choice for borrowers because the repayment schedule is less convenient and origination fees are higher than other loan programs. If you might qualify for an alternative program, pursue that option first.
If you don't qualify, ask your mortgage broker or lender if a portfolio loan is a good option for you.
Got $1,000? The 10 Top Investments We'd Make Right Now
Our team of analysts agrees. These 10 real estate plays are the best ways to invest in real estate right now. By signing up to be a member of Real Estate Winners, you'll get access to our 10 best ideas and new investment ideas every month. Find out how you can get started with Real Estate Winners by clicking here.