Get our 43-Page Guide to Real Estate Investing Today!
Real estate has long been the go-to investment for those looking to build long-term wealth for generations. Let us help you navigate this asset class by signing up for our comprehensive real estate investing guide.
*By submitting your email you consent to us keeping you informed about updates to our website and about other products and services that we think might interest you. You can unsubscribe at any time. Please read our Privacy Statement and Terms & Conditions.
If you are getting a home loan or commercial loan, it's important to understand what the two types of debts are and how they compare to each other. Learn the differences between a recourse loan vs. nonrecourse loan to see how they affect you as a borrower.
What is a recourse loan?
A recourse loan is a type of debt in which a lender can hold the borrower personally liable for repaying the debt. With recourse loans, the lender can pursue repayment of the loan beyond the original pledged collateral (which in real estate, is the property that was purchased).
If the borrower fails to repay the loan according to the obligation, the lender can take legal action in order to fully collect what is owed such as garnishing wages, levying accounts, or possibly pursuing other collateral owned by the borrower.
What is a nonrecourse loan?
Nonrecourse debt does not personally hold the borrower liable for the debt beyond the pledged collateral of the loan. Meaning if the borrower fails to repay the loan according to the obligation, the lender cannot pursue legal action to fully collect what is owed beyond foreclosing on the property.
Most traditional real estate loans like conventional, commercial, or home loans, are full recourse debt. Most governmental agency loans, like an SBA loan, FHA, VA, or USDA loans are nonrecourse loans.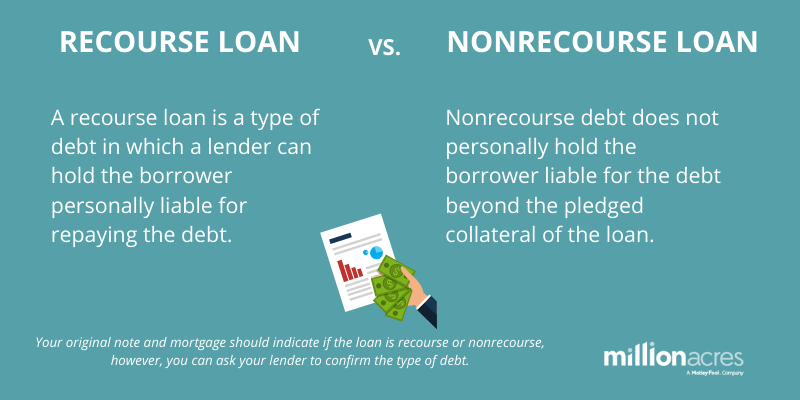 Which loan is better -- recourse loan or nonrecourse loan?
On the surface, it may seem like a nonrecourse loan is the obvious choice as most people don't want to be held personally liable in the event of default. However, there are advantages and disadvantages to both types of debt.
| | | |
| --- | --- | --- |
| Type of debt | Pros | Cons |
| Recourse | Less stringent underwriting and loan approval requirements. Recourse loans may take lower credit scores, offer a lower interest rate, or higher debt to income (DTI) ratio. | The borrower is held personally liable in the event of default.  |
| Nonrecourse | More stringent underwriting loan approval requirements, which may require low debt to income (DTI) ratio, larger down payment, or higher credit score. May charge higher interest rates than a recourse loan. | The borrower is not held personally liable in the event of default. |
While interest rates can be higher for a nonrecourse loan, that's not always the case. Loans backed or sponsored by government entities like Fannie Mae or Freddie Mac are popular choices because they are nonrecourse loans with low down payment requirements and relatively low-interest rates.
How do I know if I have an existing recourse loan or nonrecourse loan?
In most cases your original note and mortgage should indicate if the loan is recourse or nonrecourse, however, you can ask your lender to confirm the type of debt. The type of loan you have really only impacts you if the property securing the recourse debt is delinquent, abandoned, or being foreclosed on. In that event, the IRS indicates the taxpayer may need to report the disposition (sale) on Form 8949, Sales and Other Dispositions of Capital Assets, and Schedule D, Capital Gains, and Losses, once the foreclosure is completed.
If you are preparing to finance a new property, compare the different loan options available to you and consider the advantages and disadvantages between a recourse loan or nonrecourse loan. You and only you can determine what type of loan is best for you.
The "Unfair Advantages" of Real Estate Just Got a Whole Lot Better
Investing in real estate has always been one of the most effective paths to financial independence. That's because it offers incredible returns and even more incredible tax breaks.
These benefits weren't enough for Uncle Sam, though, as a new tax loophole now allows those prudent investors who act today to lock in decades of tax-free returns. We've put together a comprehensive tax guide that details how you can benefit from this once-in-a-generation investment opportunity. Simply click here to get your free copy.