Get our 43-Page Guide to Real Estate Investing Today!
Real estate has long been the go-to investment for those looking to build long-term wealth for generations. Let us help you navigate this asset class by signing up for our comprehensive real estate investing guide.
Real estate investors use several rules of thumb when evaluating potential rental properties to buy. The 50% rule can provide a ballpark estimate of a rental property's expenses and can help you make more informed real estate investing decisions.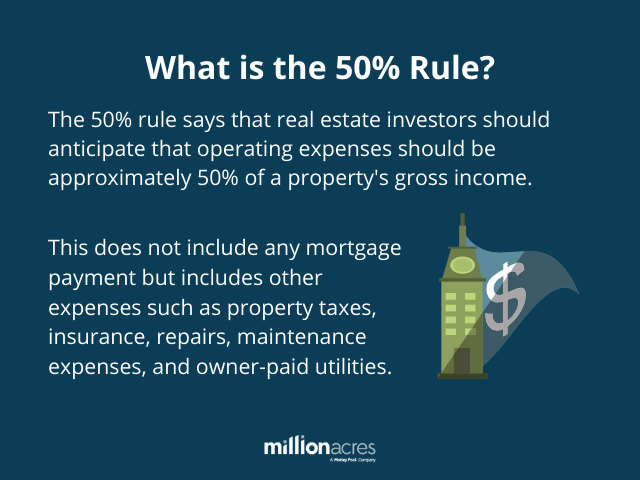 What is the 50% rule?
How do I use the 50% rule?
The calculation is very simple. For example, if a property could generate $2,000 in monthly rent, this means that $1,000 will be needed for the rental property expenses I discussed. This means that you can expect to receive $1,000 in net operating income from the property.
Of course, if you have a mortgage on the property, be sure to include the monthly mortgage payment in your cash flow calculation. The same can be said if your property is located in a community with an HOA or if you decide to hire a property manager to handle the day-to-day operations.
As a final thought, keep in mind that the 50% rule is just a guideline. Your property's expenses aren't likely to be exactly 50% in a real-world situation, but it does usually provide a good estimate.
Got $1,000? The 10 Top Investments We'd Make Right Now
Our team of analysts agrees. These 10 real estate plays are the best ways to invest in real estate right now. By signing up to be a member of Real Estate Winners, you'll get access to our 10 best ideas and new investment ideas every month. Find out how you can get started with Real Estate Winners by clicking here.