Get our 43-Page Guide to Real Estate Investing Today!
Real estate has long been the go-to investment for those looking to build long-term wealth for generations. Let us help you navigate this asset class by signing up for our comprehensive real estate investing guide.
*By submitting your email you consent to us keeping you informed about updates to our website and about other products and services that we think might interest you. You can unsubscribe at any time. Please read our Privacy Statement and Terms & Conditions.
Banks, lenders, and some real estate investors -- especially those investing in mortgage notes -- may need help determining the value of a property from time to time. Instead of paying for a formal independent appraisal, they can order a broker's price opinion (BPO).
Let's learn what a broker's price opinion is, how it works, and when it's likely to be used.
What is a broker's price opinion?
A broker's price opinion is a broker's or licensed real estate professional's opinion of the value of a property. Like a comparative market analysis (CMA), the broker uses comparable properties (often referred to as comps) to determine the likely value, which is provided in a report.
The broker or agent is looking for a minimum of three comparable properties. They can be for sale, pending sale, or sold within 90 days of the BPO. Ideally, the properties will be within a one-mile radius. That radius can be bigger if the property's in a rural area or otherwise lacks comparable properties. When determining what properties are considered to be comparable, brokers account for:
the property's appearance and condition;
the size of the property, including square footage, number of bedrooms and bathrooms, and lot size;
the age of home; and
upgrades or unique features that may affect the value of the home such as a fireplace, garage, or pool.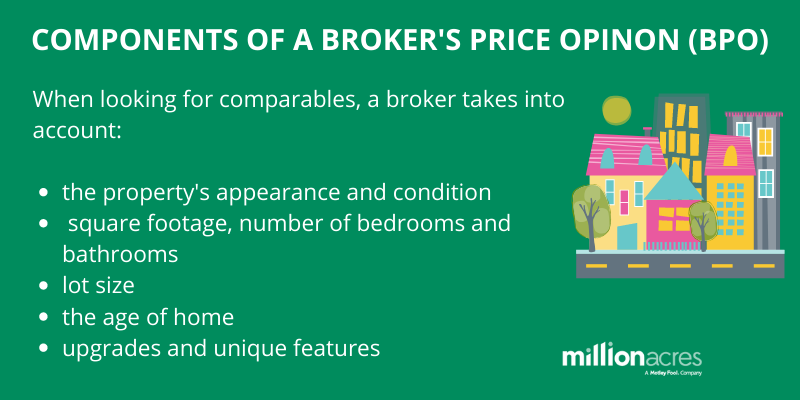 How much a BPO costs and how to order one 
BPOs are often cheaper than formal real estate appraisals and cost anywhere from $80 to $150 depending on the turnaround time, the type of BPO, and the location of the asset. A bank, lender, or investor can order an exterior BPO that provides a suggested value based on what the broker can see from the outside of the property or an interior-and-exterior BPO. 
An interior BPO is far more accurate than an exterior BPO because the Realtor can see the condition of the home's interior, including any features that would add to or decrease the value of the property. 
With an exterior BPO, the agent conducting the broker's price opinion can only base their value on an assumption of the interior condition relative to the exterior. It's not uncommon for vacant homes or homes in foreclosure to look great from the outside but be in very poor condition inside, or vice versa.
Additionally, BPOs are typically ordered without the homeowner or borrower's knowledge or prior approval, making interior BPOs difficult or impossible in many circumstances. 
BPOs are often used for:
bankruptcy cases (although some states require a formal appraisal),
pending foreclosure sales,
home equity loans or lines of credit,
due diligence when purchasing a mortgage note, and
loan sale preparation.
Several companies offer BPO services across all 50 states, such as First Valuation, Summit Valuations, Clear Capital, and LRES.
Things to know before ordering a BPO
Although BPOs can be very helpful, it's important to remember that they're simply opinions. It's not unusual to receive inaccurate BPOs, which are especially common with exterior-only opinions. 
Although it's not always the case, many agents working for BPO companies are newer agents who use the income from BPOs to support themselves as they build their real estate business. For this reason, they may not be as experienced in the art of evaluating properties, although most BPO agents do go through formal training or licensing.
Broker's price opinions help bankers, lenders, and investors gain insight into an estimate of property value, especially when a formal appraisal or CMA is not an option. Because they're more affordable than an appraisal, they might be the right option for you.
11% of the mega-wealthy swear by this investment…
The richest in the world have made their fortunes in many ways, but there is one common thread for many of them: They made real estate a core part of their investment strategy. Of all the ways the ultra-rich made their fortunes, real estate outpaced every other method 3 to 1.
If you, too, want to invest like the wealthiest in the world, we have a complete guide on what you need to take your first steps. Take the first step toward building real wealth by getting your free copy today. Simply click here to receive your free guide.