Get our 43-Page Guide to Real Estate Investing Today!
Real estate has long been the go-to investment for those looking to build long-term wealth for generations. Let us help you navigate this asset class by signing up for our comprehensive real estate investing guide.
Note: Our market forecast includes San Antonio data and data from its surroundings, including New Braunfels.
Originally a Spanish outpost in the early 1700s, San Antonio has a rich history and culture you won't see in other Texas cities. It's home to the Alamo, the River Walk, and countless other notable sites and buildings, making it -- as well as nearby New Braunfels -- a hot spot for tourism and travel.
But the city's more than that, too. A whopping 2.5 million people call the San Antonio metro area home, as do major companies like Valero Energy (NYSE: VLO), USAA, Rackspace (NASDAQ: RXT), and more. Texas grocery chain H-E-B also has its roots in San Antonio, employing more than 20,000 residents in the area.
Often dubbed "Military City," the town also has a strong military presence and claims multiple Air Force, Army, and Department of Defense bases. Its Joint Base San Antonio, made up of three military bases, employs 80,000 people alone.
The state of the market
San Antonio is seeing some bounceback from the COVID-19-induced slowdown seen earlier last year. Still, the city's not out of the woods just yet. While markers in some areas are improving (supply, namely), other issues still exist (unemployment, rising prices, and more). Naturally, these could pose issues for investors interested in the city.
Here are the main trends we're seeing in spring 2021:
Demand is weakening.
Things are looking better in the supply department.
Rentals are in a good place.
1. Demand is weakening
The foundation's just not there for strong demand near term. Consumer sentiment is down over 20% since last year, unemployment is at 6.6%, and the city's still down nearly 40,000 jobs in just the past 12 months. When you throw in ever-rising rents and home prices (which have jumped 13% annually), the market gets even more challenging.
The silver lining is that San Antonio's population is growing. The city has gained an extra 6,700 households in the last year. This could create a small increase in demand if the price is right.
2. Things are looking better in the supply department
Many supply indicators are improving, so the city could start to see some new inventory in the coming months. Builder sentiment is incredibly strong, and architectural billings and single-family permits have seen a significant bump since last year. Rental vacancies are also nearing all-time lows -- a big plus for rental property investors.
Most of those are forward-looking indicators, though, and for now, supply is still very tight. The city has just a 1.7-month supply of homes, and with costs of construction at record highs, builders face serious headwinds in abating that problem anytime soon.
3. The city's still quite affordable
San Antonio is easily the most affordable of Texas' major cities, and despite its rising rents and home prices, it still takes only a fraction of the local income to afford a home or rental. According to Housing Tides data, it takes just 21% of local income to afford a home in the city (and that's actually down 0.02% since last year). If mortgage rates stay low, this may help offset any future price or rent hikes that hit the area.
San Antonio housing demand indicators
All data and charts supplied by Housing Tides by EnergyLogic.
Demand is likely to weaken in the San Antonio area in the coming months. Employment is down in the metro, and consumer sentiment is even worse. When you throw in ever-rising rent and home prices, the picture looks bleaker. Overall, our data show the majority of San Antonio's demand indicators as "unhealthy" and "weakening."
Unemployment
Unemployment is up in San Antonio by 3.4% over the year and currently sits at 6.6%. That's more than the current national rate but a marked improvement over the 13.3% seen in San Antonio last April. Altogether, the city has lost just under 39,000 jobs in the last year.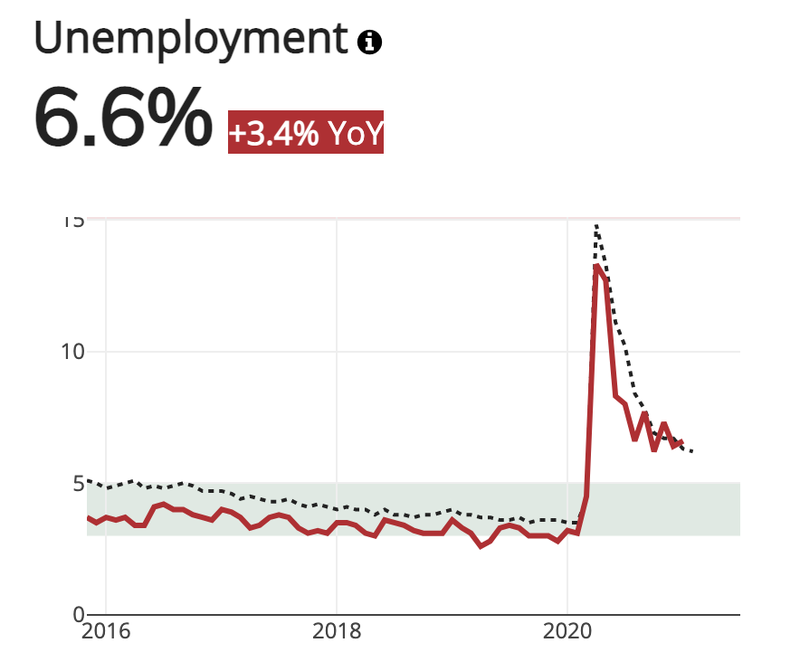 Median home price
As they are in most of the country, home prices are rising in San Antonio, with a 13.3% jump in the last year. The current median home price clocks in at $255,000. While that's well below the national average of $330,000, compared to San Antonio's affordable prices of a year ago ($235,000 last February), it's quite the steep jump for local buyers.
Fortunately, it looks like prices are starting to flatten out. The median price has hovered between the $255,000 and $260,000 mark for the last few months.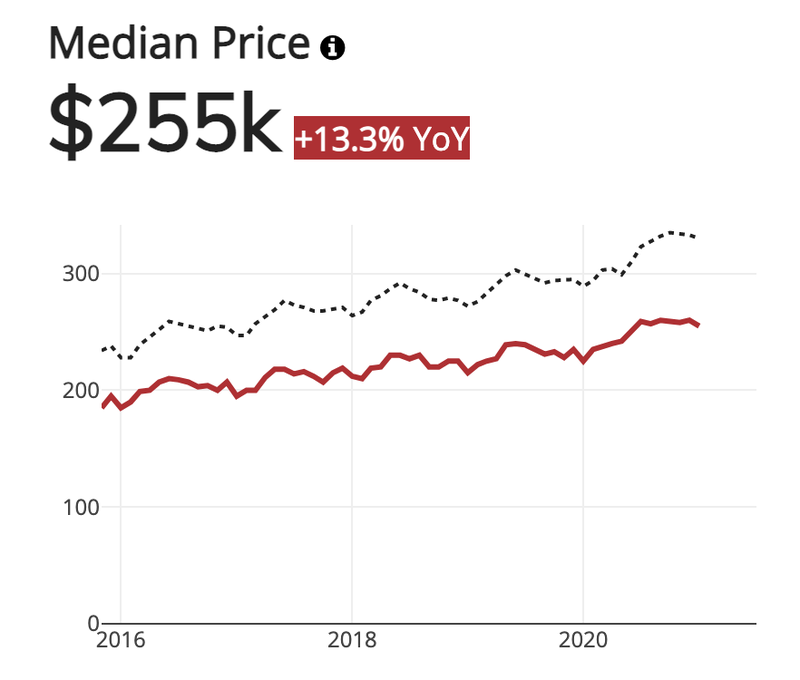 Median rent price
Rents are also on the rise in San Antonio. The current median rent sits at $1,345 per month, an increase of 2.4% year over year but well below the national median of $1,740. They're also much more affordable than in other major Texas cities. Both Houston and Dallas claim median rents well above $1,400.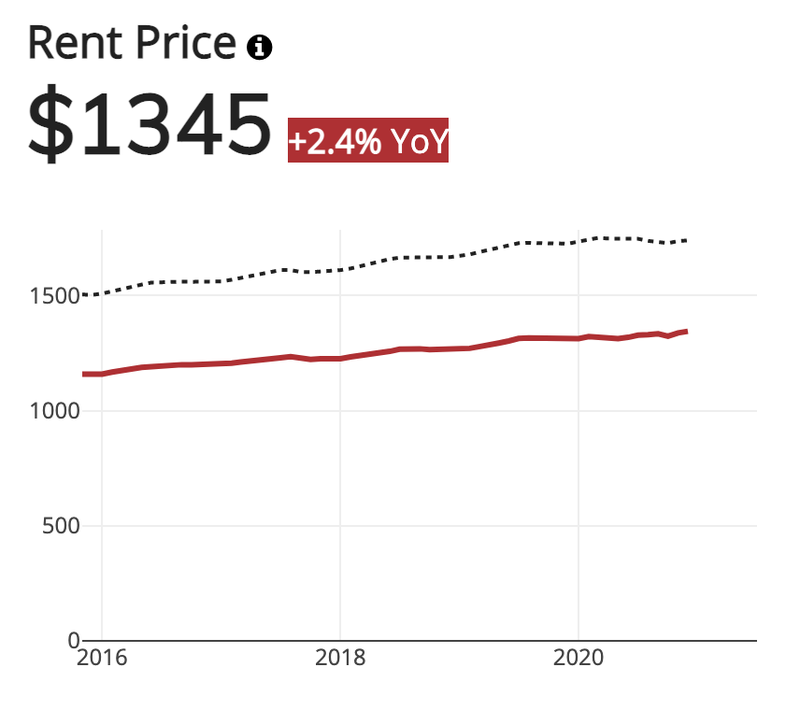 San Antonio housing supply indicators
On the supply side, things are looking a little brighter in San Antonio. While inventory is down, builder sentiment is strong, and recent architectural billings and single-family permit numbers make for a positive down-the-road outlook. Rental vacancies are also nearing record lows. Overall, Housing Tides data shows that many of San Antonio's supply indicators are on the "healthy" end of the spectrum, though there are a few outliers (construction costs, namely) that can't be ignored.
Total housing supply
There's no beating around the bush here: Overall housing inventory is low in San Antonio. The city currently has just a 1.7-month supply of homes -- a 2.65% drop over the year. That number's about on track with national numbers, so it's not wholly surprising. Still, low supply equals higher prices -- and that could pose even more challenges for locals (and investors) looking to buy in.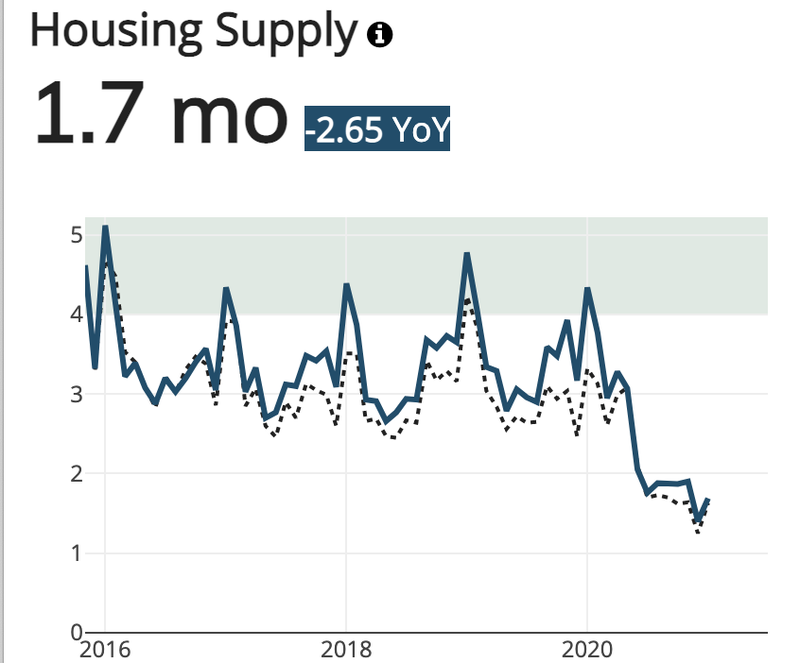 Rental vacancies
San Antonio's rental vacancies are low right now, clocking in at just 6.3%. It's not the lowest point on record (that'd be 4.7% back in 2013), but it's one of the lowest rates we've seen in the last five years. Again, the city is right on par with national numbers (6.5% for December 2020).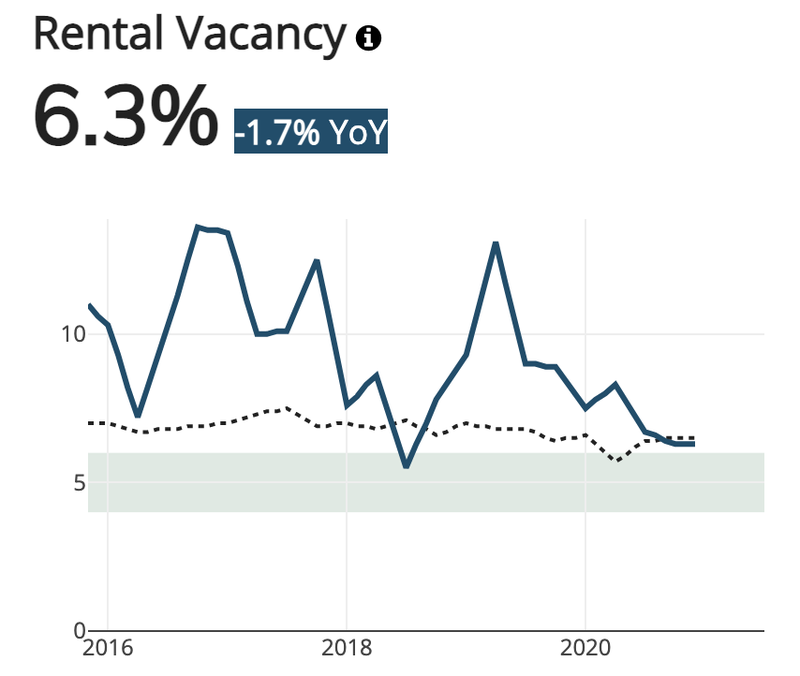 Architectural billings
Architectural billings can be a good indicator of future nonresidential construction activity, and though they're technically down in the San Antonio region over 9% since last year, they've been on a steady incline since last May. This should signal more construction's on the horizon as we get further into 2021.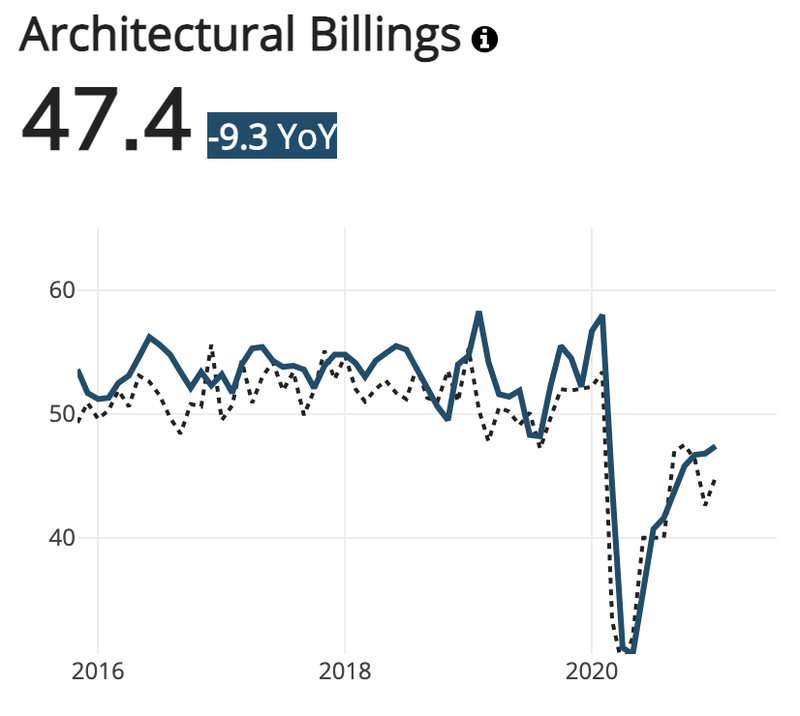 Construction indicators
The construction outlook isn't great in San Antonio. First, you have rising construction costs, which have jumped 6.7% just in the last year. There's also a shortage of workers. The city is down by about 500 construction jobs over the last year, and while it may seem like a small blip, they're actually at their lowest point in about eight years.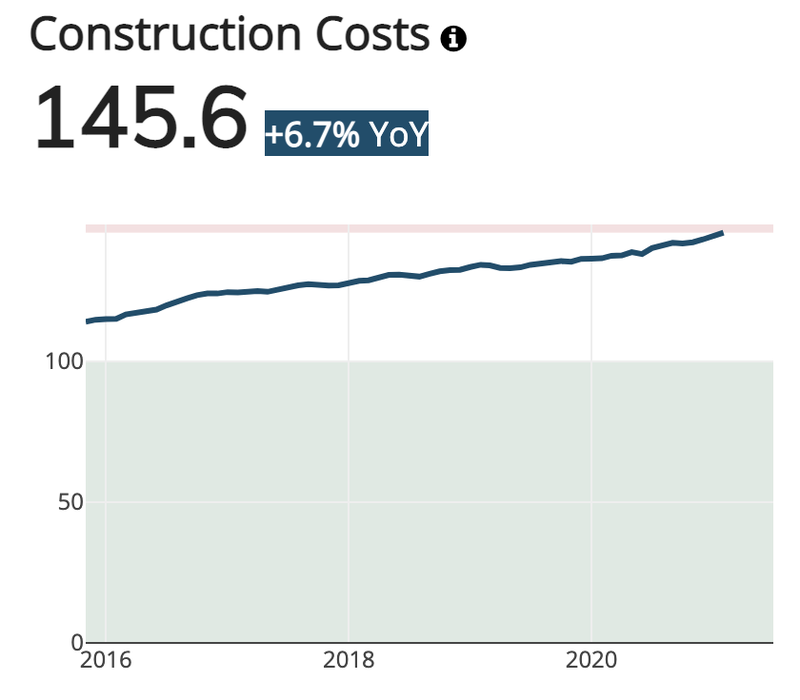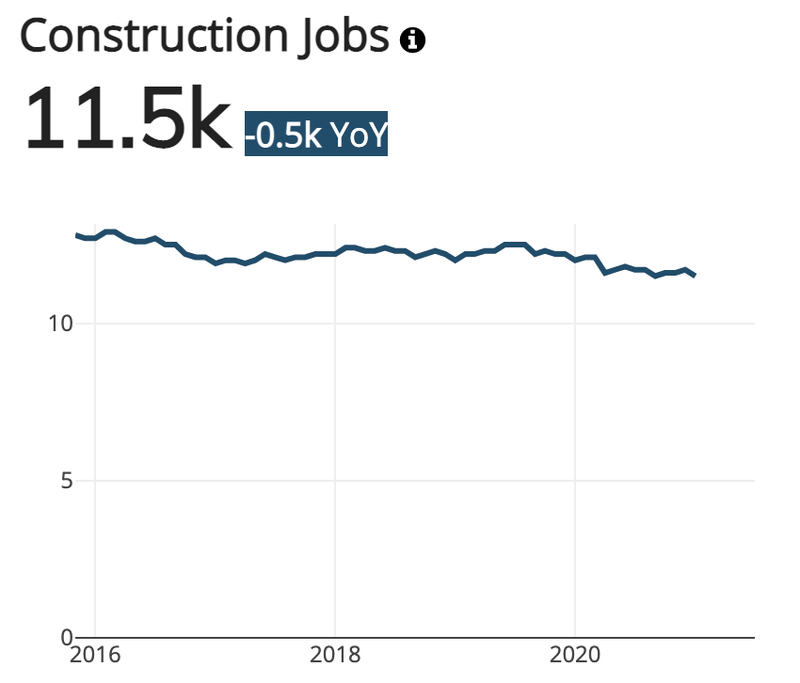 Single-family detached permits
Single-family building permits are slowly but steadily recovering. There were about 1,000 single-family permits issued in San Antonio in February, up from 905 six months prior. The city has outperformed forecasted numbers consistently for much of the last year.

Multi-unit permits (2-plus units)
Multifamily permits aren't in as great of a place. Though they're definitely up from their pandemic trough, permits have started to trend downward the last few months, falling from 658 in August 2020 to 448 in February 2021. Historically speaking, though, they're still higher than the averages seen in 2010 and 2019.

San Antonio real estate financial health indicators
It seems the various foreclosure moratoriums are doing their job, because, despite San Antonio's 6.6% unemployment rate, foreclosures are actually down 0.2% over the year. The same can't be said for mortgage delinquencies, which have seen a 3.1% uptick since last year. Considering there are still mortgage forbearance options in place, this number could rise significantly if these measures are allowed to expire later in the year.
Delinquencies
Mortgage delinquencies are up over 3% in the last year, with 7.4% of all loans being delinquent. The rate has decreased slightly in recent months, but it's still significantly higher than the averages seen in past years. (For example, the highest point in 2016 was 5.6%). San Antonio's numbers are also higher than the national average of 5.85%.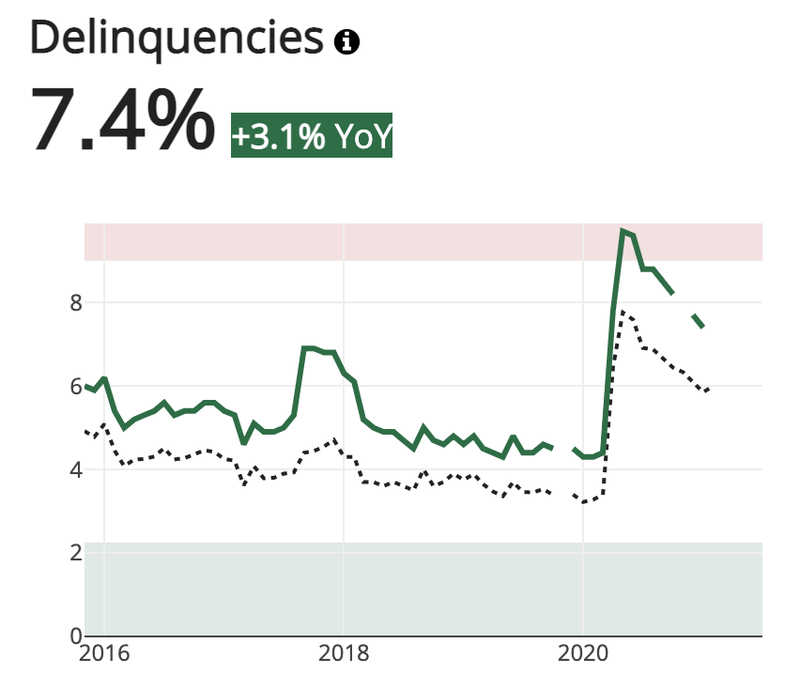 Foreclosures
San Antonio foreclosures, on the other hand, are next to nothing. Only 0.2% of homeowners are in foreclosure, making it the lowest point on recent record. It's also lower than the national rate of 0.32%. The multitude of COVID-related foreclosure protections is likely at the heart of this trend, and with the Consumer Financial Protection Bureau considering a ban through the end of December, they may stay this low across the year.
Brand New Texas Foreclosures
Tomball, TX
San Antonio, TX
Frisco, TX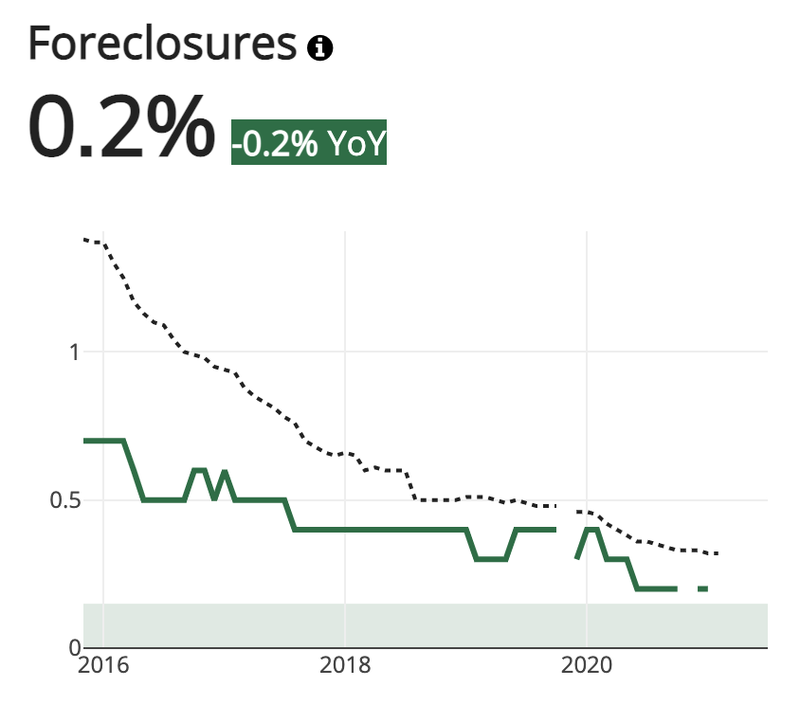 Anchor institutions
San Antonio is home to a number of large companies (two of them Fortune 500s) and has strong ties to the energy, defense, and healthcare sectors.
Just a few of the area's top economic institutions and employers include:
H-E-B: Texas' favorite grocery store chain is based in San Antonio, employing 20,000 residents. Its headquarters is located just south of downtown and includes a visitor's center, corporate offices, and more.
Military bases: There's a reason San Antonio is often called Military City. The town is home to Camp Bullis, Fort Sam Houston, Lackland Air Force Base, Randolph Air Force Base, and Joint Base San Antonio, which -- on its own -- employs a whopping 80,000 people.
USAA: With such a military presence, it's no surprise USAA, a military-focused insurance and financial services company, planted its roots in San Antonio. The Fortune 500 company currently employs about 18,000 locals and is nestled on the northwest side of town.
Valero Energy: The second of San Antonio's Fortune 500 companies (and the top-ranked), Valero's home office is located not far from USAA's, just a quick drive from the University of Texas at San Antonio and Six Flags Over Texas.
The Methodist Healthcare System is another notable institution, employing nearly 10,000 people in the area.
Schools of note
A number of colleges and universities call San Antonio home, including branches of several state systems.
The University of Texas at San Antonio: With an enrollment of over 34,000 students, this branch of the University of Texas college system is easily the largest college in the area. The school has four campuses, including ones in downtown, Hemisfair Park, and two campuses on the northwest side of town.
Trinity University: Trinity is a 150-year-old university that boasts more than 2,500 students and a variety of liberal arts and pre-professional programs. The school is located on a 125-acre campus just north of the city.
Alamo Colleges: The Alamo College district includes five colleges and a variety of two-year degree programs. The system includes San Antonio College, St. Philip's College, Palo Alto College, Northeast Lakeview College, and Northwest Vista College.
Texas A&M San Antonio: Another branch of a major college system, A&M-SA boasts over 6,500 students, 29 undergraduate programs, and 14 graduate options. Its campus is located on the south side of town.
A number of other, smaller colleges exist in San Antonio, too, including St. Mary's University, Our Lady of the Lake University, and the University of the Incarnate Word.
Neighborhoods of note
Spanning more than 7,000 square miles, the San Antonio-New Braunfels metro area offers countless places to invest in real estate. Here are just a few you might want to think about:
Converse: This suburb on the west side of town is perfect for reaching all those military families that call San Antonio home. The community is nestled just a few miles from Randolph Air Force Base.
College Park/Northwest Side: If you're looking to invest in student housing, College Park and Northwest Side offer easy access to UT-SA. Regency Meadow and Ridgehaven are also close by.
Alamo Heights/Terrell Hills: The Alamo Heights area can be a smart place to invest as well. It's close to both Fort Sam Houston and St. Philip's College, and it's just a few miles down the road from cultural hot spots, like children's museum the DoSeum, the Witte Museum, the San Antonio Botanical Garden, and more.
Heritage: This is another popular area for military members, as it's just around the corner from Lackland Air Force Base. Northwest Vista College and San Antonio College are also nearby.
Surrounding suburbs can be a good buy, too. Schertz, New Braunfels, Boerne, Cibolo, and Seguin are all popular suburban communities, offering easy access to the big city, affordable real estate, and a lot of family appeal.
The bottom line
San Antonio has taken its lumps since the pandemic began, but the city's housing market is strengthening in many key areas. Though low supply and unemployment will clearly be hurdles in the coming months, the area's strong anchor industries, uptick in single-family permits, and rising population should keep it moving in the right direction.
Got $1,000? The 10 Top Investments We'd Make Right Now
Our team of analysts agrees. These 10 real estate plays are the best ways to invest in real estate right now. By signing up to be a member of Real Estate Winners, you'll get access to our 10 best ideas and new investment ideas every month. Find out how you can get started with Real Estate Winners by clicking here.
Aly Yale
has no position in any of the stocks mentioned. The Motley Fool has no position in any of the stocks mentioned. The Motley Fool has a
disclosure policy
.