Get our 43-Page Guide to Real Estate Investing Today!
Real estate has long been the go-to investment for those looking to build long-term wealth for generations. Let us help you navigate this asset class by signing up for our comprehensive real estate investing guide.
Austin, Texas continues to grow in size, demand, and opportunity, making it a natural hot spot real estate investors are flocking to. Its stable yet rapidly expanding economic industry is drawing massive business to the city and turning it into one of the most rapidly expanding metropolitan areas in the United States. This, coupled with the city's relatively affordable real estate prices, make it a prime opportunity for investors. This article will take a closer look at the local market while diving deep into several key metrics and neighborhoods to help you be a more informed investor in this area.
What makes Austin special?
Austin is the capital city for the state of Texas, home to over 2.2 million residents, making it the 11th largest city in the United States. Austin has become a hot spot for millennials and creatives in particular as they seek the balance of job opportunities and cultural amenities.
The slogan "Keep Austin Weird" was started by the Austin Independent Business Alliance to help promote and drive interest for small business owners to the city. This phrase has now become synonymous with Austin, proudly representing its eclectic neighborhoods and residents, as well as its diverse and creative food, art, culture, and music scene.
Austin residents have access to world-class food, music, art, and a thriving nightlife. The city is home to the SXSW Conference & Festivals, several major universities, and several Fortune 500 companies, meaning the city is ripe with opportunity while providing a positive quality of life. Texas is also one of the nine U.S. states that charge no income tax to its residents, making it a desirable state for both businesses and living.
State of the market
Austin is a red-hot market right now. Austin's rapidly expanding economic industry is driving more demand and dollars into the city than ever before, even in the current economic climate. Despite a time when many of the country's major metro markets are combating declining demand, Austin added 11,600 jobs in 2020 and regained 71% of March and April's 2020 pandemic-related job losses and only lost roughly 1% of its jobs from 2019 to 2020, making it one of the fastest major metro markets to recover from the pandemic.
The city was also the top destination for those looking to move to a different metro area in the fourth quarter of 2020 and has received as much as 18% of people fleeing San Francisco during the pandemic. This rapid inward migration, expanding job market, and economic industry means there are a few emerging trends for real estate investors to take note of in 2021.
Ben describes what makes Austin, TX such a strong market for growth
1. Rental real estate is thriving
The abundant job market is driving a highly educated workforce here, meaning renters can afford more and are willing to pay for it, given the city's highly desirable amenities. Rental vacancy in the Austin area is at a five-year low, hovering at 3%, while the national average is over double that at 6.5%, paying homage to the high demand to live and rent in the city. Average rental rates have slowly increased over the past five years and currently are at $1,548 but still remain below the national average of $1,740.
2. Housing affordability is a growing concern
Austin's home prices are rising rapidly. The median home price was up 19.7% year over year, now sitting at $370,000, $40,000 above the national average. While housing demand and housing prices are increasing at record speeds because of an overall national housing shortage, Austin's market is exceeding this rate because of the new economic development driving jobs and residents to the area.
Homebuyers' access to credit and super-low mortgage rates currently mean it's a great time to buy, but affordability continues to be a growing concern. The city's price-to-rent ratio is just under 20, meaning it's more affordable for residents to rent than to buy, and those who can afford to buy are being met with fierce competition. While an eventual balancing of supply and demand should bring affordability concerns to more reasonable levels, Austin has its own unique reasons for high demand that are unlikely to waver in the near future.
3. Economic development will continue to drive inward migration
The trend of inward migration to Austin is likely here to stay as more corporations open factories and plants or move their headquarters to the city. Austin is already home to several huge corporations, including Whole Foods (NASDAQ: AMZN) and VRBO, but the job market continues to expand. In 2020, Tesla (NASDAQ: TSLA) announced their plans to open a Gigafactory in Austin, which should add hundreds to thousands of jobs to a market where unemployment rates hover far below the national average.
I believe 2021 and beyond will continue to see high demand for housing directly relating to the job opportunities that are present and continue to be created in this market.
Austin housing demand indicators
Charts courtesy of Housing Tides, an EnergyLogic company.
Here's a closer look at housing demand in Austin and how it's creating a hot market for rental property and driving real estate values up.
Unemployment trends
Austin's unemployment rate is 5.4%, nearly a full point under the national average of 6.3%. There are an estimated 1.10 million people employed in the greater Austin metropolitan area, and more jobs are being created every day. There were thousands of jobs lost as a result of the pandemic, which brought unemployment up over the past year and a half, but these numbers are moderate when compared to other major metro markets and the national unemployment rate and are quickly recovering.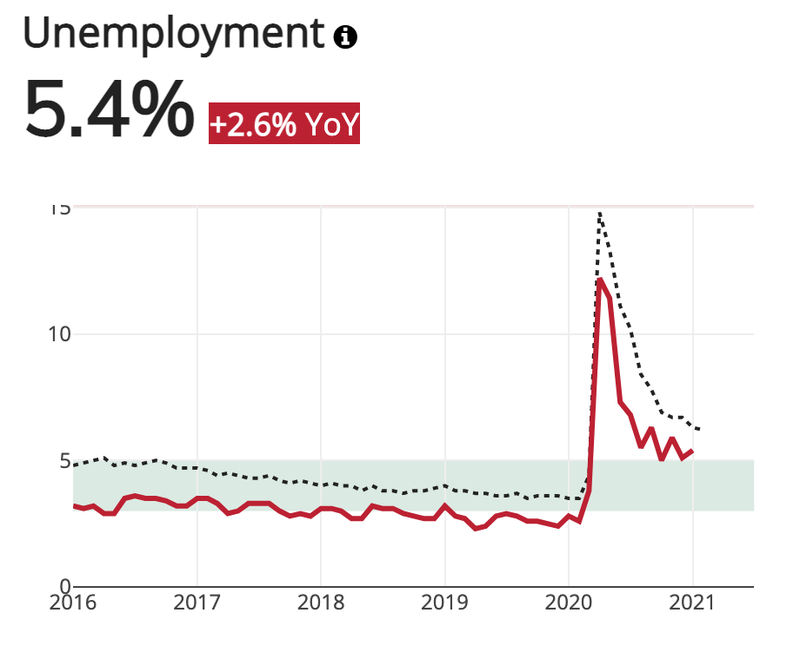 Median home price
Median real estate prices have risen steadily over the past five years. Austin's median home price is now at $370,000, above the national average of $330,000. Real estate affordability has been a growing concern of the past year across the nation, but Austin's current 19.7% year-over-year increase in values brings extra concern for the area.
Investors in search of bargain buys, especially as they relate to the average rental price, may find them difficult to find in a quickly appreciating, competitive market like the one we're in today. However, the higher cost to buy means the greater the number of renters, which allows for more opportunities for investors in buy-and-hold markets. Fix-and-flip investors may find opportunities to add value to run-down properties, especially as homeownership is booming.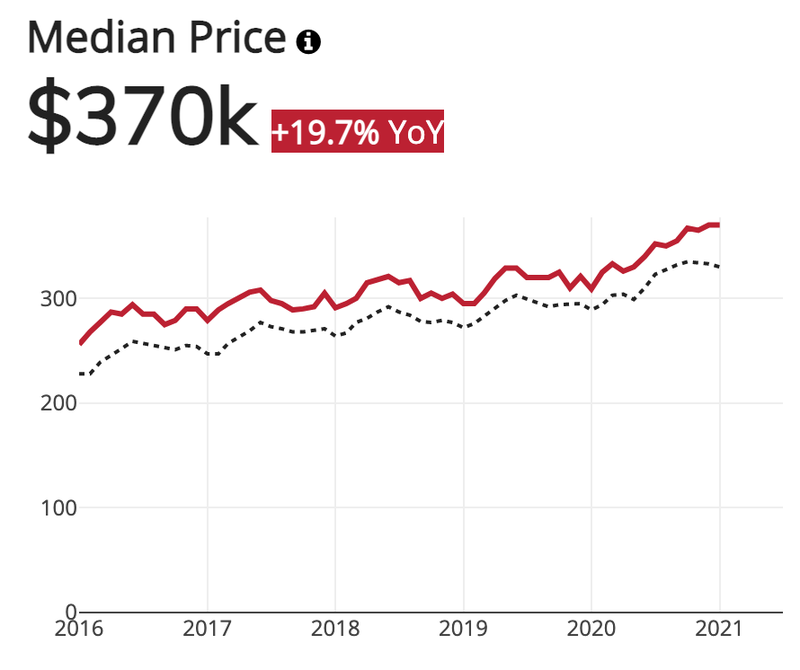 Median rent price
Rent prices have declined slightly over the past year, down to $1,548 and below the national average rental price of $1,740. The decrease is largely related to COVID-19 trends, including the desire for larger living spaces and freedom to work in the comfort of one's own home. This, coupled with record-low interest rates, has motivated buyers to flood the market in search for space and interest savings. This number is likely to rebound in the coming months and years as more jobs drive renters to the area in search of stable employment.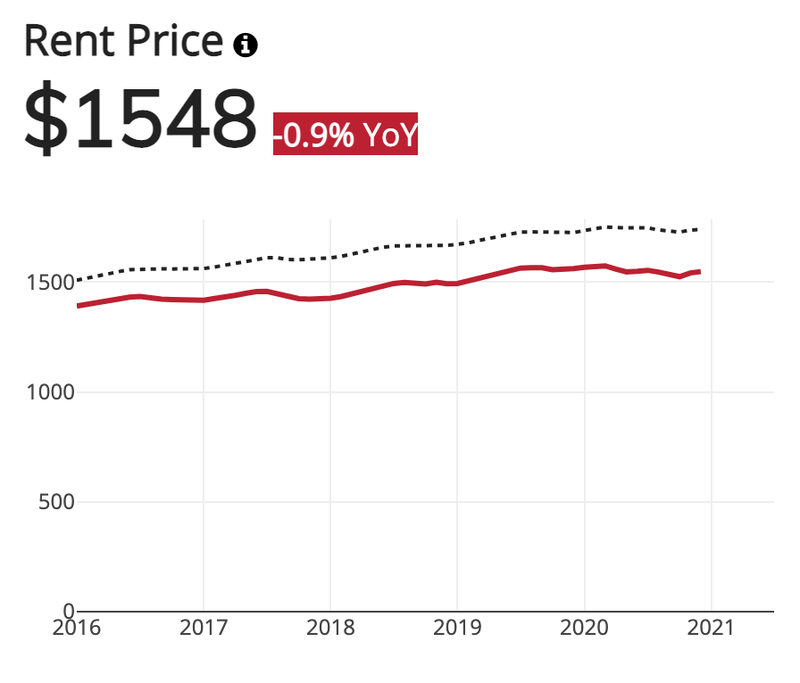 Austin housing supply indicators
Here's a snapshot of what housing supply looks like for Austin.
Total housing supply
Housing is in short supply across the nation, but Austin's current housing supply of 1.2 months is below the national average of 1.63 months. In a balanced or healthy market, there should be a roughly four-to-five-month supply of homes, meaning the lack of homes for sale at the present time is putting tremendous pressure on real estate values.
This is both good and bad for investors. Those relying on home value appreciation are in a great position to see increased profits and will likely sell properties quickly, but this also means there are fewer value buys for long-term landlords. If prices continue trending upward, eventually affordability will become a major concern, and there will be a tipping point at which many residents can no longer afford to buy, creating higher demand for rental real estate.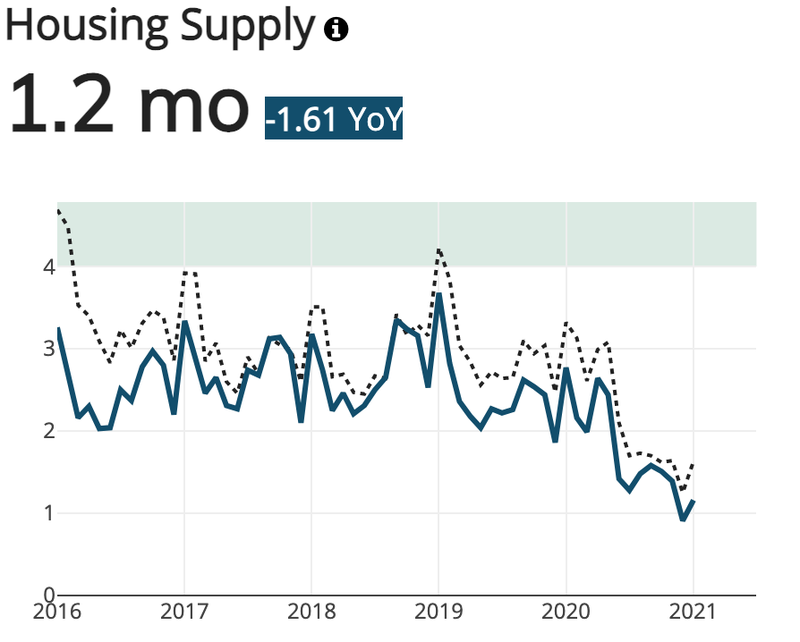 Rental vacancies
Rental vacancy in Austin is less than half the national average, meaning what little rental inventory is available is quickly being rented. This undoubtedly is driven by Austin's hot job market and will likely continue to trend in the same direction in the near future.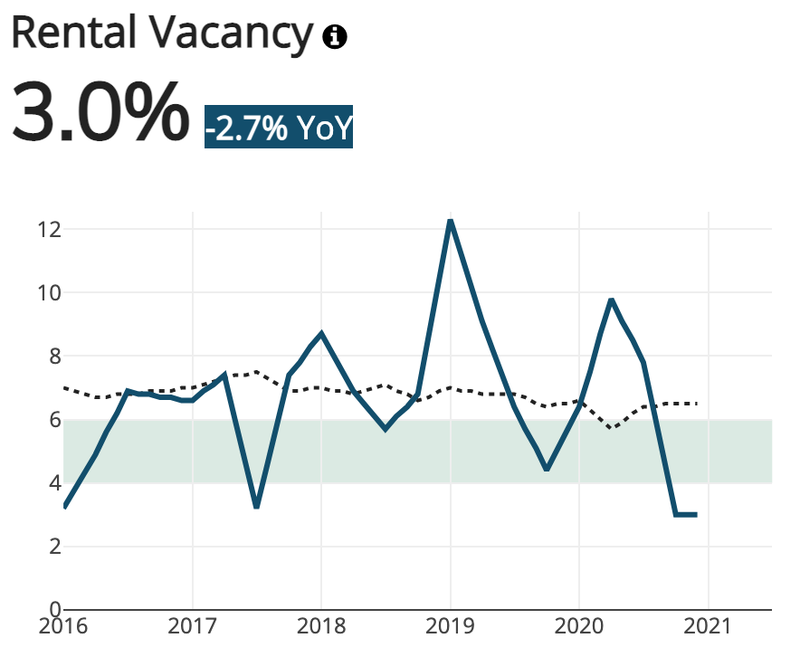 Architectural billings
Architectural billings, or the number of non-residential properties in development, help provide investors with greater insight into the overall commercial real estate market. The pandemic, which displaced a number of commercial investors, is starting to recover and rise again. Thankfully, the Sun Belt region is experiencing high demand, and thus architectural billings are higher in the South than the national average.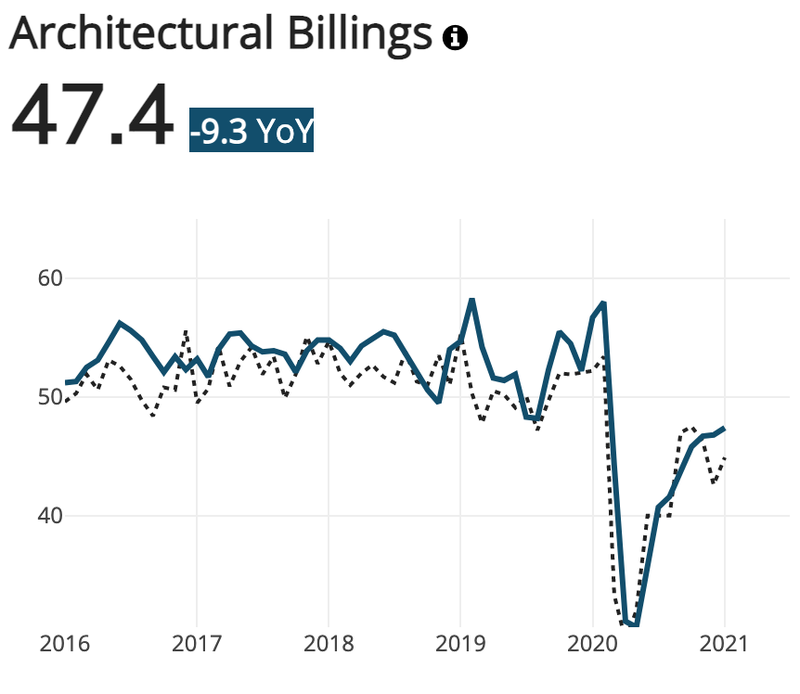 Construction indicators
Construction costs are up across the country. COVID-19-related delays for goods and services, as well as lumber, has driven prices up. That, coupled with a backlog of development and now a surge in new starts as the country tries to keep pace with demand, has resulted in a 6.7% year-over-year increase in construction costs for Austin. This number should balance out in the years moving forward but will likely remain inflated until demand diminishes some.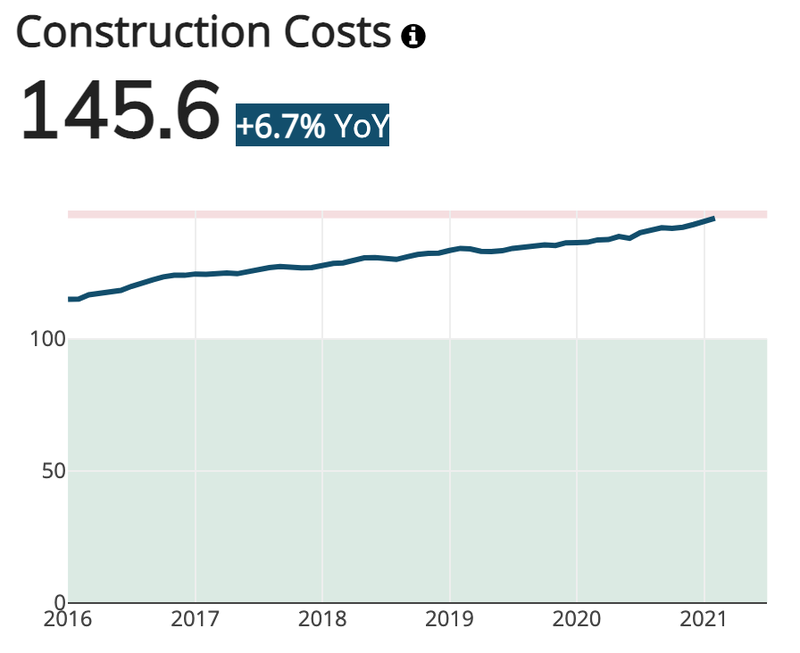 Single-family detached permits
Not surprisingly, single-family housing permits are up as developers try to meet the current demand and housing shortage. The forecast over the next year follows a continued upward trend but is staying below recent highs for housing starts. This should help balance out a bit of the imbalance in the marketplace but is unlikely to meet demand as a whole.

Multi-unit permits (2-plus units)
Multifamily, which is classified here as two housing units or more, is rising rapidly. The end of 2020 and the start of 2021 resulted in the highest number of development starts for the past five years, over double the number being built in the same month two years prior. The remainder of 2021 is forecasted to slow some, but new multifamily starts will likely continue in the next few years, which should help landlords in the marketplace.

Austin real estate financial health indicators
Delinquencies
Like most of the country, mortgage delinquencies took a sharp turn after the start of the pandemic. Texas's mortgage delinquencies are up 3.1% year over year and are sitting at 7.4% while the remainder of the U.S. hovers around 5.85%. Delinquencies should continue to recover as economic recovery is achieved and jobs return to the marketplace, but there's a good chance the numbers will remain elevated for the remainder of the year.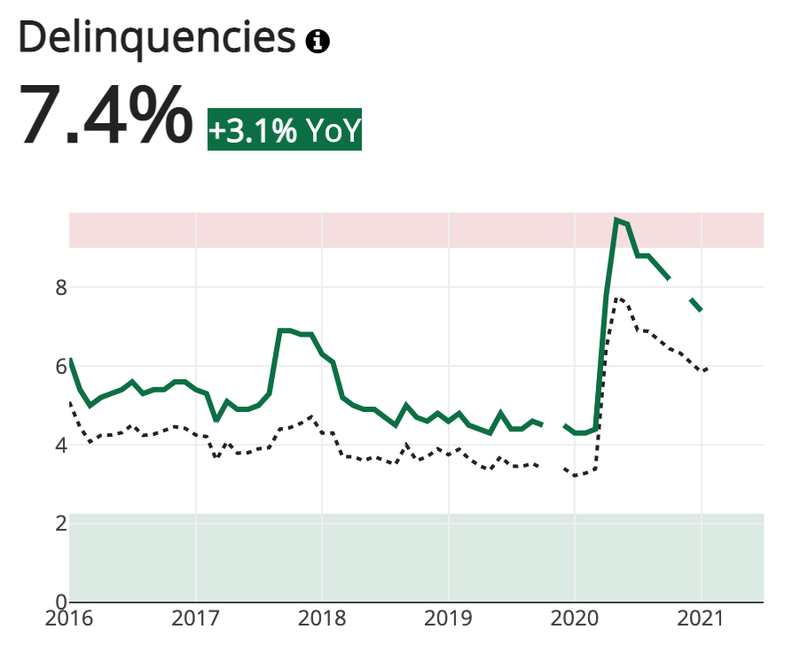 Foreclosures
Foreclosure moratoriums continue to remain in place on a national level, meaning foreclosure starts are down across the country despite a widespread increase in mortgage delinquency. Right now, foreclosures are at 0.2%, a record low, but this number will probably increase as moratoriums are lifted. However, based on Austin's unemployment rate, I don't imagine the number of Austin foreclosures to skyrocket in the near future.
Brand New Texas Foreclosures
Tomball, TX
San Antonio, TX
Frisco, TX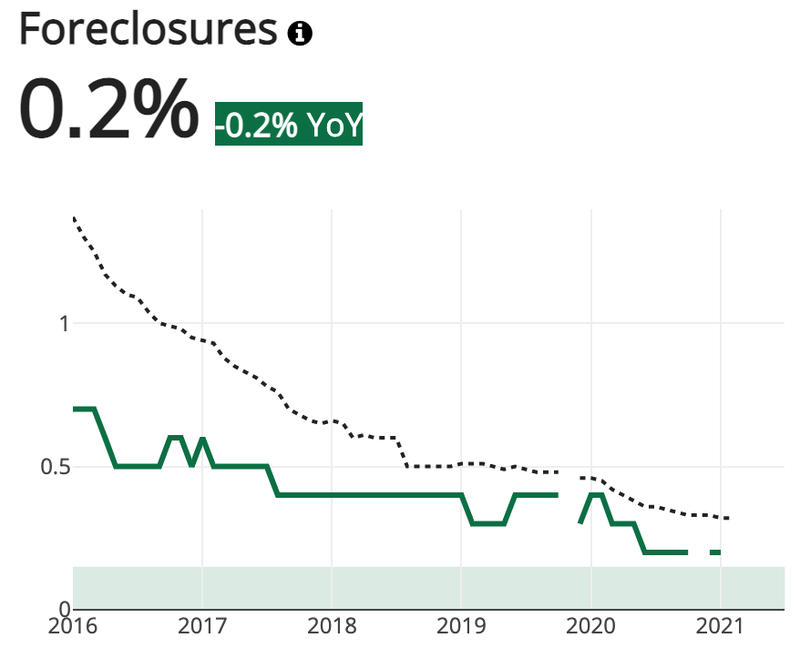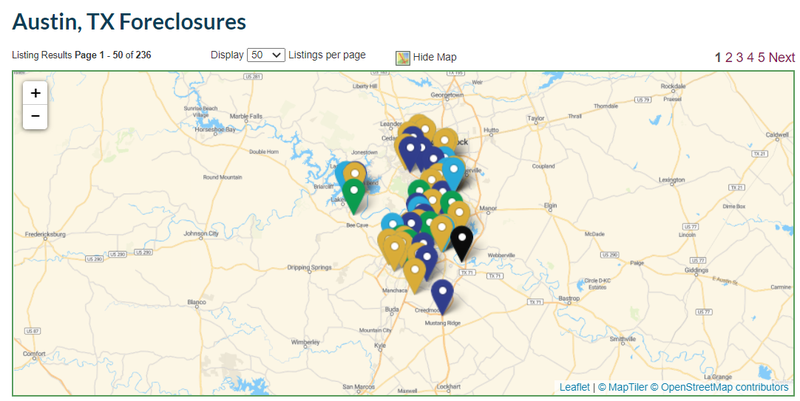 Anchor industries
Austin is home to a number of diverse economic industries but definitely has several core categories and big-name employers, including:
Finance and technology (fintech): Finance and technology, also known as fintech, play a huge role in Austin's economy. Austin is predicted to become one of the leading fintech cities in the world moving forward, currently producing just over 135,000 jobs in the management, business, and financial operations occupations.
Manufacturing: In 2020, 12% of Austin's GDP came from manufacturing. The city saw $153 million in venture capital invested in consumer goods in 2019 and is one of the top 20 metros for research and development in the manufacturing field.
Life sciences and healthcare: The city of Austin is home to over 260 different life science- and healthcare-related companies, creating 16,300 jobs in this field. The National Science Foundation dubbed Austin the third-hottest emerging market for life sciences.
Computers and engineering: Austin is one of the top 20 markets for global tech, having 87,800 jobs in software engineering, IT, cybersecurity, clean tech (sustainable engineering and development), and computers.
Some of the largest employers in the area include:
Amazon (NASDAQ: AMZN)
AT&T (NYSE: T)
Charles Schwab (NYSE: SCHW)
Ebay (NASDAQ: EBAY)
Facebook (NASDAQ: FB)
GM (NYSE: GM)
Google (NASDAQ: GOOGL)
Oracle (NYSE: ORCL)
3M (NYSE: MMM)
Schools of note
The largest university in the greater city of Austin is the University of Texas at Austin (UT), which has nearly 52,000 students enrolled. Additionally there are several private and nonprofit universities in the area, including St. Edward's University, Huston-Tillotson University, and Concordia University Texas, which have a combined total of just under 8,500 students enrolled.
Neighborhoods of note
Areas around University of Texas
The area surrounding the University of Texas can be a notable area for investors simply because of the continued demand for student housing. There are several distinct neighborhoods that provide student housing, both in the form of single-family homes, duplexes, condos, or apartments, but two of the most popular and affordable are North University and Hyde Park. Properties can range anywhere from the upper $100,000s to low $300,000s, depending on the size, condition, location, and features of the property, which leaves room for rental returns for investors.
Central East Austin and East Austin are also desirable areas for UT students, but prices for single-family residences are much more expensive than other areas. This can be a good market to purchase and rent an apartment in a larger development, a popular method for owning student housing.
Johnston Terrace and MLK
The east side of Austin is one of the fastest-growing, highly sought-after areas of Austin. Its proximity to downtown, hip bars and restaurants, and more affordably priced real estate make it a desirable area for young professionals and families.
The group of neighborhoods including Johnston Terrace, MLK-183, and East MLK has a mixture of single-family homes and historic homes, making it an ideal location for fix-and-flip investors, developers, and buy-and-hold landlords. There's a lot of activity in this area for both rehabbing and long-term buy-and-holds. Homes run anywhere from the low $400,000s to upper $700,000s, depending on condition, size, and location, and rents can range from $1,700 for a one-bedroom, one-bathroom up to $4,000 for a larger-sized unit or home, meaning room for a rental return is substantiated despite a higher price tag.
South Austin
South Austin has become one of the most popular destinations for families, singles, and couples. Its access to outdoor amenities of the area, proximity to downtown, and hip bars and restaurants make it one of the coolest places to live in Austin.
However, that also means the price tag for real estate makes it one of the least profitable areas, particular for rental investors. Fix-and-flip investors have major potential to earn here, but neighborhoods just south of the popular neighborhoods, such as Bouldin Creek, Zilker, and Travis Heights, provide more room for returns, particularly, the area of South Manchaca. Prices start in the upper $300,000s ranging to upper $400,000s, while rents fall in the mid-$1,000 range, making it a fairly affordable price point for investors.
Round Rock
Round Rock is the largest suburb outside of the greater Austin metropolitan area and has become a desirable destination for families and those seeking more affordable prices and space. Sitting to the north of Austin, it's a fairly short commute to the city center, with access to all of the amenities and benefits a suburb traditionally offers. Real estate values start in the mid- $200,000s and stay in the low $400,000s, although there are some pockets with more expensive real estate. The long-term appeal of this area and high-ranking schools make this a good buy-and-hold investment area.
The Millionacres bottom line
Austin, Texas, is rapidly growing, and with that comes opportunity and challenges for real estate investors in the next few years. High demand from expansion, job opportunities, and desirable city amenities mean higher prices and a more competitive market.
There is definitely opportunity to invest and profit in this area, but investors should get to know the market intimately and determine the best target market for them based on their investment goals and criteria. Right now is still a good time to get into this budding city, which is poised to become a huge player comparable to Seattle; Portland, Oregon; or even San Francisco.
Got $1,000? The 10 Top Investments We'd Make Right Now
Our team of analysts agrees. These 10 real estate plays are the best ways to invest in real estate right now. By signing up to be a member of Real Estate Winners, you'll get access to our 10 best ideas and new investment ideas every month. Find out how you can get started with Real Estate Winners by clicking here.
Charles Schwab is an advertising partner of The Ascent, a Motley Fool company. Randi Zuckerberg, a former director of market development and spokeswoman for Facebook and sister to its CEO, Mark Zuckerberg, is a member of The Motley Fool's board of directors. Suzanne Frey, an executive at Alphabet, is a member of The Motley Fool's board of directors. John Mackey, CEO of Whole Foods Market, an Amazon subsidiary, is a member of The Motley Fool's board of directors.
Liz Brumer-Smith
has no position in any of the stocks mentioned. The Motley Fool owns shares of and recommends Alphabet (A shares), Alphabet (C shares), Amazon, Facebook, and Tesla. The Motley Fool recommends 3M, Charles Schwab, and eBay and recommends the following options: long January 2022 $1,920 calls on Amazon, short January 2022 $1,940 calls on Amazon, and short June 2021 $65 calls on eBay. The Motley Fool has a
disclosure policy
.