Get our 43-Page Guide to Real Estate Investing Today!
Real estate has long been the go-to investment for those looking to build long-term wealth for generations. Let us help you navigate this asset class by signing up for our comprehensive real estate investing guide.
Note: Our market forecast includes Greenville, SC, data as well as data from its surroundings, including Anderson and Mauldin.
Greenville has undergone a dramatic revitalization over the years. Until about two decades ago, the former textile town had deteriorated to the point where vacant storefronts were commonplace along the downtown area, while overgrown weeds and an overpass hid what has become its feature attraction.
However, today, downtown Greenville is a vibrant area with small businesses filling up its storefronts. Meanwhile, Falls Park on the Reedy has become the centerpiece of the town.
Driving the city's rebirth has been an influx of major manufacturers to the region, drawn by its business-friendly climate, low-cost workforce, and central location between booming Sun Belt cities Charlotte and Atlanta. Those jobs are drawing people to migrate to the Greenville area in droves. That population growth has enhanced the region's appeal to real estate investors.
With that backdrop, here's a closer look at the local Greenville, South Carolina, real estate market.
Why consider Greenville, South Carolina, for real estate investing?
Located right on the edge of the Blue Ridge Mountains, Greenville is one of the largest cities in South Carolina. Founded in 1831, Greenville became the "Textile Center of the South" as cotton mills took advantage of its fast-flowing waterways and cheap labor force. However, the industry started to decline by the 1960s due to the rise of synthetic fibers produced elsewhere. It began facing additional pressure in the 1970s from developing countries where workers were even cheaper. By the late 1990s, the industry's collapse accelerated, deepening Greenville's decline.
However, the region has remade itself over the last two decades by diversifying its manufacturing base. It's now the home to the North American headquarters of Michelin, the world's largest tire maker. Meanwhile, BMW operates its largest car manufacturing plant by volume in the region. As these and other manufacturers have moved into the Greenville region with a host of other businesses, they've brought jobs. That's drawn job seekers to the area, helping grow its population base by 60% more than the national average since 2010.
Despite that significant population growth, Greenville remains a relatively affordable housing market. When combined with everything else the region offers, affordability and jobs should drive continued migration to the city in the coming years. That makes it an ideal location for real estate investors to consider.
The state of the market
The Greenville real estate market remained strong in 2020 despite the impact of the pandemic. That's due in part to the state government's decision to quickly reopen its economy following the initial shutdowns to slow the spread. On top of that, demand for cars and auto parts, among the key products made in Greenville manufacturing facilities, grew stronger during the pandemic as car sales surged because people opted to drive themselves rather than take public transportation.
Because of that, the city continued to benefit from in-migration by jobseekers. Meanwhile, its overall affordability led remote workers to flock to the city. Greenville has become known as a "Zoom (NASDAQ: ZM) Town," as more than 3,000 remote workers have moved to the city to take advantage of its affordability, nice weather, and access to outdoor activities.
Here's a quick snapshot of three important real estate trends impacting the Greenville market.
Unemployment is low
The unemployment rate in Greenville was 4.6% in March of 2021. While that was 1.9% above the year-ago level, it's well below the national average of 6%.
Greenville has benefitted from having a diversified economy. In addition to being a large manufacturing hub, the city also has strong employment bases in the healthcare, distribution/logistics, and technology sectors. Many companies in those industries benefited from the pandemic, helping keep Greenville's unemployment rate below the national average.
The housing market is tight
Greenville's housing inventory is low at just 1.8 months of supply, down by 1.54 months over the past year. A combination of steady employment, affordability, and reluctance to move due to the pandemic has kept people in their homes. Meanwhile, in-migration to the city has continued. Job seekers and remote workers are flocking to the region due to its abundance of jobs and overall affordability. With limited available supply, home builders are ramping their output to help keep up with demand.
Adequate rental supply
Greenville's rental vacancies are slightly above the national average, while rental rates are well below the national average. Because of that, rental rates are only up by 5% over the past year, compared to a nearly 10% increase in the median home price. Meanwhile, developers continue building new capacity as multifamily building permits have outpaced the forecast for much of the past year. That will likely keep some pressure on occupancy levels and rental growth in the near term.
Greenville, South Carolina, housing demand indicators
All data and charts supplied by Housing Tides by EnergyLogic.
As noted, the Greenville housing market is strong, evidenced by the following key housing demand indicators.
Unemployment trends
Greenville's unemployment rate has been below the national average for several years. However, it spiked during 2020 due to the pandemic's impact on the economy and entered 2021 nearly 2% above its pre-pandemic level. On a more positive note, Greenville's economy has recovered faster than the national economy, resulting in an overall lower unemployment rate of 4.6% compared to the 6.2% national average as of February 2021.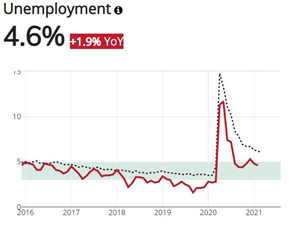 Driving the region's relatively low unemployment rate is a mix of industries, including manufacturing, distribution and logistics, healthcare, and technology. Greenville's economy is also less reliant on tourism than other areas of the state, which helped lessen the blow since the pandemic had an outsized impact on the hospitality sector.
Median home price
Greenville is one of the more affordable housing markets in the country. While the median home price has risen nearly 10% over the past year, at roughly $250,000, it's more than $100,000 below the national average. That's due to the overall affordability of housing across the Sun Belt region in cities like Greenville. Another factor is that the economy features a significant base of lower-wage jobs, like manufacturing, which has helped keep home prices more affordable.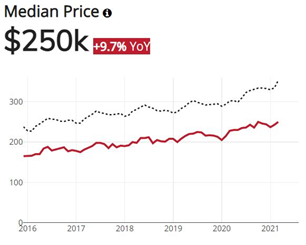 Median rent price
Like home prices, rent in Greenville is much more affordable than the national average. While the average rental rate has increased by 5% over the past year, at $1,235 per month, it's almost $500 per month below the national average. That's due in part to the region's more manufacturing-focused employment base. The area also has adequate apartment supply because new building permits have routinely come in above forecast, keeping its vacancy rate slightly above the national average.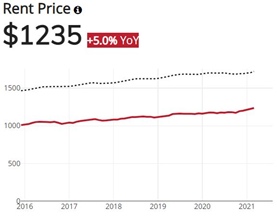 Greenville, South Carolina, housing supply indicators
Here's a snapshot of what the housing supply picture looks like in the Greenville area.
Total housing supply
Housing supply is tight in the Greenville area, at less than two months of inventory. However, that's better than the national average of slightly more than one month of inventory as of March 2021. Overall, home inventory in the region was down nearly 20% year over year in February of 2021, according to the Greater Greenville Association of Realtors, a further decline after plunging roughly 30% in 2020.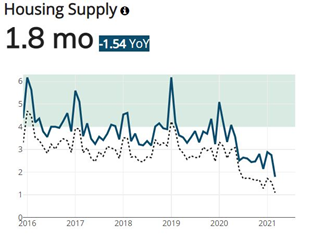 Architectural billings
Architectural billings, a leading indicator of commercial building activity, have been generally above the national average in the South over the last five years. While they collapsed nationwide in early 2020 due to the pandemic, they've come roaring back over the past year. Architectural billings across the South have been generally higher than the national average over the past year because most Southern states reopened their economies earlier than other regions of the country and didn't reinstitute government-mandated shutdowns when cases spiked over the winter.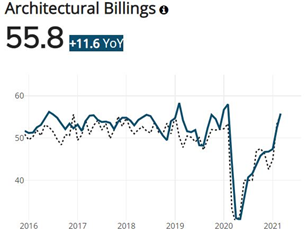 Construction indicators
Construction costs have jumped 7% over the past year. That's due in large part to inflationary pressures from surging lumber prices because of shortages amid significant demand from homebuilders and for home remodeling projects. Construction companies are also starting to have trouble finding workers, which is putting some additional pressure on construction costs as they need to increase wages to recruit and retain their workforce.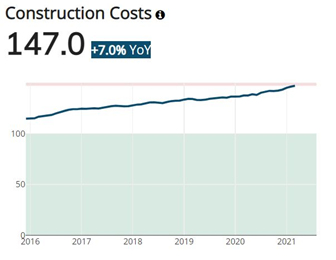 Single-family detached permits
As of March 2021, there were 719 single-family housing permits issued in the Greenville metro area, nearly 200 above the forecast. That suggests strong demand for housing in the region. It should also help relieve some of the area's inventory issues, which have existing homes selling at a brisk pace.

Multi-unit permits (2+ units)
As of March 2021, there were nearly 185 multifamily housing permits issued in the Greenville, South Carolina, metro area. That was roughly 85 above forecast, continuing the trend of significantly higher permitting than expected. On the one hand, increased multifamily housing supply will likely keep the pressure on rental rates and occupancy levels in the region. But, on the other hand, it will help relieve some of the pressure on the overall housing market by increasing the available rental options for those that lose out on home purchase attempts due to the region's tight inventory level.

Greenville, South Carolina, real estate financial health indicators
As stated earlier, the Greenville metro area bounced back quickly from the initial economic impact of the pandemic.
Delinquencies
Delinquencies in South Carolina had been above the national average in recent years, though they had been on a steady downward trajectory. However, that came to an abrupt end in early 2020 as they spiked due to the impact of the pandemic. While they've improved significantly since then, they're still up 1.2% year over year and slightly above the national average of 5.02%.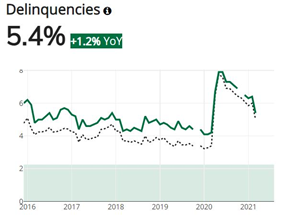 Foreclosures
Despite the initial surge in delinquencies last year, the foreclosure rate in South Carolina has continued to fall, declining by 0.2% over the past year, currently matching the national average of 0.3%. That's mainly due to a significant amount of government support throughout the pandemic to keep people in their homes. However, unless extended, the current foreclosure moratorium for homeowners will expire on June 30, 2021. If that happens, foreclosures in Greenville will likely increase.
Brand New South Carolina Foreclosures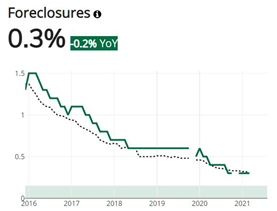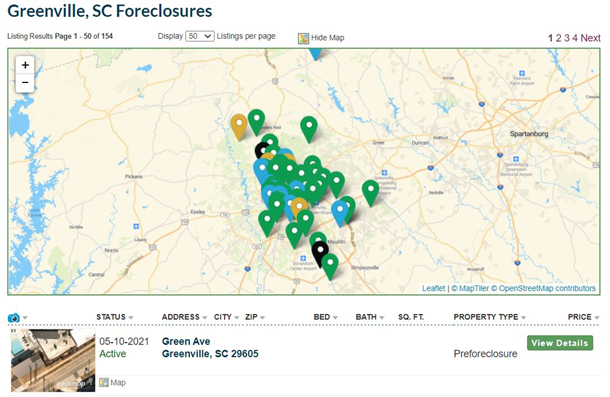 Anchor institutions
Greenville's relatively low unemployment rate is due to a strong regional economy, supported by the following notable industries.
Manufacturing: Several large manufacturing companies have a presence in Greenville, including Michelin, GE, Lockheed Martin, and BMW. Michelin has its North American headquarters in Greenville, while BMW's Greer plant just outside of Greenville is its largest factory by production volume in the world.
Healthcare: Prisma Health is the largest employer in the Greenville, South Carolina, region, with nearly 16,000 employees. Meanwhile, the Bon Secours St. Francis Health System is another large regional employer with more than 4,000 employees.
Distribution/logistics: Greenville has become a major distribution hub for the South due to its central location between two major metro areas, Charlotte and Atlanta, and its large-scale manufacturing base.
Technology: Greenville has a growing technology industry, including a mix of well-known tech giants, like IBM, and smaller startups. Drawing these companies to the region are its higher education facilities, which include the nearby Clemson University.
Schools of note
The Greenville region is home to several higher educational institutions:
Clemson University: Located in Clemson, about 30 minutes away from Greenville, Clemson University is a major academic institution. Founded in 1889, Clemson has nearly 21,000 undergraduate students and more than 5,500 graduate students.
Bob Jones University: Located in Greenville, Bob Jones University is a private, Christian University. Founded in 1927, Bob Jones University has about 3,000 students.
Furman University: Founded in 1826, Furman is the oldest private university in South Carolina. Located in Greenville, Furman has about 2,800 undergraduate students.
Neighborhoods of note for investing
Greenville, South Carolina, features many desirable neighborhoods. Some that stand out:
Alta Vista: Alta Vista is one of the most desirable neighborhoods in Greenville because of its proximity to the vibrant downtown area. The historic neighborhood dates back to the 1920s. Homes tend to cost more in Alta Vista ($300,000 up to $1 million) because they sit on large lots with mature trees and are near downtown and other attractions like the Greenville Zoo, Cleveland Park, Falls Park on the Reedy, and the Swamp Rabbit Trail.
Botany Woods: Botany Woods routinely wins recognition as one of the best places to live in Greenville. This family-friendly neighborhood has a community park, sports fields, a local playground, and a low crime rate.
Richmond Hills: The Richmond Hills neighborhood in the northern area of Greensville is right next door to Furman University. As such, the community draws both young families and college students.
Overbrook Historic District: Overbrook was one of the first neighborhoods built in Greenville. It features many historic homes built in the late 1800s and early 1900s. While many homes in this historic district require renovation, its proximity to the downtown area and the Swamp Rabbit Trail make it an excellent location.
The Millionacres bottom line
Greenville has undergone an amazing transformation over the past 20 years. The city has turned itself into a key manufacturing and distribution hub for the South. That, along with its overall affordability, is drawing new businesses, job seekers, and remote workers to the region in droves. Those migration trends aren't likely to slow anytime soon, making Greenville a great place for real estate investors to consider.
Got $1,000? The 10 Top Investments We'd Make Right Now
Our team of analysts agrees. These 10 real estate plays are the best ways to invest in real estate right now. By signing up to be a member of Real Estate Winners, you'll get access to our 10 best ideas and new investment ideas every month. Find out how you can get started with Real Estate Winners by clicking here.
Matthew DiLallo
owns shares of Zoom Video Communications. The Motley Fool owns shares of and recommends Zoom Video Communications. The Motley Fool has a
disclosure policy
.